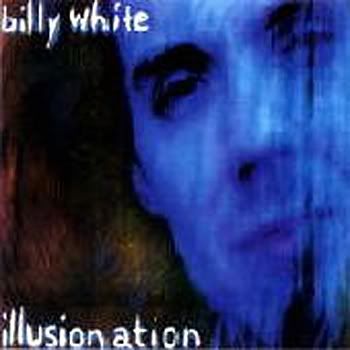 Billy White Trio
-
Illusionation
-
1996
-
DMZ
Phenomenal solo disc from this amazing, soul-powered bluesy heavy guitarist from Austin, Texas featuring 16 tracks (79 minutes) of world-class, dynamic, stellar, soulful, melodic blues-based heavy guitar power trio riffage - real songs complete with substance, scope & depth that cut hard and deep with endless style and class. Billy White (ex-Don Dokken Band) is truly an outstanding, gifted, soul-powered, guitarist/vocalist who really "Shines" and produces throughout the brilliant and superb "Illusionation" disc. A true, compelling, authentic "Guitar Hero" in every sense of the word. "Illusionation" also features the impressive drum talents of J.J. Johnson (John Mayer) to perfectly round out the awesome Billy White Trio. An outstanding, top-shelf, classic, timeless, essential, musical masterpiece of monumental power trio proportions. © 2009 & beyond - Grooveyard Records - All Rights Reserved
N.B:
Review refers to the 2009 Grooveyard CD release with four bonus tracks, not included here.

ABOUT
BILLY WHITE
/
Illusionation Album
What ever happened to this guy? We did an interview with Billy back in 1990 right after he joined Don Dokken's solo band replacing not only the genius George Lynch but Norwegian shredder John Norum. He was nervous about his chops but after the release of Up From The Ashes and subsequent tour, he proved to be up for the task. White's previous experience was in the Austin, TX underground prog-metal band WatchTower. His unique ability to play a number of styles led him to form the Billy White Trio in 1994. He's no longer pushing stadium riffs as his focus is more about amped-up Texas blues and extended jams. Illusionation is more of a compilation of his past couple of records. From this huge 16 tracker, White originally released the first 12 songs back in 1996 under the same title. Production-wise they sound the same with only the tracking order different. The remaining four songs were pulled from the 1995 EP Sistershootingstar with a smoking live version of that record's lead-in number "Cookie Cutter". All of which, in their original form, have been long out of print. Repackaged with slick new art including some current pictures of White crankin on his Les Paul give the whole thing an added spark of freshness. Back is the edgy "Nectarine", the laid-back '70s vibe of "Ashes From The Sun" and the distorted yet melodic "13-Second Blackout". It's interesting how the songs mix classic '70s rock with '90s alt rock including flashes of In City Dreams-era Robin Trower, the atmosphere of fellow Texan Eric Johnson and even heavier Collective Soul. White says in the disc's liner-notes, "it seems like another lifetime ago. We spent many live shows exploring the boundaries and possibilities within an electric rock trio." Some of those experiments are heard in the eclectic "Up The Ladder Down" and "The Moth and the Flame" where the arrangements become more Rush-inspired. Whereas "Twelve", the twangy "No Other" and "Cookie Cutter" are 3 Doors Down heavy. Lots of funky grooves as the trio trip out to a loose, blues-based, alt rock packed with White's signature biting guitar and soulful voice capturing the emotion of a band blossoming into a power trio sunburst. © www.cuttingedgerocks.com/review48.html
N.B:
Again, this article refers mostly to the 2009 bonus CD issue.

A good power rock album. Perhaps, not as good as the two reviews above make it out to be, but worth a listen. Hopefully, sound quality is better on the later album issue, as the album here sounds slightly "muddy", and distorted at times. Listen to his great "Sister Shooting Star" album, which is arguably far better than "Illusionation".
TRACKS
01 Nectarine
02 The Moth And The Flame
03 We All Want To Live Forever
04 Fade
05 13 Second Blackout
06 Ashes From The Sun
07 Twelve
08 No Other
09 Give This Life
10 Time Bomb
11 Up The Ladder Down
12 Closer
BAND
Billy White - Guitar, Vocals
Brian Walsh, Steve Bernal - Bass
Michael Ramos - B-3 Organ
Pam Miller - Piano
J.J. Johnson - Drums
Dave McNair - Additional Percussion
Ian Moore - Backing Vocals