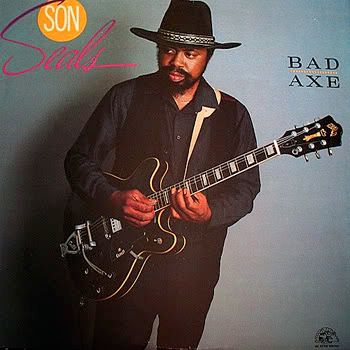 Son Seals
-
Bad Axe
-
1984
-
Alligator
One of Son Seals's finest collections, studded with vicious performances ranging from covers of Eddie Vinson's "Person to Person" and Little Sonny's "Going Home (Where Women Got Meat on Their Bones)" to his own "Can't Stand to See Her Cry" and swaggering "Cold Blood." Top-drawer Windy City studio musicians lay down skin-tight grooves throughout. © Bill Dahl, allmusic.com
It was once said that "No one who hears Son Seals can say Eric Clapton is the king of the slide guitar". The late great Son Seals , born in Osceola, Arkansas in 1942, is now regarded as one of the grear bluesmen. "Bad Axe" may not be Son Seals' greatest album, but it highlights the man's great talents. A good blues album in the style of Albert King. Check out Son Seals' great "Midnight Son" album
TRACKS / COMPOSERS
[Where known]
A1 Don't Pick Me For Your Fool - Dollison, Higgins
A2 Going Home (Where Women Got Meat On Their Bones) - Crutcher, Manuel
A3 Just About To Lose Your Clown - MacRae
A4 Friday Again - Seals
A5 Cold Blood - Seals
B1 Out Of My Way
B2 I Think You're Fooling Me
B3 I Can Count on My Blues
B4 Can't Stand To See Her Cry - Seals
B5 Person To Person - Elmore James
MUSICIANS
Vocals, Guitar - Son Seals
Guitar - Carl Johnson
Bass - Johnny B. Gayden, Nick Charles
Keyboards - Carl Snyder Jr., Sid Wingfield
Drums - Rick Howard, Willie Hayes
Harmonica - Billy Branch
REVIEW
As usual Son has changed his band. This time Sid Wingfield and Carl Snyder Jr takes care of the organ playing, Carlos Johnson plays second guitar on some of the tracks, Johnny B. Gayden and Nick Charles shares the bass job and Willie Hayes or Rick Howard plays the drums. If the former album were a mix between blues and soul, this album is a mix between blues and rock. Son have never sounded as tough as here. The guitar playing is monotonous and piercing. Son really hammers down his notes. Very, very aggressive playing straight through and the lyrics are very macho style tough too.
Don´t pick me for your fool (4.17)
An incredibly tough opening. A medium/slow shuffle with Son hitting his trademark licks with force. Don´t pick me for your fool, baby... Son sounds like he was in the mood to kill someone. Shucks.
Going home (where women got meat on their bones) (3.48)
The lyrics are traditional. Meat shaking on my Big leg woman, hmmm. It was a long time since I heard someone use this old time metaphor! But Son doesn´t sing like he is enjoying himself, "I´m going home where women got meat on their bones", he sounds like he´s bitter with the Chicago women...
Just about to lose your clown (3.10)
A heavy back beat, almost beautiful guitar and bitter lyrics makes this one my favorite song on this album. "You treat me just like dirt and you think it doesn´t hurt. You say I look funny every time you put me down, but you´re in for a big surprise. Honey, you´re just about to lose your clown."
Friday again (5.27)
A solid bass line and nice organ from Sid Wingfield sets the mood to this medium slow blues. Son sings of "Friday again" and everything he is going to do. Well, Son doesn´t seem to have high hopes for his Fridays. On Monday he have to be back on his job, the guys are going to steal his woman and the money are going to disappear. Hey Seals, where are your illusions? "Gentleman from the windy city" from Chicago Fire is another party description, but with a completely different attitude. Compare!
Cold Blood (4.00)
Some nice piano in the background (a long solo near the end) and Son´s solo is a little bit different than he usually plays. But this is just another semiquick shuffle. A typical filler.
Out of my way (4.32)
Whooa. The first licks reminds me of the eighties style of rock! Horrible! Fortunately the song turns into a standard blues with some nice turnarounds and stop breaks.
I think you´re fooling me (3.52)
This one also start like one of these awful rock songs. Brrr. But again, the song turns into something completely different. The beat is soulful and the lyrics are witty. A fun thing to listen too, not much to write home about...
I can count on my blues(6.07)
A ballad! A nice mix between soul, country and pure muzak! Son knows how to sing! At last something new in the Seals repertoire. I like this! Son even plays a soft and melodic solo
Can´t stand to see her cry (4.01)
After the ballad Son dives deep into the seventies blaxplotation sound. A cool guitar riff and you almost feel the Shaft atmosphere. Yes! I had forgot how this song sounded. Du du di, da dadat dapp! Funky without the seventies strings and congas...
Person to Person (3.08)
A straightforward take of this classic song. The N.O feeling is there. A nice ending to a good album. © Tommy Jansson, http://hem.fyristorg.com/bukka/bdn5.html#38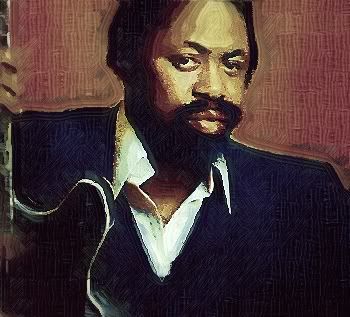 BIO
It all started with a phone call from Wesley Race, who was at the Flamingo Club on Chicago's South Side, to Alligator Records owner Bruce Iglauer. Race was raving about a new find, a young guitarist named Son Seals. He held the phone in the direction of the bandstand, so Iglauer could get an on-site report. It didn't take long for Iglauer to scramble into action. Alligator issued Seals' eponymous debut album in 1973, which was followed by six more. Son Seals was born Frank Seals on August 13, 1942 in Osceola, Arkansas. His dad operated a juke joint called the Dipsy Doodle Club in Osceola where Sonny Boy Williamson, Robert Nighthawk, and Albert King cavorted upfront while little Frank listened intently in back. Drums were the youth's first instrument; he played them behind Nighthawk at age 13. But by the time he was 18, Son Seals turned his talents to guitar, fronting his own band in Little Rock. While visiting his sister in Chicago, he hooked up with Earl Hooker's Roadmasters in 1963 for a few months, and there was a 1966 stint with Albert King that sent him behind the drumkit once more. But with the death of his father in 1971, Seals returned to Chicago, this time for good. When Alligator signed him up, his days fronting a band at the Flamingo Club and the Expressway Lounge were numbered. Seals' jagged, uncompromising guitar riffs and gruff vocals were showcased very effectively on that 1973 debut set, which contained his "Your Love Is like a Cancer" and a raging instrumental called "Hot Sauce." Midnight Son, his 1976 encore, was by comparison a much slicker affair, with tight horns, funkier grooves, and a set list that included "Telephone Angel" and "On My Knees." Seals cut a live LP in 1978 at Wise Fools Pub; another studio concoction, Chicago Fire, in 1980, and a solid set in 1984, Bad Axe, before having a disagreement with Iglauer that that was patched up in 1991 with the release of his sixth Alligator set, Living in the Danger Zone. Nothing But the Truth followed in 1994, sporting some of the worst cover art in CD history, but a stinging lineup of songs inside. Another live disc, Spontaneous Combustion, was recorded at Buddy Guy's Legends club and released in June of 1996. Over the years, Seals had his share of hardship, bad deals, unemployment, and rip-offs that go on in the music business. However, his personal life took two devastating blows in the late '90s. On January 5, 1997, during a domestic dispute, Seals was shot in the jaw by his former spouse. He miraculously recovered and continued touring. Two years later he had his left leg amputated as a result of diabetes. What would have surely forced most performers into retirement only made Seals more dedicated to his music and audience. He came back in 2000, signing with Telarc Blues, and recorded Lettin' Go. Seals preferred to remain close to his Chicago home, holding his touring itinerary to an absolute minimum. Virtually every weekend he could be found somewhere on the Northside blues circuit, dishing up his raw-edged brand of bad blues axe to local followers. The blues ended for Son Seals on December 20, 2004; he passed away due to diabetes related complications. © Bill Dahl & Al Campbell, allmusic.com