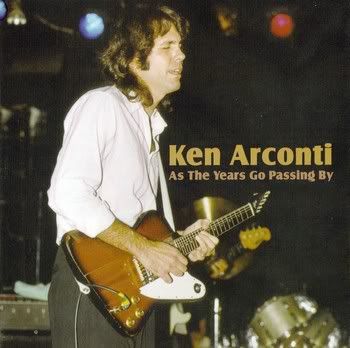 Ken Arconti
-
As The Years Go Passing By
-
1993
-
Jungle Beach Records
"...a must-have for aficianados for blues guitar playing of the highest order." © Metro, Santa Cruz
"...his guitar work on this album is smoking. If it's full on blues you want to hear, this is it." © Goodtimes,
Santa Cruz
"After one listen to Ken Arconti's rocking and rolling "Your Left Hand Don't Know (What Your Right Hand is Doing)," I guarantee you'll be addicted. Bay Area local Ken Arconti has the smooth vocals reminiscent of the Fabulous Thunderbirds' Kim Wilson and the lyrics seem to slide, cool as you please, right off his tongue." © Showcase Music Times, San Jose
"The album is a testament to Arconti's driving blues and understated growl, featuring tracks that run the gamut of blues-inspired emotions from the rocking, rhythmic, brash confidence of "Twenty Nine Ways(to get through my baby's door)" to the surf music-inspired insouciance of "Sen-Sa-Shun" to the pleading riffs mourning lost love in the album's eponymous track." © Goodtimes, Santa Cruz
The great Bay Area guitarist, Ken Arconti's great 1993 solo debut., recorded live at the Catalyst club in Santa Cruz, California, from gigs between 1989 and 1992. The CD's ten live tracks include some of the Bay Area's most talented musicians, including bassist and guitarist, Leonard Gill (B.B. King, Otis Rush), drummer, Paul Revelli (Joe Louis Walker, Angela Strehli), and keyboardist Lizz Fischer (John Lee Hooker). The 2007 CD release includes three bonus tracks which are included here. The three tracks (two of which also appear in their live form) were recorded at MARS Recording Studio in Aptos, California, between March and September of 1990. "As The Years Go Passing By" is an excellent blues rock album incorporating many guitar styles. Buy Ken's "Samsara Blues" album, and do the blues, yourself, and Ken Arconti a big favour.
TRACKS / COMPOSERS
You'd Better Believe - Ken Arconti
Keep on Loving Me Baby - Otis Rush
Don't Look! - Ken Arconti
Sen-Sa-Shun - F.King, S.Thompson
Twenty-Nine Ways - Willie Dixon
As the Years Go Passing By - Deadric Malone
Look on Yonder Wall - E.James, M.Sehom
Your Left Hand Don't Know (What Your Right Hand Is Doin')
You Were Wrong/Hendrix Thing - Z.Z Hill
The Sad Nite Owl - S.Thompson
Your Left Hand Don't Know (What Your Right Hand Is Doin') - Ken Arconti [2007 CD Bonus Track]
This Life I Love - Ken Arconti [2007 CD Bonus Track]
Don't Look! - Ken Arconti [2007 CD Bonus Track]
MUSICIANS
Ken Arconti - guitar, vocals
Leonard Gill - bass, guitar
Leonard Gill - bass
Jim Pugh - Hammond B-3 organ
Lizz Fischer - keyboards
Kevin Zuffi - piano
Paul Revelli, Jim Norris - drums
LINER NOTES
In the 80's a blues revival began in the United States fueled by the popularity of artists Stevie Ray Vaughan and Robert Cray. Nightclubs were featuring more and more blues acts and new blues venues continued to appear on the scene. There were young guitarslingers aplenty as well as veteran blues performers, some re-emerging from relative obscurity. While the revival was at its peak I was very fortunate to have the opportunity to open shows for many blues legends including Albert Collins, John Lee Hooker, Buddy Guy, Robert Cray, Clarence Gatemouth Brown, and Junior Wells. I'd always bring blank tapes with me to the shows and ask the sound crew to record my sets. Though I never intended to release these recordings, there were some nights when we managed to get a good mix on tape along with a great, high-energy performance. "As the Years Go Passing By" contains a sampling of these tunes recorded at several shows at the Catalyst night club in Santa Cruz, California. Eight of the ten live tracks were recorded from the stage monitor mixing board onto two-track digital audio tape (DAT). The remaining tracks were recorded from the main PA mixing board onto two-track cassette. What you hear on this disk is definitely music in the raw; no overdubs or fixing it in the mix here! I originally released "As the Years Go Passing By" in 1993. It's hard to imagine now, but at that time people were still making the change from turntables and cassette decks over to CD players. In fact, I don't recall anyone having a CD player in their car back then (at least not in my circle of friends)! Since I was running on a limited budget, I released the album on cassette figuring that it was the format available to the largest number of people. After I sold out my first run of cassettes I decided to leave it at that and move on to new things. But as the years went passing by--some of my friends and fans commented on how much they liked the album and suggested that I put it on CD. Having not heard it in quite some time, I gave it a listen and was delighted to re-discover that it was a pretty rocking album! I decided to go ahead with the project and put the album on CD. Happily I found the master DAT and went into the studio to do some re-mastering, only to find that I had an alternate version of the master tape! I went home and searched through boxes of tapes several times over, but to no avail. I realized the only place the master could possibly be was at the plant that replicated and packaged the album. I did an internet search and was glad to find that they were still in business and I gave them a call. I explained my situation to the woman on the phone and she said that since the album was done in 1993 they probably would no longer have it on file. She asked me what format the master was, and when I told her it was on DAT she said that she had just happened to see a bunch of DATs sitting on a shelf downstairs and would go take a look. About twenty minutes later she gave me a call and lo and behold she had found the master tape! I now present to you the newly re-mastered version of "As the Years Go Passing By." Since CDs can now hold about 80 minutes of music compared to about 60 on cassette, I was able to include three previously unreleased studio recordings on this album. The three tracks (two of which also appear in their live form) were recorded at MARS Recording Studio in Aptos, California, between March and September of 1990. They were recorded on good old two-inch, 24-track analog tape. It brings me much pleasure to finally release these tunes as I ask myself, what is a mere sixteen years in the larger scheme of things anyway?! I sincerely hope you enjoy listening to the album as much as I enjoyed resurrecting it! © Ken Arconti, October 4, 2006
SHORT BIO

Guitarist/vocalist Ken Arconti is a native Californian who has performed in the San Francisco Bay Area for over 20 years. At home in almost any musical environment, his playing is filled with passion, sensitivity and soulful lyricism. .Ken began playing guitar at the age of 11. He was soon performing in bands and absorbing the sounds of the '60s. Jimi Hendrix, Eric Clapton, the soul sounds of Stax & Motown, the blues of B.B. and Albert King, and jazz artists Miles Davis and Wes Montgomery were all influences.In 1978, Ken moved from his home of Los Angeles to Santa Cruz and began playing in clubs around the Bay Area. He has performed everything from country to jazz, to top-40 rock, to rhythm & blues. Well known for his blues playing, Ken has performed repeatedly at the Monterey Bay Blues Festival. The list of artists he has opened for reads like a "Who's Who" of the Blues: Robert Cray, Buddy Guy, John Lee Hooker, Albert Collins, Junior Wells, Johnny Copeland, Clarence Gatemouth Brown, John Mayall, Charlie Musselwhite, Robben Ford, Duke Robillard, Ronnie Earl, and Roomful of Blues, to name a few. He has also recorded/performed with the Broadway Blues Band, Terry Hanck & the Soul Rockers, the Chris Cobb Band, The Mighty Penguins, and legendary New Orleans funk drummer Zigaboo Modeliste (the Meters).As well as performing, Ken carries a steady clientele of devoted guitar students. He taught in the California Arts In Corrections Program from 1992 to 2003, teaching guitar, music theory and improvisation at Soledad Prison. He was the recipient of a prestigious Artist in Residence Grant from the California Arts Council from 1999 to 2002, establishing a multi-cultural music/band program at Salinas Valley State Prison, which was featured in the 2002 VH1 documentary "Music Behind Bars." © 1996 - 2009 CD Universe; Portions copyright 1948 - 2009 Muze Inc