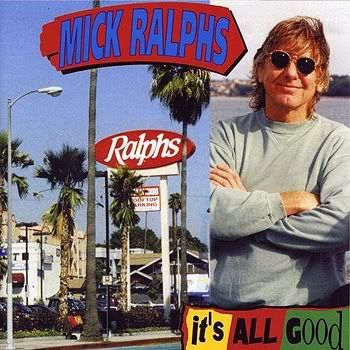 Mick Ralphs
-
It's
All
Good
-
2001
-
Angel Air
This agreeable instrumental outing from Bad Company's longtime guitar ace will likely find its greatest favor with guitar and home recording buffs of all stripes. He plays everything here, except for a bluesy, stampeding version of "Hideaway" taped on Bad Company's 1999 reunion tour. Ralphs ignites his renowned blues-rock muse on "S.E.X." and "Train Wreck," while "Don't Need Money" is a funkier display of his signature piercing licks. He drops the gears down a notch on the aptly titled "Atmosphere" before winding back into "Coming Up the Hill"'s more mid-tempo territory. He also proves himself to be a fair piano player on the mid-tempo cocktail piece "Large!" and its slinkier cousin, "Jessica." A couple of these efforts are too cursory to make an impression, such as "Gravy Booby" and "More S.E.X.," which is "S.E.X." minus the guitars. Otherwise, this album brims with the joy of someone stretching out for the sheer bloody fun of it. © Ralph Heibutzki, allmusic.com
This album was described as "shit" by one reviewer. Hardly a constructive critique of a good album. This is certainly not an album in the style of Bad Company, or Mott The Hoople, but Mick Ralphs lays down some good melodies, and there is plenty of his skilful guitar playing. The album covers blues rock, boogie, jazz, jazz fusion and Mick Ralph, himself said that "the mission of It's All Good is "thought, feel and melody rather than speed". A minor quibble with "It's All Good" is that some of the tracks are very short, and could have been developed more. However it's a good, inventive album with plenty of good musical ideas, and very enjoyable. Listen to Mick's "Take This!" album, and check out some of his work with Bad Company, and Mott The Hoople
TRACKS
S.E.X.
Barking Mad
Don't Need Money
Jessica
Hideaway (Bad Company live) - Recorded live on the 1999 Bad Company tour with drummer, Simon Kirke and bassist, Boz Burrell.
Jazz Wah
Train Wreck
Large!
Atmosphere
Gravy Booby
Coming Up The Hill
More S.E.X
All songs composed by Mick Ralphs, except "Hideaway" by Freddie King.
All instrumentation by Mick Ralphs, except on "Hideaway"

REVIEWS
A founding member in both Mott The Hoople and Bad Company, guitar icon Mick Ralphs recently released a 2001 instrumental studio album on U.K.-based Angel Air Records. Angel Air have released several Ralph's related titles including a 1999 reissue of his Take This album as well as a pair of Mott The Hoople CDs. According to Ralphs, the mission of It's All Good is "thought, feel and melody rather than speed". It's All Good was recorded over the past couple years and, in addition to 11 Ralphs originals, also features a rousing cover of the Freddie King track "Hideaway", taken from the 1999 Bad Company reunion tour. The bluesy, all-instrumental album finds Ralphs in a rocked-out, playful frame of mind, underscored by the CD artwork picturing Mick superimposed amid palm tree filled photos of a Ralphs supermarket in L.A. Performing all the instruments himself (except on the live Bad Company track with Simon Kirke and Boz Burrell), Ralphs comes off like a sonically potent one man band getting maximum impact out of his Gibson and Fender guitars. © 2000-2002 MWE3.com, Inc. All Rights Reserved
...miles better than its predecessor...This is clearly an album by a man enjoying himself once more, enjoying putting down an album's worth of music he loves...this has been well worth the wait...Recommended. © Adrian Perkins
...it's his use of catchy hooks, memorable melodies and of course his top notch guitar playing that leaves you with a feeling of enjoyment after listening to this excellent CD...Another future classic from the Angel Air stable, packaged as usual to their usual high standards. © James R Turner, Wondrous Stories, December 2001
This skilfully crafted instrumental set was assembled by Bad Company guitarist Ralphs who also tossed in a live track from the band's 1999 US tour as an added appetizer.
© Kevin Bryan, Retford Times, April 2002
Rich in ideas and full of the most flavoursome playing this is a delightful album... © Peter French, Hartlepool Mail, July 2002
This is nice; in fact this is very nice...The way it has been put together is nothing short of inspirational, I just love it...It's a joy to listen to laid back with a beer; it's the way life should be. There is a passion flowing from the instruments which were all played by Mick (except the Bad Company song) and he even did the artwork for the cover. I have to say this is a sensational instrumental album. © Modern Dance, August 2002
...a fabulously evocative record, the sort of controlled masterpiece of which most guitar heroes ar capable but that few actually get 'round to recording....some of the tracks here rate alongside any of the masterpieces for which he is otherwise justly feted.... © Jo-Ann Greene, Goldmine, February 2002
BIO
Mick Ralphs is one of British rock music's most tasteful and understated guitarists, from the same 'school' as Joe Walsh and Mick Ronson where, thankfully, the mission statement is thought, feel and melody rather than speed. Ralphs' attributes, and his ability to 'play for the song', are amply displayed on his recordings with Mott The Hoople and Bad Company, but this enhanced CD re-issue by Angel Air Records - (containing the original Take This! LP, two unissued tracks, 'All Across The Nile' and 'Rock 'n' Roller', plus several work- in-progress mixes) showcases his solo compositions and further illustrates his redoubtable playing skills. Born and raised in Herefordshire, an English county that nurtured and brought together the musicians that would become Mott The Hoople, one of rock's most inspirational bands, Mick was something of a late-comer to music, learning guitar when he was eighteen years of age. His musical influences included Chuck Berry, Eddie Cochran, Buddy Holly, Ricky Nelson ('mainly for the guitar playing of James Burton'), Buffalo Springfield and Mountain guitarist Leslie West. Ralphs' early groups were The Mighty Atom Dance Band and The Melody Makers before he joined The Buddies, in 1964, who made one single featuring the Ralphs/Norman composition 'It's Goodbye', Mick's first recorded work. Future 'Motts' Stan Tippins (vocals) and Peter Overend Watts (bass) joined The Buddies and worked continuously with Ralphs until 1969 when Guy Stevens signed them to Island Records, thanks predominantly to Mick's relentless determination. The Buddies were a slick beat outfit who quickly obtained regular work in Germany and Italy and would travel to and from the continent, ultimately using other band names including The Doc Thomas Group and Problem as 'flags of convenience' - (please consult the sleeve notes to Angel Air's stunning 2 on 1 CD - Doc Thomas Group The Italian Job and The Silence Shotgun Eyes - for an extensive history of Ralphs' early years). After recording The Doc Thomas Group album in Milan in 1966 and making two subsequent appearances on RAI Television (by which time drummer Dale Griffin had also joined DTG), Mick worked with future Mott The Hoople organist Verden Allen in Jimmy Cliff's backing band, The Shakedown Sound. Eventually Ralphs, Tippins, Watts, Griffin and Allen joined forces and became Silence, who auditioned for Guy Stevens. Between 1969 and 1974, Mott The Hoople created astounding music. Fired by the powerful, percipient writing of vocalist Ian Hunter and buoyed by Mick's blistering guitar playing, they cemented their position as one of the most influential British rock acts of the decade and unquestionably THE precursors to punk. Ralphs contributed some of Mott's best material including 'Rock And Roll Queen', 'Half Moon Bay', 'Thunderbuck Ram', 'Whiskey Women', 'Midnight Lady', 'The Moon Upstairs', 'Moving On', 'Ready For Love' and 'One Of The Boys'. After four critically acclaimed but poor selling albums with Island Records, Mott The Hoople switched to Columbia and found increased commercial success with All The Young Dudes and Mott, the latter showcasing some of Mick's most inspired guitar work. The future looked assured but suddenly, in August 1973, after the first stage of a major headlining American tour to promote Mott, Ralphs left to form Bad Company with Free vocalist Paul Rodgers and drummer Simon Kirke. Mott had toured the UK with Rodgers' group Peace as their support act in 1971. Overend Watts, Mott's bass player, would soon decline an offer to join Bad Company. Ian Hunter confesses that he did everything possible to convince Ralphs to remain in Mott The Hoople. 'I didn't want Mick to leave. I spent three hours with him trying to talk him out of it, but it was getting ridiculous. I even offered him half my royalties on a total co-writer basis and he was writing maybe an eighth of what I was writing. I believe in Mick Ralphs. His taste is impeccable, that's why I say he's one of the best guitar players there is.' Various 'public explanations' were given for Ralphs' departure including lack of recognition and his fear of flying, but Mick admits he really left Mott The Hoople because fundamentally he felt the group had changed. 'We'd struggled all these years to have a hit and Ian was on a roll writing hit singles, but I'd started writing songs and didn't think they would fit in the vehicle known as Mott The Hoople. Also, as much as we were having success, the success was because we were writing songs like 'Honaloochie Boogie' and we'd lost a bit of the wildness. 'Mott survived on struggle, adversity and disappointment and that gave us the spirit to carry on. We'd always said, sod convention, sod the system, but there comes a point where you can't be famous and be like that. We were always the underdog and that was part of the reason we were so spirited and so exciting. And then we got into this thing with David Bowie, which was a great success and helped everyone, but in a way we'd become part of the system we were always dead against. We'd had success, but there was a different feeling in the band and it was time for me to move on. I didn't have the same commitment and interest because of the change. Mott was like my adolescence and I decided it was time to go off and do my own thing. I just wanted to play some different music. It was like leaving your parents; it's not that you don't love them, you just want to go and do something else.' Ralphs looks back on his fellow Mott members with affection. 'Ian Hunter is a very strong character. I respect him enormously. He's an excellent songwriter and has a great handle on the business. He's also very good at dealing with the press, much better than I am. Pete Watts always had lots of great ideas and was always doing something interesting, like he'd have a guitar made in the shape of a bird, or a three dimensional chess set or would wear platform boots long before anybody else did. Buffin often underestimated his strength in the band, because he was a real driving force. He was also underestimated as a drummer I think, because a lot of people took something from his style. Verden Allen was a good, passionate man and very single minded. But he was extremely musical and had great ability. He wasn't afraid to try something different for effect and would often play a wild style rather than adopt a conventional approach, which all contributed heavily to the Mott sound.' 'When Mott toured with Peace, I couldn't believe that someone of Paul Rodgers calibre was supporting us, although his band weren't that great,' says Ralphs. 'We all loved Paul and got him up to sing with us one night, and I said to him backstage that I'd got some songs we weren't doing in Mott and would he like to do them. So I played him 'Ready For Love' and he liked that, and then I played 'Moving On' and he liked that too. Initially, I was just going to do some recording with Paul, but when I started working with him, it was obvious I was more interested in that. 'We were doing the Mott album and Paul wanted to record and put a band together but I told him Mott The Hoople had a US tour coming up and I had to do that. I couldn't just tell them I'm leaving, it wouldn't be fair. So I said to Mott I'd do the American tour and that would give them time to get somebody else in to take my place.' 'Ralphs quits Hoople' announced the music press in August 1973 and Bad Company was born. Rodgers, Ralphs and Kirke recruited Boz Burrell, who had previously been with King Crimson where he learned bass under the tuition of lead guitarist Robert Fripp, and joined Island Records in Britain and Led Zeppelin's US record label, Swan Song, managed by the late Peter Grant. 'He was a lovely man,' says Mick, 'and another big influence, as Guy Stevens was, but in a different way. If it hadn't been for Peter, Bad Company wouldn't have been as big as they were, just like Guy with Mott.' Playing their first gig at Newcastle City Hall in March 1974 and attracting instant popularity, Bad Company's self-titled debut album was a huge hit that year reaching No.3 in the UK and No.1 platinum status in the US charts. Produced by the group, the record included Ralphs' Mott The Hoople songs 'Ready For Love', 'Moving On' and the top 5 single 'Can't Get Enough', plus two fine ballads co-written with Paul Rodgers, 'Don't Let Me Down' and the acoustic 'Seagull'. Bad Company became the most successful new British band in the USA in 1974 achieving immediate recognition. They departed on their first American tour for six weeks as a support group, but were instantly promoted to headlining status and eventually returned to the UK three months later. Their appeal increased on both sides of the Atlantic with the 1975 release of Straight Shooter, which reached the top three in the UK and spawned two hit singles, Ralphs' 'Good Lovin' Gone Bad' and 'Feel Like Makin' Love' composed with Rodgers. Mick also co-wrote 'Deal With The Preacher' and 'Wild Fire Woman'. 'Once I got working with Paul I got into a roll,' says Ralphs. 'I unleashed a lot of songs because I had the perfect vehicle; I had the greatest singer in the world and the greatest drummer, and everybody was into the blues, so I was able to exploit my songwriting to the degree that I did.' By 1975 Bad Company decided to live in the USA and Ralphs temporarily abandoned his Oxfordshire home. 'We lived in Malibu when the tax in England was ridiculously high and everybody was leaving the UK. We decided to cushion the financial burden and ended up living in California for six months in a rented house. We picked Malibu because it was about forty five minutes from LA, to try and get away from the madness, but of course we didn't, it just followed us out there.' For their third album, the excellent Run With The Pack, released in 1976, Bad Company worked in France recording and producing the LP using The Rolling Stones' Mobile Studio. Once again they had a top three album in the UK and a US single, 'Youngblood', reached No.20. Ralphs composed three songs for the LP, 'Live For The Music', 'Simple Man' and 'Sweet Lil' Sister', and co-wrote 'Honey Child', a second US single. Peter Grant's management policy of a world tour every two years kept audiences hungry and perhaps explained the group's lifespan of ten years. Their subsequent top 20 LP's - Burnin' Sky, Desolation Angels and Rough Diamonds - were not as strong as their opening trio, although their 1979 single, 'Rock 'n' Roll Fantasy', reached no.13 in the American charts. In 1983, Paul Rodgers quit and the band folded, reforming in 1986 with Dave Colwell on guitars and ex-Ted Nugent vocalist Brian Howe. They enjoyed considerable renewed success with several hit albums for Atlantic/Atco Records in America, including Fame and Fortune, Dangerous Age, Holy Water and Here Comes Trouble, the latter two achieving platinum awards. Although they were always a major concert attraction, Bad Company didn't issue a live album until 1994, the excellent What You Hear Is What You Get, after which Howe departed. Solo and collaborations In 1984, during Bad Company's temporary demise, Mick Ralphs released Take This on Rock Machine records, but with no singles and no major promotional activity, the album passed un-noticed. Self-composed apart from one track, and assisted by Simon Kirke and bass player Micky Feat, Ralphs played all other instruments and arranged and produced the record with Max Norman, who had by this time, worked with Ian Hunter on his 1983 solo LP, All Of The Good Ones Are Taken. 'I enjoyed doing my solo album,' admits Mick. 'I had all these songs I'd written for Bad Company and Bad Co wasn't functioning, so I got the songs, arranged them, booked the studio, hired the players, mixed it, put it all together, did the cover but basically lost a fortune! The record company said, 'Oh great Mick, yeah nice one,' but when I came to get a deal, I couldn't, because people just wanted Bad Company, they didn't want a Mick Ralphs album. I should have known that. It cost me quite a lot of my own money even though the record wasn't that expensive to make. The singing let's it down because I'm not a very good vocalist, but I had a great band. We rehearsed endlessly and that also cost me a fortune as I was paying their wages. It was a shame, it went nowhere and I had to split the group.' Mick played four London concerts to promote Take This! and included Little Feat and Ry Cooder covers in his set. He also worked subsequently with Cold Turkey, aimed at playing R+B, blues and rock. Ralphs formed this low-key group simply for fun but the other musicians were more serious. They only fulfilled one live performance. Over several years Mick has played on an array of sessions for Jon Lord, Ken Hensley, Luther Grosvenor, Ian Thomas, Lonnie Donegan, Jim Capaldi and The Who on their re-recording of Tommy. Ralphs also produced albums by Maggie Bell, Wildlife and Scottish rockers Gun. 'When the original Bad Co stopped working and Paul went off to do his own thing, I did my solo record and Simon became the drummer in Wildlife, who were later FM. It was quite a good band but obviously that was never going to go anywhere either, because the business really wanted Bad Company to get back together again. Anything we did wasn't going to happen.' Ralphs continues to live in Oxfordshire and has done so on and off since 1974. 'It's a lovely area. Most of the people are not natives because it's not far from London, so it's good if you are connected with business. Dave Gilmour of Pink Floyd moved into the area years ago. He's a wonderful man and probably one of my best friends bar none. I toured with him in 1984 for a year and had a super time. He saw me doing my solo thing and said, 'Mick, you're wasting your time, just come on the road with me and save yourself some money.' I also worked with another neighbour, George Harrison. I used to go over to his house and play with him and other musicians in the area like Jon Lord, Jim Capaldi and Dave Gilmour. George and I wrote a song called 'The Flying Hour' together and then he released it, and gave me a credit, which was very gracious of him.' 1995 saw the release of a self-produced Bad Company album, Company Of Strangers, featuring new singer, Robert Hart, who bore an uncanny vocal similarity to Paul Rodgers. Containing five tracks self-penned or co-written by Ralphs, the band undertook a lengthy promotional tour of the USA with Bon Jovi. Griffin Music of America also re-issued Take This! on compact disc. Bad Co's 1996 album, Stories Told + Untold, contained seven new compositions and seven acoustic versions including 'Can't Get Enough' and a superbly revitalised 'Ready For Love', which is still, perhaps, Mick's finest composition. Ralphs has remained committed to Bad Company for twenty five years and, more than any other, has been the one original Mott member reluctant to see any Hoople reformation. 'I personally think that Mott The Hoople was great as it was and should be left as that. I always think you can't really recreate something that was unique. I love everybody involved in it, and love to get together and see everybody, but we talked about a reformation a few years ago and I said I'd find time to do an album then. But, of course, you have to do an album and a tour and this and that, and it's too much. In all reality, I now hope to be away from home a lot less in the future, lead a more non-music biz life, be around my kids and try and find some peace of mind. I doubt therefore if Mott The Hoople will ever do anything commercially together again because it would be too involved. In fact we've had more success since we finished than we had when Mott was alive.' Recently, Pete Watts reflected on Ralphs' guitar playing, admitting that perhaps he didn't receive the recognition he truly deserved, particularly for his live work. 'When I heard Mick recently on some 1970 live tapes of a Mott gig at Croydon Fairfield Halls, some of his guitar playing that night was just so blistering. I've never heard Ralphs play like that. He was a natural in the studio and very adaptable, but Mick always liked to have his guitar playing quite refined. On reflection, hearing his live work, it was so much better than anything I ever heard him do on record. It was nastier and had more of a rough edge. He is a special player.' Over the last two years Ralphs has composed around 50 new songs in various musical styles. He hopes that some of this material will be covered by other artists, for there is unlikely to be any future solo recordings from Mick who still describes himself as 'a group person'. He has recently turned his attentions to a proposed Bad Company boxed set which will, at long last, provide a long overdue compilation of their enviable catalogue. Scheduled for release in early 1999, a US tour is also being planned and British shows are a possibility. 'It should be good, as long as we get it together and do it quickly before we all seize up with arthritis,' remarks Mick. © 2002-2009 mickralphs.co.uk
SHORT BIO
Mick Ralphs was the lead guitarist for not one, but two of album rock's most storied bands: underappreciated glam rock legends Mott the Hoople, and the far more commercially successful Bad Company. Born in 1948 in Hereford, England (near Wales), Ralphs played with a blues-rock group called the Buddies (who released a single in 1964) in his teens, and then moved on to the mod-styled Doc Thomas Group, whose self-titled 1967 debut album was issued only in Italy. A name change to Silence followed in 1968, and the group evolved into Mott the Hoople by the following year. Several years of struggle followed before the group hit it big with David Bowie's "All the Young Dudes" in 1972. The more popular Mott became, the more they emphasized Ian Hunter's songwriting over the other members'; Hunter's increasing ambition was more and more at odds with Ralphs' taste for simple, riff-driven hard rock. In 1973, after the release of Mott, Ralphs left the band to form Bad Company with two ex-members of Free. His composition "Can't Get Enough," which Mott was unable to record because of the vocal register in which it was written, became an immediate hit and pushed the group's 1974 debut album to number one in the U.S. A string of hugely successful albums followed up to 1982, making Bad Company one of the top arena rock acts in the world. After the initial lineup disbanded, Ralphs recorded a solo album, Take This!, which was released on the small, poorly distributed Rock Machine label in 1984 (it was later reissued on CD). In 1986, the first of several Bad Company reunions took place, which have continued to the present day (Ralphs was present for all of them, and plays guitar on every one of the group's albums and singles). In 2001, Ralphs released his second solo album, the all-instrumental effort It's All Good, on the Angel Air label. © Steve Huey, allmusic.com