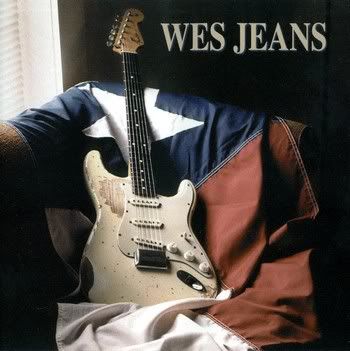 Wes Jeans
-
Hands On
-
2000
-
Icehouse Records
Born in East Texas in 1981 into a musical family, Wes was born with a natural musical talent. In 1996, he entered the International Jimi Hendrix Competition in Austin, Texas where he got second place, and received great acclaim. Soon after, he began playing local venues and festivals, where he was noticed by various record companies. In 1999, he signed a contract with Ice House Records in Memphis, and started recording "Hands On" where he worked with Al Green's bass player and drummer John Williams, drummer Lloyd Anderson, and Albert King's former B-3 player, Gregg Redding. "Hands On" led to other releases and he shared the stage with artists like such as B.B. King, Buddy Guy, Lynryd Skynyrd, and Joe Bonamassa. In 2003, readers of Guitar Player Magazine voted Wes Jeans third among the Young Gun Guitar Players in the nation between Jonny Lang and Kenny Wayne Shepard. In 2006, Wes released his second studio album "Forest Of The Pine" produced by long time friend, Lance Lopez. The album is now recognised as a blues rock masterpiece. "Hands On"is a great album from a guitarist of pure raw talent, and natural ability. To hear Wes Jeans at his best, listen to his brilliant "Forest Of The Pine" album.
TRACKS / COMPOSERS
1. Tell Me - Nadeau
2. Ridin' In The Moonlight - Purnett
3. Now You Look At Me - Jeans
4. Use What You Got - Unknown
5. I'm A Good Man - Wilson
6. Don't Be Hip - Johnson
7. Hands On - Le Blanc
8. Too Late - Jeans
9. Drownin' On Dry Land - Gregory, Jones
10. Victim Of The Game - Jeans
11. Stratus - Cobham
BAND
Wes Jeans: guitar, vocals
John Williams: bass
Greg Redding: keyboards
Lloyd Anderson: drums
ARTICLE FROM
http://www.tbonewalkerbluesfestival.com/bluesperformers08.htm

"Son, you keep your head on straight and you're going places. – B. B. King to Wes Jeans following appearance at the Oct. 2003, Strand Theater in Shreveport. It's easy to forget that this East Texas guitar-god won a 1996 Jimi Hendrix guitar showdown in Austin less than a year after picking up the axe. Wes Jeans wears the honor displayed in 2004 by Guitar Player Magazine as one of the nation's Top Young Guns. he appeared in the documentary "Solis Bodies" along with Johnny Lang. But blues guitar success is a long and elusive trail that leads backwards rather than forward; so, even young studs still give wide clearance to B. B. King, Buddy Flett, Chris Duarte, Buddy Miles, Buddy Guy, Joe Bonamassa and Hubert Sumlin. …and Wes has swapped licks with each at one time or another. The road is long and sometimes brutal, but Wes still has time on his side. K. Reagh probably sums up this analogy far more eloquently - "Wes Jeans is no stranger to the blood, sweat and tears it takes to make it in this rough genre. This 26 year-old is in his eleventh year of highway pounding blues playing and singing. His travels have taken him to the East Coast to the West Coast. "Playing this genre is not for anyone with thin skin. Blues is the underdog and it's up to us to forge a sound which is ours but reflective of our heroes and bring it to the forefront." Back for a second year to headline the T-Bone's "Texas Young Guns" show, Wes Jeans will set you on fire!
REVIEW
Every few days now I am either sent by email or discover myself the name of yet another young guitar slinger trying to make a name for himself in blues/rock music. Often incorrectly labeled as "phenoms" or "the next SRV", these youngsters are nonetheless quite amazing to behold. Some are on tour while still in high school and no doubt perform in places into which they could not gain admittance due to their age were they not with the band. The future of blues/rock music has never appeared brighter, due in part to this great influx of such talented young artists. We fans of the senior set can rest assured that this great genre of music will live on long after we have passed from this world and are in attendance at that great Stevie Ray concert in the world yet to come. A great number of young artists have been labeled as the "next Hendrix or Stevie Ray", when in reality, neither of these great artists will ever be replaced. There will be, however, one of these many young artists who ultimately steps forward to take the lead position, hoping someday to claim the title of "America's guitar hero". While Kenny Wayne Shepherd and Jonny Lang seem to be getting the bulk of the press and major record label push toward the throne, my betting money is placed squarely on the young but capable shoulders of Marshall, Texas native Wes Jeans to someday be so honored. Though still shy of his 20th birthday, Jeans has managed to combine a number of classic influences, most notably Mr. Hendrix and Mr. Vaughan, with vocal talent beyond his years into this remarkably good set. He has also demonstrated the mature wisdom to surround himself with a veteran supporting band, anchored by Al Green's bassist and drummer (John Williams and Lloyd Anderson) and including former Albert King band member Greg Redding on keyboards. When you put all of these ingredients together and season them with God given talent, you have the makings of a most extraordinary debut recording. While some of the other "young guns" have opted for more hard rock or alternative sounding efforts, "Hands On" is very much a Texas blues/rock recording. This is yet another reason why I prefer Mr. Jeans over some of his peers, as unlike some of the others, he seems to much more rooted into the music that he is actually performing. I would consider this to be a great strength as it translates to me as a very genuine sound. His technical ability is excellent, especially given his age and the fact that he did not ever begin to play the guitar until age 15, and it will do nothing but improve with experience. His vocals are already solid and will do nothing but improve also. He plays and sings with great passion, a trait that his peers could do well to imitate. Again, for my money, he is the most complete and most promising of the younger blues/rock artists going today. My favorites on the CD include the Texas blues/rock opener "Tell Me", a remake of the classic "Drownin' on Dry Land", "Victim of the Game" (one of the three tracks written by Mr. Jeans), and the hard rocking "Now You Look At Me". All of the tracks are good here and provide the listener just a glimpse of what outstanding work is yet to come later from this tremendous young artist. © Bluesrockers 2001