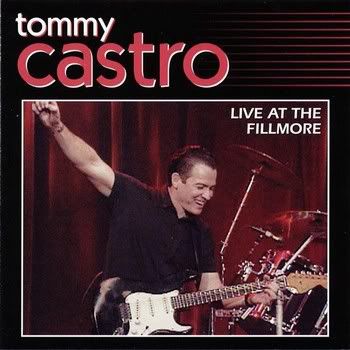 Tommy
Castro
-
Live at the Fillmore
-
2000
-
Blind Pig
CMJ (3/13/00, p.28) - "...Castro illustrates the precision guitar work and fiery vocals that in-the-know audiences have come to expect from him."
Down Beat (6/00, p.68) - 3.5 stars out of 5 - "...Achieves a near-perfect mixture of hot agitation and cool relaxation in his guitar exhortations..."
Tommy Castro and his band "take no prisoners" at this concert from March 6th, 1999 at the famed Fillmore venue. They raise the roof in a powerful display of blues, rock and Memphis soul. Tommy's terrific, passionate soul tinged vocals, and his brilliant guitar playing make this a great album. Tommy Castro loves the blues, and he enjoys playing here as much as the audience enjoy his amazing brand of blues rock. Album is also available on enhanced CD, DVD and VHS video. It is worth buying the enhanced CD for the multimedia computer files. Search
A.O.O.F.C
for many Tommy Castro related recordings, and buy some of this great bluesman's records.
TRACKS / COMPOSERS
Right as Rain - Tommy Castro
Like an Angel - Tommy Castro, Randy McDonald
Nasty Habits - Tommy Castro
My Time After Awhile - Ron Badger, Sheldon Feinberg, Robert Geddins
Lucky in Love - Tommy Castro, Billie Lee Lewis
I Got to Change - Tommy Castro
Can't You See What You're Doing to Me - Albert King
Just a Man - Tommy Castro
Keep a Good Man Down - Tommy Castro
The Girl Can't Help It - Bobby Troup
Get Up (I Feel Like Being A) Sex Machine - James Brown, Bobby Byrd, Ron Lenhoff
MUSICIANS
Tommy Castro (vocals, guitar)
Randy MacDonald (bass)
Jimmy Pugh (keyboards)
Billy Lee Lewis (drums)
Keith Crossan (saxophone)
Tom Poole (trumpet)
REVIEWS
Blues-rock guitarist Castro brings us his fourth recording, an enhanced CD recorded live at his hometown, San Francisco-based Fillmore Auditorium. Castro is a good guitarist who is not hung up on pyrotechnics; he plays clean, undistorted licks in the basic tradition. Vocally, he is quite reminiscent of Tower of Power singer Emilio Castillo (check out "What Is Hip?" for the similarities.) This 11-song set starts off rocking on the straight-laced, organ-fired (by Jimmy Pugh) "Right as Rain," one of several tracks from previous discs. Castro is also into hot funk with horn help from trumpeter Tom Poole and tenor saxophonist Keith Crossan for "Like an Angel" and the 12-bar R&B-ish "Nasty Habits," all of which are Castro's tunes. "My Time After Awhile" is the most straight-blues-oriented number of the lot, slow and quietly sizzling. "Lucky in Love" and "I Got to Change" are more pop-oriented, the former in rock territory, the latter á la Otis Redding. Albert King's "Can't You See What You're Doing to Me?" is a loping blues-rock tune with Castro's best guitar improvs and most animated, feverish vocal. Even more into Otis Redding's bag, "Just a Man" is a sweet, slow soul sender, followed by the good, old-time type, midtempo, high-energy-injected rocker "Can't Keep a Good Man Down." Castro's rhythm section of bassist Randy McDonald and drummer Billy Lee Lewis finally doubles the time on the fastest tune, the typical '60s dance ditty "The Girl Can't Help It" with background vocals, and Castro exclaims, "it's not my thing, but we'll borrow it" before posing the strut of James Brown's "Sex Machine" in extended fashion for band intros and some enjoyable jamming. Every musician should put out a live club or concert date, yet few do these days. Castro's confidence is evident, his band is tight, and this CD produces a pretty good representation of what you hear in any given short set of Castro's performances. Three sets, or at least the best moments of that long night of party music, would have been even better. © Michael G. Nastos, All Music Guide
Tommy Castro is the kind of guy who makes you think, "hard-workin' man." There's no frills or flash on Live at the Fillmore, but one gets the sense that Castro could do that stuff if he wanted to--he just has the good taste to refrain. That's all right; as it is, Castro and his band are so hot, you can practically hear the music sweat. Judging by the song titles, which include "Lucky in Love," "Can't Keep a Good Man Down," and "Sex Machine," one might get the impression that Castro's got only one thing on his mind, but few musicians can approach the same topic in such a myriad of ways. Besides, Live at the Fillmore also includes a stunning version of the soul-blues ballad "Just a Man," which shows that Castro is as capable of tenderness as he is of full-throttle blues rock. Wholly satisfying. © Genevieve Williams, © Amazon.com
ABOUT
TOMMY CASTRO
b. San Jose, California, USA. Castro and his music sit squarely at the centre of an evolving tradition of rock and blues. His early heroes were Eric Clapton, Mike Bloomfield and the Rolling Stones, which led him further back to the music of Muddy Waters, Freddie King, Otis Redding and Wilson Pickett. All these artists - and more - have influenced Castro in his own writing, singing and guitar playing. Castro spent many years playing with bands in the San Francisco Bay Area, and toured for two years with the Dynatones. He formed the Tommy Castro Band in 1991, which was named Club Band Of The Year for the Bay Area in 1993, and again in 1994. Regular band members have included Randy MacDonald (bass/vocals), Keith Crossan (saxophone/vocals), Billy Lee Lewis (drums/vocals), and Chris Sandoval (drums/percussion). Castro consolidated the band's success by recording Exception To The Rule, his debut album on Blind Pig Records in 1995 (the 1993 release No Foolin' had appeared on the tiny Saloon label). The band continued to record with Blind Pig over several albums - Can't Keep A Good Man Down, Right As Rain, Live At The Fillmore, and The Essential Tommy Castro, a greatest hits collection. Overall the songs followed an upbeat, blue-collar tone, full of horns and machismo. Contrasting soulful numbers included "Just A Man" on Right As Rain. In 2001 the Tommy Castro Band moved over to 33rd Street Records for Guilty Of Love and then to Heart And Soul for 2003's Gratitude, a cover album of Castro's greatest heroes. Castro earned praise and respect from many of his idols, even getting the opportunity to play with them, opening for B.B. King on tour in 2001 and 2002. His band's music gained mainstream appeal through being featured in US network television programmes, and through a residency as the house band for NBC-TV's Comedy Showcase. The eclectic flavour of 2005's Soul Shaker, marking his return to Blind Pig, featured more original compositions from Castro, who wrote or co-wrote all the tracks. Although horns and guitars still dominated, the fusion was more varied. Notable tracks included the wistful "Anytime Soon" and "The Crossanova", characterised by Crossan's funky flute. © IPC MEDIA 1996-2009, All rights reserved