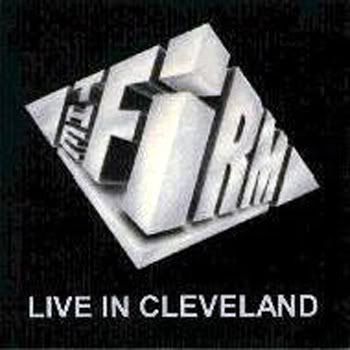 The Firm
-
Live At Richfield Coliseum , Richfield, Ohio , USA,
11/5/86
-
1986
-
Unof
Created from a first generation tape of an FM Radio Broadcast of The Firm's performance at the Richfield Coliseum on May 11, 1986. Sound quality is above average. Check out the band's great "Mean Business" album.
N.B
:
Richfield Coliseum, a venue for so many great concerts, closed in 1994 and in 1999 was demolished and the property returned to woodland and under stewardship of the Cuyahoga Valley National Park.
TRACKS / COMPOSERS
1. Intro/Jupiter - Holst
2. Fortune Hunter - Page, Rodgers
3. Found Somebody aka Someone To Love
4. Make Up Or Break Up - Rodgers
5. Prelude In E Minor - Chopin
6. Money Can't Buy - Rodgers
7. Satisfaction Guaranteed - Page, Rodgers
8. Radioactive - Rodgers
9. King's Horses - Rodgers
10. Long Black Cadillac - Page, Rodgers
11. You've Lost That Lovin' Feeling - Mann, Spector, Weil
12. Midnight Moonlight - Page, Rodgers
13. Tear Down The Walls - Page, Rodgers
14. Live In Peace - Rodgers
BAND
Jimmy Page - lead guitar (Led Zeppelin)
Paul Rodgers -lead vocals (Free, Bad Company)
Chris Slade - drums (Uriah Heep)
Tony Franklin - bass, keyboards (Whitesnake, Blue Murder, David Gilmour)
BIO (Wikipedia)

The Firm were an English rock supergroup comprising former Free and Bad Company singer Paul Rodgers, ex-Led Zeppelin guitarist Jimmy Page, bass player Tony Franklin, and ex-Uriah Heep drummer Chris Slade. Formed in 1984, the band had only mediocre album sales, although they did have sellout tours. Page and Rodgers originally wanted former Yes drummer Bill Bruford and fretless bassist Pino Palladino in the group; however, Bruford was contracted to another label and Palladino had tour commitments with singer Paul Young. Both Page and Rodgers refused to play any material from their former bands and instead opted for a selection of songs from both their solo albums and new songs which were heavily infused with a soulful and more commercially accessible sound, courtesy of Franklin's fretless bass guitar underpinning and understated song structure. Although refusing to play old material, the last track from The Firm, "Midnight Moonlight", was originally an unreleased song by Led Zeppelin entitled "The Swan Song". The recording of the track led critics to believe that Page had begun to run out of ideas. In subsequent press interviews, Page had indicated that the band was never meant to last more than two albums. After the band split, Page and Rodgers returned to solo work while Chris Slade joined AC/DC and Franklin teamed up with guitarist John Sykes in Blue Murder.