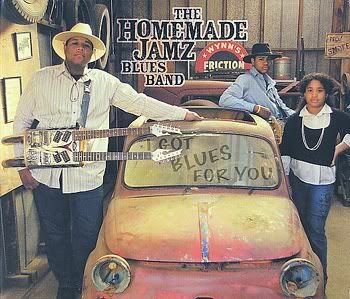 Homemade Jamz Blues Band
-
I Got Blues For You
-
2009
-
NorthernBlues Music
Whenever a new music group comprised of teens (or even pre-teens) appears on the scene, it's sure to be met with a degree of skepticism. After all, for every Jackson 5, there are a greater number of best-forgotten acts which merely relied on their young age as a gimmick. But on the sophomore release by the Homemade Jamz Blues Band, I Got Blues for You, this is certainly not the case with these youngsters. This group of siblings (17-year-old singer/guitarist Ryan Perry, 14-year-old bassist Kyle Perry, and 10-year-old drummer Taya Perry) specializes in a form of blues that may not be as authentic-sounding as the older blues artists from yesteryear, but for fans of Stevie Ray Vaughan/Jeff Healey-style modern blues-rock, they're certainly worth a listen. Tracks such as the album-opening "Hard Headed Woman," as well as "Dusk Till Dawn," "Loco Blues," and "King Snake" show that the Homemade Jamz Blues Band just may be the leaders of the next wave of modern-day blues-rockers. © Greg Prato, allmusic.com
A few "blues connoisseurs" have criticized this band for demeaning the blues. There have been some cynical comments like "What would kids this young know abourt the blues", or an "Alcoholic Woman". There have not been many of these criticisms, but the "blues connoisseurs" should concentrate more on the maturity and musical talents of these young musicians. Playing the blues is not confined to artists like Muddy Waters, or Robert Johnson, and certainly has no age limitations. " I Got Blues For You" is a very good album, and displays an understanding of the blues, as well as exceptional music ability.
A.O.O.F.C
would be interested in your views on this album. Buy the band's great "Pay Me No Mind" album, and promote the Homemade Jamz Blues Band
TRACKS
1. Hard Headed Woman
2. Rumors
3. Dusk Till Dawn
4. Roots
5. Heaven Lost An Angel
6. Loco Blues
7. King Snake
8. Hobo Man
9. Alcoholic Woman
10. In The Wind
11. Grits Ain't Groceries
12. I Got Blues For You
All songs composed by Renaud Perry, except Track 12 by Titus Turner
BAND
Ryan Perry (vocals, guitar)
Kyle Perry (electric bass)
Taya Perry (drums)
Renaud Perry (harmonica)
REVIEWS
Since when could kids sing the blues? Three siblings, a passion for blues music and the resounding cheers of the blues community - they all add up to the Homemade Jamz Blues Band. Made up of brothers Ryan and Kyle and their sister Taya on the drums, this trio is poised to take over the blues world for years to come. © 2009, Squidoo, LLC and respective copyright owners
The Homemade Jamz Blues Band surprised just about everyone with their 2008 debut, Pay Me No Mind, a tough, no-nonsense set of garage-band blues that would do many a veteran outfit proud. That all three - aided and abetted by father Renaud – were so very young (guitarist/vocalist Kyle, the eldest, was 16 at the time, while drummer Taya was a mere 10 years old!), yet played the blues as naturally as breathing, seemed a small miracle. They're back with a follow up, and while there aren't any obvious signs of musical growth, they deliver another well-executed collection of tunes written by dad (who also contributes rudimentary harmonica on a handful), with a cover of "Grits Ain't Groceries" thrown in for good measure. Most very young outfits try various approaches before settling on a recognizable sound, but with Reanud providing much of the artistic input, the sound here is very similar to the band's debut. And it results in anomalies like sixteen-year old Ryan singing lines like "I went to my ex-wife's house …", or defiantly proclaiming himself a "Hobo Man." But the blues, as they say, is a feeling, and there's simply no denying that the driving grooves and stinging guitar – nor Kyle's surprisingly effective vocals – mine blue territory very well indeed. The landscape they're navigating is simple enough - pretty well everything here adheres to twelve-bar convention, with driving rhythms powered by Kyle's rock-solid bass work dominating. But they do it extraordinarily well, and with feeling. Ryan's guitar work is lean and tough, and while Taya's drumming lacks the subtlety that comes with experience, she's versatile enough for the demands placed on her. Renaud's compositions are rather formulaic, though, and "Heaven Lost An Angel" is just plain bad. The band works very well indeed with what they're given, but if there's a future they'll have to start looking further afield for material; grooves here start to sound the same after awhile, and again there's not much variation from what they did on their debut. It's worth noting that Renaud built the band's homemade guitars (fashioned from old mufflers, Ryan's is a two-necked wonder, while Kyle favors a five-string bass), but his harmonica work definitely belongs in the background, where it's unobtrusive enough to be effective. They've already come a long way, yet given their aggregate age (roughly that at which most bluesmen hit their stride) the Homemade Jamz Blues Band remains an outfit with astonishing potential. As siblings, they play with a fluid ease born of intuitive, gene-level sympathy, and this is another thoroughly satisfying outing indeed. Next time out, though, it would be wise to look to influences (and material) from a bit further afield … © Author: John Taylor — Published: Jun 23, 2009 at 8:01 pm © Technorati, Inc / Technorati Media / Technorati.com / Blogcritics / AdEngage
Those of you who saw Homemade Jamz perform at last year's Pittsburgh Blues Festival should remember a set of hard and tough old-fashioned blues performed by three of the youngest bluespersons you'd ever seen, all siblings from the Perry family, of Tupelo, Miss. -- lead guitarist and singer Ryan Perry, now 17, bass player Kyle, 14 and drummer Taya, 10. They played guitar and bass made from car mufflers, with Taya keeping a rock-steady rhythm and a flower in her hair. If it hadn't been for Taj Mahal closing that night, the Perry blueskids would have been the day's best. As it was, they made it hard for even Taj to follow. Now they have a new CD -- "I Got Blues For You" (Northern Blues) -- to follow up their fine debut, "Pay Me No Mind." It takes them a step beyond their earlier covers and self-penned tunes, with lyrics by father Renaud Perry. Now it's almost entirely the Jamz' work, with more sophisticated arrangements, a little funk thrown in here and there, and a lot more mature music making. Especially Ryan on vocals, whose full-throated blues and tough guitar licks could well be coming from a more senior blues player. In fact, as you lsiten to the album, you don't hear the playing of three youngsters, you hear the music of grizzled blues vets, and the obvious question is: "Where the hell is this coming from?" Here's a sample of a chugging deep blues track called "Hobo Man" (the harp is by dad Renaud): (sample @ website address - bottom of review). It's a little scary they way these kids grind out the blues. It's not that they are trying to sound like somebody else's blues band, it's more that they are pulling on some deep feelings and passions that make them a real blues band of their own. I know, that sounds a little bit over the top, but just listen to the music. At 17, Ryan has already got some fine guitar licks, and his vocals reach back for the strength and feeling that should be well beyond his years. Check out this segment of the very gritty "In the Wind": (sample @ website address - bottom of review). If they stick together and keep at it, the Homemade Jamz could find themselves right at the top of just a handful of blues players who are bringing you the real deal. Here's what the band looked like at work last December (see website). Posted Jun 23 2009, 01:00 AM by Jim White , © Jim White, © 1997 - 2009 PG Publishing Co., Inc. All Rights Reserved, http://community.post-gazette.com/blogs/bluenotes/archive/2009/06/23/new-homemade-jamz-quot-i-got-blues-for-you-quot.aspx
It's hard not to be skeptical of bands of youngsters that get showcased on The Today Show, CBS Morning News, and in the USA Today. It's always a nice story that gets everybody excited, but the actual music ends up being secondary. This is certainly not the case for The Homemade Jamz Blues Band out of Tupelo, Mississippi. HJBB is comprised of brothers Ryan (17) and Kyle Perry (14), along with kid sister Taya (10). Ryan plays guitar and provides vocals, Kyle plays bass, and Taya bangs the drums. Of course the ages of this trio stick out like a sore thumb, but if one of their tracks came on the radio, you would have no idea this was a band of school aged siblings. On their second album, I Got Blues for You, The Homemade Jamz Blue Band bring a solid, traditional blues sound that emulates their influences, B.B. King and Steve Ray Vaughn. Ryan's gruff vocals sound like he was born to sing the blues, and his guitar playing exemplifies the emotions of someone that truly understands the genre. His knowledge is clearly well beyond his years. Kyle and Taya provide a quality rhythm section, but you can tell that they haven't been playing as long as their older brother. Apparently there is a minor drawback to having a rhythm section with a combined age of 24. On the rare occasion that you think a track starts sounding a little similar, a fourth Perry, their father Renaud, adds some well-fitting harmonica to the mix. One thing that certainly stands out on the album is that the lyrics are rather mature for a 16 year old. Ryan sings about the problems of grown adults as if they were familiar, which of course they aren't. This is because the lyrics were written by his father. At first I felt a little cheated by that, but the more I think about it I am actually relieved. The trio did write all of the music for the album though. I Got Blues for You is just the right thing for this time of year. It's hard not to press play and feel compelled to pour yourself a tall glass of lemonade and have some friends over for a nice barbeque under the hot sun. With a clear focus on the music rather than the marketing of this young act, The Homemade Jamz Blues Band has a long, encouraging road ahead of them that will only get better with time. © Kevin Kozel-MuzikReviews.com Staff, June 22, 2009 , © MuzikReviews.com
BIO
(Wikipedia)

Homemade Jamz Blues Band is a Tupelo, Mississippi music trio consisting of siblings Ryan, Kyle and Taya Perry. In December 2007, the trio made music history as the youngest blues band to achieve a record deal: Toronto-based NorthernBlues Music signed the band when Ryan was 16, Kyle was 14 and Taya was 9.Their debut album, "Pay Me No Mind," was released in June 2008. Homemade Jamz Blues Band has played in blues festivals and concert engagements across North America and Europe; in some sets, their father backs them on harmonica. They won second place in the band category at the 23rd International Blues Challenge, and won the Bay Area Blues Society's West Coast Hall of Fame Blues New Artist of the Year for 2008. Aside from their youth, the band has been noted for their homemade instruments: the guitar and bass used by Ryan and Kyle, respectively, are crafted from Ford automobile parts that still feature the manufacturer's logo.