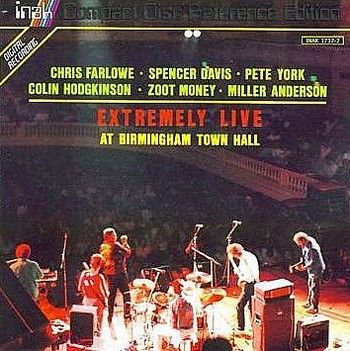 Chris Farlowe,
Spencer Davis,
Pete York,
Zoot Money,
Colin Hodgkinson,
Miller Anderson
-
Extremely Live
At
Birmingham Town Hall
-
1988
-
In-Akustik


Some releases credit this album as "Chris Farlowe featuring Spencer Davis, Pete York, Colin Hodgkinson, Zoot Money, Miller Anderson". On most releases there is a track called "Intro 2" which lasts for 24 secs. It is not included here. This album has been released on various labels with different tracks/track listings. The concert was recorded in July 1988 at Birmingham Town Hall, Birmingham, England, and is a great example of British blues, R&B, and soul
TRACKS / COMPOSERS

1 - Intro 1
2 - Let The Good Times Roll - Shirley Goodman, Leonard Lee
3 - Key To The Highway - Big Bill Broonzy
4 - Feets Too Big - Fats Waller
5 - Tamp 'Em Up Solid - Trad.
6 - Ain't Nothing Shakin' But The Bacon - Zoot Money
7 - I Think It's Gonna Rain Today - Randy Newman
8 - The Thrill Is Gone - Rick Darnell, Roy Hawkins
9 - Watching The River Flow - Bob Dylan
10 - Stormy Monday - T-Bone Walker
MUSICIANS
Spencer Davis - (guitar)
Miller Anderson - (guitar, vocals 3, 5)
Colin Hodgkinson - (bass)
Zoot Money - (keyboards, vocals 2, 4, 6)
Pete York - (drums)
Chris Farlowe - (vocals 8, 9, 10 11)