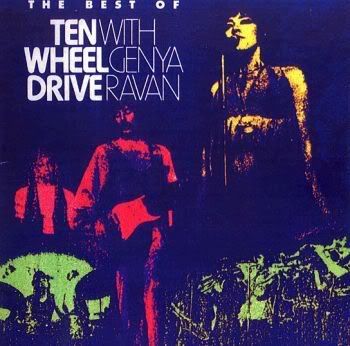 Ten Wheel Drive
-
The Best of Ten Wheel Drive
(With Genya Ravan)
-
1995
-
Polydor Records
A brilliant album, with amazing vocals by Genya Ravan. Her voice sounds like a mixture of Maggie Bell, Janis Joplin, Maria Muldaur, and a myriad of others. The music here is classified as jazz rock, but the album has many more musical influences, and covers more musical genres than you will hear on most ordinary jazz rock recordings. There is a lot of brilliant electric and brass playing. The sound of Tower Of Power is in there, as is Blood, Sweat & Tears. There is soul, country, blues, R&B, psychedelic influences, and more.....You have to hear it. All the tracks were written by wonderful composers. Genya's version of "Stay With Me" by Larry Weiss, and Jerry Ragovoy is incredible, but all the tracks are great and throw some real surprises at you. There are many great unexpected musical twists and turns. Songs seldom take the route you expect them to. You will rarely hear an album that moves from track to track with so much musical inventiveness, innovation, and originality. Genya Ravan could very well be unfamiliar to many music fans, but she has had a huge influence in the music industry over many years. She has played with numerous bands, and with musicians like Dusty Springfield, Buddy Guy, and Steve Winwood. She sang backing vocals on the Blue Oyster Cult album, "Mirrors." The list goes on and on. Read her extensive bio's on this blog. Buy this great album. There is so much going on here sonically, that you really need to hear it in the right sound quality. Listen to TWD's "Construction #1" and "Brief Replies" albums. They are both brilliant. If you can find it, buy "Genya Ravan," her 1972 s/t album. "The Best of Ten Wheel Drive (With Genya Ravan)" is a true original, and is VHR by
A.O.O.F.C.

TRACKS / COMPOSERS
Tightrope - Genya Ravan, Leon Rix
Lapidary - Aram Schefrin, Michael Zager
Eye of the Needle - Michael Zager, Aram Schefrin
Candy Man Blues - Louis Hoff
Ain't Gonna Happen - Michael Zager, Aram Schefrin
House in Central Park - Michael Zager, Aram Schefrin
Morning Much Better - Michael Zager, Aram Schefrin
Brief Replies - Michael Zager, Aram Schefrin
Come Live With Me - Michael Zager, Aram Schefrin
Stay With Me - Larry Weiss, Jerry Ragovoy
How Long Before I'm Gone - Michael Zager, Aram Schefrin
Last of the Line - Michael Zager, Aram Schefrin
The Night I Got Out of Jail - Michael Zager, Aram Schefrin
Shootin' the Breeze - Michael Zager, Aram Schefrin
Love Me - Michael Zager, Aram Schefrin
I Had Him Down - Michael Zager, Aram Schefrin
MUSICIANS
Check out http://en.wikipedia.org/wiki/Ten_Wheel_Drive#Line-up for the many different players/vocalists who were part of TWD
REVIEW

When Bette Midler put the Jerry Ragovoy/Larry Weiss song "Stay With Me" in her film The Rose, it was a sly tribute to the genius of Genya Ravan and her innovative ensemble Ten Wheel Drive. The former Goldie Zelkowitz hit big in Europe with "Can't You Hear My Heartbeat," which Peter Noone has said Zelkowitz/Ravan's manager nicked off producer Mickey Most's desk. Most and Noone, of course, hit in America with "Can't You Hear My Heartbeat" on a Herman's Hermits release. Zelkowitz emerged from her pioneering girl group (later producing Ronnie Spector's first solo disc) to front an adventurous and highly experimental unit known as Ten Wheel Drive. With elements of Blood, Sweat & Tears meeting Big Brother & the Holding Company somewhere in the middle, Ten Wheel Drive covered the gamut of pop styles. The band's three albums with Ravan, and a fourth without her on Capitol, only hinted at Ten Wheel Drive's potential. Polygram's Bill Levenson has done another commendable job putting together a solid collection featuring six tracks each from the first two discs and four from the third. A track from the Capitol disc co-written by Schefrin/Zager/Ravan and entitled "Why Am I So Easy to Leave" would have made this perfect but, clocking in at 79:05, this disc is generous indeed. "Come Live With Me" has Ravan's exotic vocals slinking up and down the scale alongside bass and guitar, and "Brief Replies" is reminiscent of Mae West singing in the film Myra Breckinridge, but it is Ravan's screaming-from-the-cosmos wail in her astonishing performance of "Stay With Me" that is the album's zenith. Pearl producer Paul A. Rothschild was enlisted to recreate Ravan's performance somehow and Bette Midler did a wonderful tribute to her, as well as to Joplin and to songwriter Ragovoy (who also co-wrote Joplin's signature tune "Piece of My Heart." Make no mistake, both Joplin and Midler have owed a debt to the work of Genya Ravan. Just listen to "Last of the Line," with its experimental pop that Big Brother & the Holding Company flirted with so often, or the dreamy "Shootin' the Breeze," which sounds like a Jackie DeShannon/Burt Bacharach reunion. It is second only to "Stay With Me" as the showpiece of the disc. Any group that goes out on so many limbs to cover pop, jazz fusion, hard rock, country, blues, and any other musical format whether in vogue or not, deserved the opportunity to generate more sound. This "best-of" is a unique snapshot of talents who have yet to receive their due. © Joe Viglione, All Music Guide
TEN WHEEL DRIVE BIOGRAPHY
Ten Wheel Drive was a highly influential rock/jazz group not afraid to push the envelope while exploring various musical styles. Though musicians came and went, including the original lead vocalist, by the time the fourth album was released, the records have stood the test of time, influencing the successful Bette Midler breakthrough film The Rose, inspiring women with the drive and ambition to front their own group in a once male-dominated industry, getting sold on auction sites like Ebay to be discovered by new generations of music lovers. The original lead vocalist and founding member, Genya Ravan, spoke with AMG concerning how she formed the band: "I went to see Billy Fields, he was going to manage me. He had a friend in New Jersey that befriended two guys that were writers and they were looking for someone to sing their songs. Billy asked me if I wanted to hear them, I said 'OK' since I was always looking for material, so I met with Mike Zager and Aram Schefrin at a dinky little piano studio in Times Square. They played "Polar Bear Rug" and "I Am a Want Ad" and got me interested even though I thought they sounded more like show tunes, I was also an actress, so I liked it. At this time, I had an R&B band and they came to hear me in some sleazy bar and they liked what they heard and saw. They did not have a band nor musicians in mind, I knew some good jazz players, so (we) got the musicians and started to audition and rehearse." When asked how the idea took shape, Ravan replied: "When I heard Blood, Sweat & Tears -- (the) first record with Al Kooper ( Child Is Father to the Man), my fave. I said, oh I want a horn band. It was 1969, we started to rehearse at the Bitter End, Sid Bernstein joined in the management with Billy Fields. It was a very exciting time, we played the Atlanta Pop Fest. Every great band that lived played that gig, that gig is what broke our band (and) we were an instant success." On the material, Ravan said she "seldom wrote with Ten Wheel Drive...Aram was a brilliant lyricist, Mike and Aram were easy to work with, so I wrote some, it made me feel good, because the ones I wrote turned out to be the most soulful, like "Pulse," "Tightrope." I came into my writing more during the Urban Desire and ...and I Mean It! recordings." Those were the albums that came out on 20th Century Records at the end of the '80s, apart from Ten Wheel Drive. The group signed with Polydor when Sid Bernstein brought Jerry Schoenbaum to the band's rehearsal and to one of their gigs at the Bitter End. The vocalist noted: "Jerry flipped. Signed us immediately." There were artistic consequences to having phenoms like bassist Bill Takas and drummer Leon Rix moving on to LaBelle and Buzzy Linhart, Rix recording with Bette Midler as well. Over the span of four albums, guitarist Aram Schefrin and keyboard player Mike Zager (no relation to Zager & Evans of "In the Year 2525" fame, though because of the point in time, there was some confusion in rock circles) worked with more than a dozen and a half different players. When Ravan was asked about this, she replied: "It turned out to be good for us, fresh blood, it was creative, I love changes like that. I did not like the canning of musicians, but I was the one that had to do it. New blood is always exciting, You know how laid-back jazzers can be, they get excited for the first five minutes." The band played Carnegie Hall on Ravan's birthday and she cites the Central Park gig for WNEW when the Nightbird disc jockey Allison Steele hosted it, as well as the Atlanta Pop Festival as just two of the highlights of their brief but important career. Steele would later co-write the liner notes to Bill Levenson's 1995 16-track compilation on Polygram, The Best of Ten Wheel Drive With Genya Ravan. With all the excitement the band generated live, there was, unfortunately, no full concert performance on video or record. "One of the last gigs we did was a show at Carnegie Hall with a symphony," Ravan said. "Mike and Aram were geniuses. This was their forte -- they wrote this rock opera of "Little Big Horn" and it was brilliant, Polydor did not want to record it, I swear 'til this day, had it been recorded, Ten Wheel Drive would have gone down in history, it was one of the reasons I was disillusioned into leaving the label, it made me want to quit the business." There were no unreleased gems recorded and left in the vaults, Ravan stating that everything happened all too fast. And then she left the group she founded: "Things started to get complicated. The music was not the main thing anymore, it was too expensive to have that many people involved. We had accountants, lawyers, roadies, and of course the group, we could not tour Europe because it was to expensive to get there and stay there. I just felt like there would be no future for me with the band anymore, also some personal stuff went down, that made it awkward. It just felt like it had hit the end for me." Ravan recorded a solo album in 1972 for Columbia Records with Schefrin and Zager co-producing. They enlisted the Rascals vocalist Annie Sutton to sing on the self-titled 1974 Capitol release that featured Hall & Oates on backing vocals, but it wasn't the same. The band created essential music and has a revered place in rock history. Schefrin practices law in Rhode Island, having produced other records after the final breakup of Ten Wheel Drive; Zager does soundtrack work; and Ravan continues to record. © Joe Viglione, All Music Guide
BIO (Wikipedia)

Ten Wheel Drive were an American Jazz/Rock Fusion band from 1968 to 1974. In 1968, after the final disbandment of the all-female rock band Goldie & The Gingerbreads, Genya Ravan was looking for a new band. The same applied for Michael Zager and Aram Schefrin, two musicians and songwriters from New Jersey. Acquainted by their managers, the three musicians who would become the nucleus of the new band had initially some hard work to do. Their origins and artistic backgrounds were very different, and, at first the music was not after Genya Ravan's fancy. Also, she alone had some noteworthy experience in the music business. More musicians had to be found for the rhythm and brass sections. Only people who were able to read sheet music were contracted. The one exemption from this rule was Genya Ravan. In 1969 the band started to perform regularly and attract positive notice, and comparisons were drawn between Genya Ravan and Janis Joplin. At the same time, the Polydor record label was forming an American division. Its new President, Jerry Schoenbaum, closed a deal with Ten Wheel Drive, and together with producer Walter Raim the band released its first album, Construction #1. The first big concert appearance of Ten Wheel Drive was (arguably) in 1969 at the Fillmore East in New York City. Apart from the band's intense musical presence, Genya Ravan caused some excitement when she took off her transparent vest and continued the performance half naked with painted breasts and shoulders. In the summer of the same year, Ten Wheel Drive appeared at the Atlanta Pop Festival. On this occasion Genya Ravan and Janis Joplin, who previously had often been compared, met in person for the second time. They had met initially at Steve Paul's club The Scene when Janis sat in with the band. In 1970, Ten Wheel Drive released their second album, Brief Replies, with producer Guy Draper. Many of the brass musicians had also been replaced, meanwhile. 1971 saw Ten Wheel Drive performing at Carnegie Hall a rock opera of sorts based on the Battle of the Little Big Horn and the history of the Native North American peoples. The American Symphony Orchestra and a choir participated in the project, which had been meticulously prepared with a lot of time spent for the investigation work. But notwithstanding the provable quality of the material produced, Polydor decided against the recording of the event and was later blamed for bad judgement. Also in 1971, the band's third album Peculiar Friends appeared, for the first time produced by Aram Schefrin and Michael Zager themselves. Genya Ravan's decision to leave the band and start her solo career at this time, was presumably influenced by the record company's attitude towards the Carnegie Hall concert. She was replaced by Annie Sutton of The Rascals. But even after this, Aram Schefrin and Michael Zager contributed to Genya Ravan's first solo album. Ten Wheel Drive left Polydor and in 1974 their fourth and last album, Ten Wheel Drive, was released by Capitol Records. It includes music which had earlier been composed by Genya Ravan and Aram Schefrin. With this record the already loose cooperation between the band musicians ended.
ABOUT GENYA RAVAN (Wikipedia)

Genya Ravan, aka Goldie Zelkowitz (born Genyusha Zelkowitz, April 19, 1940, in Łódź, Poland) is an American rock singer and producer. She is the former lead singer of The Escorts, Goldie & the Gingerbreads, and Ten Wheel Drive. Genyusha Zelkowitz arrived in the USA in 1949, accompanied by her parents and one sister. She had two brothers, who died. These were the only family members who had survived the Nazi Holocaust in Europe. On arrival in America, her mother changed her daughter's name to Goldie. Goldie kept the name when she joined Richard Perry's band The Escorts as lead singer and later, when she became co-founder (at age 17) of the groundbreaking all-female rock band Goldie & The Gingerbreads. In 1966, during a temporary breakup of the Gingerbreads, she recorded a single, Disappointed Bride, under the name Patsy Cole. When Goldie & The Gingerbreads disbanded in 1968, Goldie, now as Genya Ravan, became the lead singer of the newly formed rock band Ten Wheel Drive. In 1974, for one of her first solo records, and in honor of her father, she changed her name once more back to Goldie Zelkowitz. Since then and on any new editions of her earlier releases, she is again Genya Ravan. Genya Ravan had worked as a producer for different record labels. Amongst others, she was responsible for the debut album Young, Loud and Snotty by the punk rock band Dead Boys (1977) and the comeback album Siren by Ronnie Spector (1982). She also contributed vocals to the latter album. In 2001 Genya discovered TriPod the band at CBGBs and produced their demo CD, adding backup vocals to one track. In 2006 Ravan was recruited by Steven Van Zandt to host a monthly radio show on Van Zandt's Underground Garage radio channel - heard throughout North America on Sirius Satellite Radio - and worldwide on Sirius Internet Radio. She joined a team of hosts that includes original Rolling Stones manager/producer Andrew Loog Oldham, rock star Joan Jett, punk rock singer Handsome Dick Manitoba, producer/humorist/Beatles historian Martin Lewis, veteran FM radio deejay Kid Leo and rock entrepreneur Kim Fowley.
BIO
[ © Joe Viglione, allmusic.com ]
Genya Ravan is an important rock & roll personality and influential vocalist and record producer, born Genya Zelkowitz on April 19, 1945, in Lodz, Poland. Her mom later changed her name to Goldie Zelkowitz, Ravan taking her birth name back when she formed the band Ten Wheel Drive. When her parents left Poland, they went into a Russian camp. The singer kindly gave personal details of her youth to AMG on April 4, 2002: "We lost everyone. I never had an aunt or an uncle, I had two brothers, they died. I never met my grandparents, it was me and my sister and my mom and dad. They came from big families and saw all of them die. We escaped to the U.S. via a ship. We were DPs and went straight to Ellis Island." Young Goldie Zelkowitz never knew she could sing until in her late teens "then I picked up alto sax, drums, and harmonica." In the summer of 1962, she asked to sing with the Escorts (not Felix Cavaliere's band from Syracuse University nor the '50s group or U.K. band of the same name) who were performing at the Lollipop Lounge in Brooklyn, NY. She remembers it was the summer because: "I had pants that showed my belly button, they could not get their eyes off it." Soon, she was rehearsing with the band and became the first girlfriend of Richard Perry, bass vocalist in the group and the man who would go on to produce Ringo Starr, Carly Simon, Leo Sayer, the Pointer Sisters, and so many others. The band recorded and released a few singles on Coral Records in 1962 and 1963: "Somewhere" b/w "Submarine Race Watching," "I Can't Be Free" b/w "One Hand, One Heart," and "Something Has Changed Him" b/w "Back Home Again." After she left the Escorts, Zelkowitz formed Goldie & the Gingerbreads, an original all-female band that was only the first of many firsts for Zelkowitz. All girls in a man's music world was as daunting a task as a woman trying to become president of the United States. Petula Clark, Lulu, Cilla Black, Skeeter Davis, and Kitty Wells simply did not have a crew of women backing them up. Where the Go-Go's became a bit of a novelty years later, the people who came before that hit '80s band, Goldie & the Gingerbreads, Fanny, and later, Isis, all had a harder edge and would have done more for the cause's credibility had they had the hit singles to go along with their critical acclaim. In the new millennium "women's music" is a huge industry with Dar Williams, Phranc, Ferron, and others making waves around the world, but they all owe a debt to the work of Zelkowitz and her original international pop group. The gals released singles on Decca and Immediate in the U.K., with "Can't You Hear My Heart Beat," produced by Alan Price of the Animals, hitting on the British charts. Their manager was Michael Jeffries who split from producer Mickie Most and kept Goldie & the Gingerbreads and the Animals under his wing (and, of course, Jimi Hendrix later through the Animals' Chas Chandler). Most took Herman's Hermits with him and that band had a hit with "Can't You Hear My Heart Beat" in America. Atlantic Records founder Ahmet Ertegun signed Goldie & the Gingerbreads to his Atco imprint and released their singles in the U.S. After the Gingerbreads, Zelkowitz former the electric and brass rock group Ten Wheel Drive and Genya Ravan was born. A drummer named Les Demerle told Ravan she should use her real name instead of Goldie and that she sounded so black she should call herself "raven," as in blackbird, but she wanted it spelled different, thus Ravan. This is the fellow who turned Ravan onto Bill Takas and the Breckers and how she knew enough jazz musicians to put together Ten Wheel Drive. She met Aram Schefrin and Mike Zager through her manager, Billy Fields. "He had a friend in New Jersey that said he had two incredible writers looking for someone to start a band with. Billy Fields was close to Sid Bernstein and they went on to manage all of us," she said. The band recorded three albums for Polydor with the rhythm and horn sections changing constantly. Judy Collins' bassist, Bill Takas and Buzzy Linhart/Bette Midler drummer Luther "Leon" Rix were members of the original Ten Wheel Drive on their Construction #1 album. Ravan was and is friends with Linhart, and it is interesting how Rix would play with Midler, and Midler would make a grand statement in her film The Rose with Ravan's signature tune from Ten Wheel Drive days, Jerry Ragovoy's "Stay With Me." Midler may have used it as the show-stopper in her motion picture, which was loosely based on the life of Ravan's contemporary, Janis Joplin (the two women played on the same bills at times), but it is the Ten Wheel Drive/Genya Ravan version which is definitive and timeless, the prototype never surpassed when Kiki Dee, John Verity, and even Midler took it on. After leaving Ten Wheel Drive for a solo career, she had philosophical disagreements with Clive Davis at Columbia Records and her self-titled album debut had, like Ten Wheel Drive, too many directions. Not content to be the new Janis Joplin for CBS, the singer instinctively knew her value as an extraordinary vocalist and music pioneer. The album features the band Baby backing Ravan up, and myriad producers, though she felt more comfortable with Zager and Schefrin handling that chore. The 1972 single, not on the album, "Morning Glory," is a fine example of what could have been. It is important to note, though, that this was not Ravan's solo debut — there was an Island Records 45 rpm released in 1966 under the name Patsy Cole. "This is a whole other story," she said. "I walked in on a session in London to do background with Dusty Springfield. When she left, the session was over. I started to play piano and sing an old song that Baby Washington & the Hearts did and Chris Blackwell loved it, so he said 'Let's roll tape' and he had to give me another name, I was under contract, and that single went on to be a hit in Jamaica and I believe it got to number one. I had Spencer Davis, Georgie Fame horns, and Stevie Winwood playing on that single under the name Patsy Cole." Zager & Schefrin re-formed yet another Ten Wheel Drive and released an album in 1974 on EMI with latter-day Rascals vocalist Annie Sutton performing one Ravan co-write, "Why Am I So Easy to Leave." Meanwhile, Ravan went on to cut more solo records, a brilliant Goldie Zelkowitz with the underrated Gabriel Mekler producing for Janus Records, They Love Me, They Love Me Not with the late Rolling Stones producer Jimmy Miller and Stones' engineer Joe Zagarino producing, and the incredible body of work kept building, with no noticeable Top 40 chart recognition that songs on the albums warranted. She reunited with Miller in 1986 for the unreleased Buddy Guy tapes that also feature Nils Lofgren, Aerosmith's Joe Perry, singer Jo Jo Laine, and others. During the sessions in Warren, RI, both she and Miller got on-stage to jam with Buddy Guy while he performed an evening show at one of the city's nighclubs. It was absolutely magical. Ravan took things into her own hands and the "significant projects (are) Urban Desire and ...And I Mean It! (both on 20th Century)...because I wrote most of it and I got to produce it. (They were) also the best sellers for me." Indeed, Ravan began producing for other acts, most notably the groundbreaking punk band the Dead Boys for Sire Records, and then Ronnie Spector's Siren album for Ravan's own imprint, Polish Records, with the handle "Who Do I F*** to Get Off This Label?" Outside of women producing themselves, Genya Ravan was the very first woman to produce significant male bands. "Sonic Reducer" by the Dead Boys is an underground classic and was one of the better-sounding discs when Sire Records started heralding the new wave rock movement. Ravan has produced numerous groups, from Joy Rider released on Polydor in Europe to the Crumbsuckers, Certain General, Long John Baldrey, Kool & the Gang, Tiny Tim, and many, many others. Her visibility as a vocalist is at times overshadowed by the huge amount of production and industry work that she took on, from promotion to A&R at various labels. In 2001, she released For Fans Only, a collection of songs recorded over the years available only from her website, www.genyaravan.com. She's painting art, recording music, and at the dawn of the new millennium, was busy writing a book/screenplay about her incredible life in the music industry. From major girl group and blues vocalist to pioneering record producer and having performed with Steve Winwood, Dusty Springfield, Buddy Guy, Kool & the Gang, and so many others as an artist, the music industry would be a different place without the vast contributions of Genya Ravan, contributions that the world has still failed to recognize.