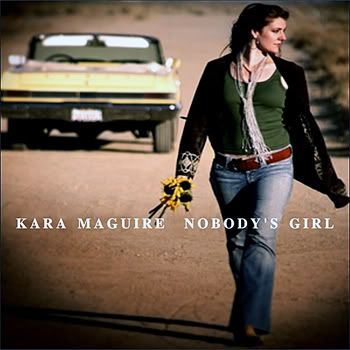 Kara Maguire
-
Nobody's Girl
-
2007
-
Albatross
A good contemporary blues album from Kara Maguire. Kara's voice has shades of Bonnie Raitt, and Etta James, but she is no "copycat." She is a great vocalist singing original material, and backed by an exsellent band of experienced musicians, including Jerry Rosen on guitar, whose style is sometimes reminiscent of Otish Rush or Muddy Waters. The great drummer, Paul Fasulo has played with Rod Piazza. There is no lack of quality here. Keep a look out for future releases by Kara Maguire, and try and support this new blues lady.
TRACKS
01. I Got in Bad for You (4:18)
02. Let it Ride (3:41)
03. (This) Woman's Liberation (4:23)
04. Nobody's Girl (5:28)
05. The Blues Ain't Dead (4:21)
06. I Tried (3:54)
07. Stranded (4:31)
08. He Knows How To Do It Right (3:19)
09. Dnr (3:43)
10. Nobody's Clown (4:14)
11. Drive Me Crazy (3:53)
All songs composed by Jerry Rosen, except Track 4 by Harkenrider, Maguire, and Tracks 3 & 11 , by Maguire, Rosen
BAND
Kara Maguire - Vocals
Tommy Harkenrider - Guitar
Jerry Rosen - Guitar
Tyler Pederson - Bass
Paul Fasulo - Drums
J.T. Ross - Harmonica
REVIEWS
The heart and soul of this disc is the voice of Kara Maguire. Most of the tunes are upbeat contemporary 12 bar blues, the kind we love to hear live in a small club. The backing band supports Kara well, basically letting her lead the show. You've gotta love the blues- they're honest and tell it like it is. On "Let it Ride" she sings, "I just wanna make love tonight Listen here daddy, I got one thing to say I'll find another man, the second you go away Maybe a new lover, maybe your best friend I don't care, whoever wants to go to bed I don't want to play house with every fool I meet Let it Ride I just want to make love tonight." How many guys would kill to meet the woman in this tune? There are two slower tunes on the disc. The first one, "Nobody's Girl" could have been left off the CD, but the second one "I Tried" is a beautiful tune and shows what a talented singer Kara is and how she is able to also handle songs outside of contemporary blues, showing off the singing skill from her theater days. "Stranded" follows, which has much more of a rock feel to it. Other highlights are "The Blues Ain't Dead" on which the harp of J.T. Ross shines, and "DNR." on which she sings, "Don't call a doctor, don't call a nurse, you better call a priest first 'cause the sign on our love reads..Do Not Resuscitate." As I mentioned, on most of the CD it is Kara's voice that is front and center. On the closing tune, "Drive Me Crazy" however, Kara steps aside a bit and lets the band shine. The band really sounds great and is highlighted on this tune. It is like the end of a concert when the singer stands aside and lets the band show off a bit to finish things up. I half expected her to announce the band by name during the tune. All in all this is a very enjoyable CD if you like lively contemporary blues and great singing! Review © Don Zelazny, 12.20.2007, © 2005 - 2008 Americana Roots
"Sometimes you take a chance on a CD by a new artist and are completely taken by it. I am happy to report that this is such a CD. The material is at once original, yet entirely accessible and somehow oddly familiar, like seeing a smiling face on the street that looks like a long lost friend, only to find they are your best NEW friend. The musicianship is top-notch and the production is appropriate. There are no turkey songs or throw-aways, each one is strong and sticks with you. In what may be my favorite CD this year, Kara Maguire presents them with passion and style. Oftentimes when listening to a new CD (and perhaps this is even more true of contemporary blues artists), you wish the performances were a little different...a note held here, an adjusted phrase there, but not so with Kara. She has it down and I wouldn't change a thing. If you have any doubts about buying it, doubt no more. Just buy it! This is one "Nobody's Girl" that should be everybody's girl. "
­© ­­John Wajgel, © amazon.com
The Southern California blues scene features a plethora of impressive bands, many of whom have been performing for a long time. It is a rare occasion when a new singer and band emerges onto the scene. Kara Maguire is a blues newbie trying to get establish in this competitive field. She has hedged her bets by joining forces with Jerry Rosen who has been active in the LA blues world since the mid 90's. Rosen, the former owner of Southside Records and guitarist in the Mary Dukes band, gathered up some blues veterans and recorded a CD with Kara. According to Rosen, "After Mary Dukes became too ill to perform, I took a two year break from playing. Last April I got the urge to start another band and conducted a search for a female blues singer. About two dozen singers answered my Craig's List ad, but Kara really stood out from the rest. Even though she had never sung in a blues band, I was amazed at how easily she fell into the proper timing and the heartfelt way she delivered the lyrics." Kara had always enjoyed listening to blues singers such as Koko Taylor, Etta James and Bonnie Raitt, but never guessed she would get the chance to sing the blues. "For my audition with Jerry and his band, I sang a few songs off the Mary Dukes CD. I liked that CD and felt a bit apprehensive about singing those tunes. But, I had a great time at the audition and felt that it would be fun to play this music live." After playing at local clubs for a few months, Jerry and Kara decided to record a CD. They covered two of Jerry's songs on the Mary Dukes CD as well as some tunes Jerry had previously written, but never recorded. They also wrote some songs together and Kara contributed her own lyrics to the song, "Nobody's Girl," which is the name of the CD. The CD has a mix of Chicago blues, rock blues and even one swing number. Kara has been singing and acting most of her life. After graduating from college back east, she went to New York City and worked in some Off Broadway productions. Eventually she moved to LA and started performing her own material in various Hollywood clubs. "After showcasing my songs for awhile, I started looking for some other things to try. I acted and sang in several productions and even had one of my songs picked up for TV. But I was restless and wanted to try something different. In the rock world a woman is considered old at thirty, I was happy to learn that this is young in blues." The CD has done fairly well for Kara and band. They got a national booking agency which immediately got them booked into the Kalamazoo Blues Festival for July 14th and they will book a July tour around this anchor date. A few more local gigs are emerging for Kara and she is now playing at Harvelle's and is booked into the Blue Café for April113th. The band will be at Biscuit and Blues in San Francisco on May 10th. Kara gives a lot of the credit to her band on the CD. Besides Rosen, she had Tommy Harkenrider on Guitar. Tommy also produced the disc and wrote the music for the song "Nobody's Girl." Tommy has previously toured with James Harmon and Candye Kane. Holding down bass duties is Tyler Pederson, who was with the legendary William Clarke for a number of years. Drumming is courtesy of Paul Fasulo, whose last gig was on the road with Rod Piazza. The Chicago influenced harp, on three tunes, is due to JT Ross. Ross is a regular performer in and around LA and he helped Rosen find Kara and put the band together. The CD is on Rosen's new imprint Albatross Recordings. Kara is looking forward to some good things happening in the upcoming year, but feels a bit humble. "There are so many talented people in blues and sometime I feel a bit overwhelmed, but I am having a ball and I am looking forward to playing in new venues over the summer." ­© author: Southland Blues - Local Spotlight article
"The Southern Californian - based vocalist applies her big, brassy alto tones to 11 blues-oriented songs." "He Knows How To Do IT Right, an outstanding Rosen composition (a 12 bar blues with an 8 bar bridge) on which his propulsive guitar solo betrays the influence of Jimmy Rogers." "Maguire belts the blues with considerable assertiveness, but she achieves stronger results when the tempos are slowed and she takes her time. The title track, a 12 bar blues ballad written by Maguire and Harkenrider, is the best of the bunch.... Maguire sings soulfully. The tune's lonely mood is heightened by the barebones support of Harkenrider, Pederson and Fasulo." "Harkenrider, a onetime James Harmon and Candye Kane sideman who produced the CD, gets even jazzier on Rosen's I Tried (a minor Latin-tinged blues reminiscent of the Herbie Mann/Mel Torme hit Comin' Home Baby). ­© author: Living Blues
Kara Maguire sings blues with deep feeling. Her far reaching stories tell it like it is as she interprets this program of original songs convincingly. Clear and articulate, her voice is one that we're able to connect with from the start. She's accompanied on this session by a band of local all-stars that includes Jerry Rosen on guitars, J.T. Ross on harp, Tommy Harkenrider on guitar, Tyler Pederson on bass and Paul Fasulo on drums. It's a winning formula that results in a fine, cohesive musical partnership and a memorable blues outing. Nobdoy's Girl lets Maguire maintain a laid-back, low key attitude as she reminds us that her blues presence is unique. Her hollers say more in four bars than some songs do in seventy-two. Rosen's "The Blues Ain't Dead" puts everyone in the band to work in support of Maguire's argument. There's no contest as she wins this debate hands down. Two other Rosen soings, "Let it Ride" and "Nobody's Clown," stand out for his superior wah-wah guitar work and for the band's powerful rhythmic stride. Maguire wraps her arms around a melody and delivers. She's got what it takes to become everybody's blues singer. ­© author: Southland Blues
ABOUT KARA MAGUIRE
Kara Maguire is a 30 year old blues and rock singer. She has always been a fan of classic female blues singers such as Etta James, Koko Taylor and Bonnie Raitt. But her influences are more varied and she has been influenced by female singers of the 60's such as Carole King and Carly Simon. Kara is from the east coast and in fact her father is a well known Philadelphia poet. She came out to Los Angeles to sing rock and tore up the Hollywood club scene doing her own original music (she recently had a few songs picked up by television). But she always dreamed of fronting a hard driving blues/rock band and recently joined up with Jerry Rosen who hooked her up with some of Southern California's top blues players. Recently she has discovered classic Chicago blues artists Magic Sam and Otis Riush and she is now covering some of their material as well as incorporating that vibe into her original music. The two guitarists in the band are Tom Harkenrider and Jerry Rosen. Tom, who is in his 30's, was a city planner when he got drafted into James Harmon's band and Tom toured with Harmon for many years. After finishing with Harmon, he joined Candye Kane's road band and spent several years with Candye. Tom is a first call guitarist for Blues, Rockabilly and jazz in Southern California. Tom also produced the CD. Jerry is a blues lifer. He grew up listening to BB and Albert King and was profoundly influenced by them after seeing them live at the Fillmore East. He has played blues in the LA area for 15 years and use to own a blues label called Southside Records. He was also the guitarist in the Mary Dukes band and produced, played guitar on and wrote the songs for Mary's CD. The Mary band toured nationally and played some large festivals. Jerry is excited about helping to launch Kara's music career and released her CD on his new label - Albatross Recordings. The rhythm section on the CD - Tyler Pederson and Paul Fasulo are two of the busiest guys in blues. Tyler was William Clarke's bassist for many years and Paul recently toured with Rod Piazza. JT Ross has a highly acclaimed CD on Southside Records and fronts one of LA's top blues bands. There is no better harp player in LA and his work on Kara's CD truly elevates the tracks he is on. We are not a blues band or a rock band. We do both and we are influenced by both the blues and rock of the 60's. In our set, we mix both styles and we are comfortable going back and forth between the two. In the 60's blues and rock were mixed together and it helped both genres. But we like to think, that when we play blues, we are doing the real thing. We rely on solid vocals, good songs and music that is driven more by passion than volume; but we do get down. ­© cdbaby.com
MORE ABOUT KARA MAGUIRE
[ From www.albatrossblues.com/Kara ]

Kara Maguire sings convincingly with a natural embrace, as she works with deep down tradition on this program of contemporary blues songs that come enhanced by the energy of a smokin' blues/rock band of L.A. veterans. She creates a comfortable atmosphere in which we just want to sit back and enjoy the stories that she has to tell. Kara came to Los Angeles after years of experience on the East Coast, singing and acting in musical theater, able to convince any audience through her heartfelt delivery. Like most of us, she found that the recording artists who inspired her early on continued to foster in her a deep appreciation for the blues and all its down-home comfort. Citing a list of early musical influences, such as Carole King, Carly Simon, Bonnie Raitt and Etta James, she explains, "I got hooked on performing my own songs live and have been pursuing that ever since coming to L.A." Helping Kara interpret this program of original blues music is a band of hot L.A. all-stars. Producer Tom Harkenrider lends his guitar magic to the fire as well as contributing "Nobody's Girl" with its meandering country feel and its deep Delta echoes. Guitarist Jerry Rosen, who wrote most of these new songs, supports Kara with comfortable instrumental fills, exciting lead guitar power, and several wah wah adventures. Bassist Tyler Pederson and drummer Paul Fasulo, both familiar faces all over the Southland blues scene, hold down the band's rhythmic foundation, while harp master J.T. Ross colors several tracks with his own brand of contemporary blues. You'll find that every track's a winner, as Kara sings about faded love affairs, getting fed up with the way things are going, trying to make things work out right, and making damn sure that we all agree with what she tells us on "The Blues Ain't Dead." ­© Jim Santella, Blues Journalist [Note: Jim Santella writes about live blues and new recordings for Southland Blues as well as several national magazines.]