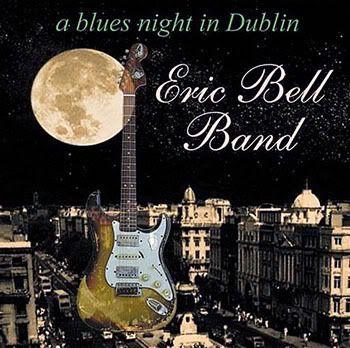 Eric Bell Band
-
A Blues Night In Dublin
-
2002
-
Voiceprint
Eric Bell, Thin Lizzy's sometime's forgotten Irish guitar hero does what he does best on this great album, and plays the blues! Eric has worked with many of the greats including Van Morrison, Noel Redding, Rory Gallagher, Bo Diddley, Keith Tilman, Dick Heckstall-Smith, Keef Hartley, and Henry McCullough, and for too long has been overshadowed by the big names around him. On this album he displays his great talent. The album was recorded live at the Olympia Theatre, Dublin, on Saturday 13th June 1998, and is full of atmosphere. Eric, like many bluesmen was never a great vocalist, but he more than compensates for this on the album with some terrific guitar work. His small back up band do a tremendous job on this recording which is HR by
A.O.O.F.C.
Check out Thin Lizzy's "Vagabonds Of The Western World" album, on which Eric played an important part, and if you can find it, buy The Eric Bell Band album, "Live Tonite" recorded live, and released only in Sweden. It is also worth hearing Bo Diddley's "Bo's The Man" album on which Eric Bell plays some fine guitar. Eric Bell played in the Irish progressive band Peggy's Leg in the mid seventies. Has anybody any info on recordings by this band?
TRACKS / COMPOSERS
The Stumble - Freddie King, Sonny Thompson
Pretty Woman - Albert King
Things We Used to Do - Eddie Jones
Baby, Please Don't Go - McKinley Morganfield
Walk on Water - Eric Bell
Standing in the Middle - Eric Bell
You Were the One - Eric Bell
Shake Your Money-Maker - Elmore James
Too Tired - Maxwell Davies, Maxwell Davis, Johnny "Guitar" Watson
Further on Up the Road - Don Robey
BAND

Eric Bell - Guitar & Vocals
Tony Williams - Bass & Vocals
Andy Golden - Drums
REVIEWS
One of the reasons why guitarist Eric Bell bailed out of Thin Lizzy after the group's third album was the other musicians' lack of interest for the blues. Twenty-five years later, in the second half of the '90s, Bell had finally found a group tailored to his needs. This trio comes back to the original idea of Thin Lizzy as a Cream-derivative power trio, with the exception that Bell sticks mostly to road-tested standards. This concert was recorded in Dublin (the guitarist is Irish) in June 1998, two years after the album Live Tonite...Plus! The set list has not changed much -- the first four songs are presented in the exact same sequence. People who already own the previous record will find this one repetitive, but track list aside, this is a strong performance, spirited and heartfelt. Bassist Tony Williams and drummer Andy Golden form a tight rhythm section, perfect for the blues-rock inhabiting Bell's voice. Three recent originals (from the trio's then-recent studio album) are sandwiched between a clever selection of standards, including "The Stumble," "Things We Used to Do," and Albert Ayler's "Too Tired." Bell plays a nasty guitar, just a bit raspier than what is usually heard in the field, which gives him an edge to compensate for his average vocals. Highlights include "Shake Your Money-Maker" (in Paul Butterfield's adaptation), "Baby, Please Don't Go," and Bell's own "You Were the One." A couple of feedbacks and odd endings remind us of the live factor, giving the CD an authentic charm. Well done. © François Couture, All Music Guide
BIO
Eric Bell may not have been present for Thin Lizzy's best known and most successful era (the mid to late '70s), but he was there for the group's formation, as a founding member. Born on September 3, 1947 in Belfast, Ireland, Bell played guitar throughout the '60s for several local bands (including Them, and John Farrell & the Dreams), but paid the bills by working as a 'street gas lamp lighter,' and in both pickle and shirt factories. One night in 1969, Bell caught a gig by another local Irish outfit, Orphanage, which featured bassist/singer Phil Lynott and drummer Brian Downey. Soonafter, Bell relocated to Dublin, where he joined up with the others to form Thin Lizzy. Bell's bluesy, Hendrix-esque leads were perfect for the hard rock direction that both Lynott and Downey sought for their new outfit, which led to a recording contract with the Deram label. Three albums followed in as many years - 1971's self-titled debut, 1972's Shades of a Blue Orphanage, and 1973's Vagabonds of the Western World - the latter of which contained a pair of early Lizzy classics, "Whiskey in the Jar" and "The Rocker." Bell, Lynott, and Downey also issued an additional recording in 1973 under the alias of Funky Junction, the self-explanatory A Tribute to Deep Purple. But Bell became unhappy with Lizzy's current, more streamlined musical direction (he longed for the early days of free-form jamming). After single-handedly sabotaging an important hometown Dublin gig with unpredictable and drunken behavior, the guitarist was sacked. The fast paced life of being in a rock band had paid its toll on Bell, who had to take a break from being in a band for several years. But a few years later (by which time Lizzy had become a worldwide hit with a pair of replacement guitarists, Brian Robertson and Scott Gorham), Bell was ready to play music again. When ex-Jimi Hendrix Experience bassist Noel Redding launched a solo career during the middle of the decade, Bell signed on as the project's guitarist, playing on such releases as 1975's Clonakilty Cowboys and 1976's Blowin', before moving on. For the remainder of the '70s, Bell appeared on such obscure releases as a self-titled release by Brush Shiels and a Phil Lynott-produced single for Ron McQuinn. With his differences between his former Lizzy bandmates long settled, Bell reunited with Lynott and Downey for a one-off 'flexi-single' for a Euro magazine, "Song for Jimi," and even joined Lizzy on stage for a night during the group's final tour in 1983 (documented on double disc set, Life). The early '80s also saw Bell attempt to launch his own group, the Eric Bell Band. But aside from a four-track EP in 1981, the group failed to get off the ground. Bell then joined up with blues-rockers Mainsqueeze (playing on their 1983 release, International Blues Rock Revue), who also briefly backed Bo Diddley during a European tour in 1984, and appeared on the subsequent live Diddley recording, Hey..Bo Diddley In Concert (aka Bo Diddley/Screamin' Jay Hawkins). Bell began performing again under the name of the Eric Bell Band during the late '90s, issuing such recordings as Irish Boy and Live Tonite...Plus! (a previously unreleased album Bell recorded with Noel Redding 20 years earlier, The Missing Album, was also issued around this time, as well). © Greg Prato, All Music Guide
BIO (Wikipedia)

Eric Bell (born Eric Robin Bell, 3 September 1947, Belfast, Northern Ireland is a rock musician and guitarist. He was the lead guitarist for Thin Lizzy, and played on the band's first three albums Thin Lizzy, Shades of a Blue Orphanage and Vagabonds of the Western World. Although Thin Lizzy were gaining in popularity, the pressures of recording, touring and the excesses of the rock-star lifestyle, began to take its toll. He left the band after a New Year's Eve concert in 1973, after throwing his guitar into the air in the middle of the concert, pushing the amplifiers into the audience and storming off, as he said on the Gary Moore and Friends DVD interviews. There was a brief reunion for Thin Lizzy's 1983 tour, but for the most part, Bell concentrated on a solo career with his group, the Eric Bell Band. He has subsequently worked extensively with ex-Jimi Hendrix sideman, Noel Redding and toured with Bo Diddley.
MORE ABOUT ERIC BELL & ALBUM
Thin Lizzy's' original guitarist Eric bell is back on the road playing What he loves best the blues. In the early days of 'Thin Lizzy', Eric played the blues to excited Crowds, which packed the bars and clubs in Belfast. Everything changed When "whiskey in the jar" broke the mould and started the band on their Climb to stardom. But Eric never gave up his love for blues music. Now, 30 years later, Eric has returned to his musical roots and is once More exploring and recreating songs from blues heroes such as Freddie King, Buddy Guy, Howlin' Wolf, Albert Collins, Elmore James and Albert King. Says eric: "i've never lost my love for the blues. It's the music of the people for the people. Every type of human emotion is etched into these timeless songs. They are about the things that we all know and understand in this crazy life of ours - love and hate, wealth and poverty, tragedy and success. You cannot paint a better picture of mankind than through the blues because it affects who and what we are." Eric intends spending most of this year touring the UK and Europe with His band - bass player Tony Williams and drummer Andy Golden - taking The blues to new limits. Tony williams, has performed with (the late) Blues star Freddie King, blues man Dick Heckstall-Smith and dire straits Guitarist Mark Knopfler. Andy golden has recorded two albums with Mick Green and 'the pirates' played blues with jazz virtuoso Andy Sheppard And has performed with mike Wedgwood, of 'curved air' and 'caravan' and Mike Paxman from Judi Tzuke. Some of the songs in the show will be from this CD which was recorded "Live" in the Olympia Theatre, Dublin., © Voiceprint 2006