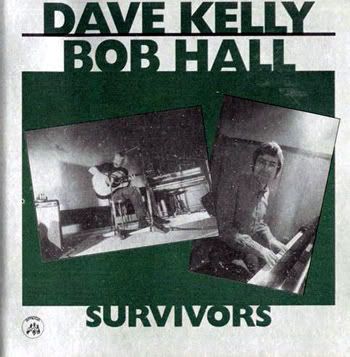 Dave Kelly & Bob Hall
-
Survivors
-
1979
-
Appaloosa
This is a superb, no frills blues album that was recorded and released in Italy with mainly acoustic songs played on piano and dobro/guitar (plus some e-guitar and vocals) by these two legends of British blues. It is a rare late seventies album of British artists playing authentic roots American blues covers by greats like Memphis Minnie, Robert Johnson, and Elmore James, as well as six of their own songs. An unusual song choice here is the bonus CD Phil Everley tune, "When I'll Be Loved." The entire album is mainly Acoustic slide and piano, at it's very best. Check out the Blues Band's "Ready" album, featuring Dave Kelly, and ex-Manfred Mann vocalist Paul Jones.
TRACKS / COMPOSERS

1. - FEW SHORT LINES - Trad. arr by D.Kelly
2. - AIN'T NOBODY MINDING - Bob Hall & D.Cotton
3. - NOBODY KNOWS YOU ARE DOWN AND OUT - James Cox
4. - ERWIN'S BOOGIE - Bob Hall
5. - PASSING THROUGH - Dave Kelly
6. - GOD DON'T EVER CHANGE - Blind Willie Johnson
7. - I'M TALKING ABOUT YOU - Memphis Minnie
8. - SHELBY COUNTRY BLUES - W.Newborn
9. - CRYING BLUES - N.Wilborn
10. - COME ON IN MY KITCHEN - Robert Johnson
11. - THE SPIDER - Bob Hall
12. - SHAKE YOUR MONEY MAKER - Elmore James
13. - BABY PLEASE DON'T GO - Big Joe Williams
[ Bonus Track on 1999 CD issue ]

14. - KEEP A KNOCKIN' - Trad. arr by B.Hall & D.Kelly
[ Bonus Track on 1999 CD issue ]

15. - WHEN I'LL BE LOVED - Phil Everly
[ Bonus Track on 1999 CD issue ]

MUSICIANS
Bob Hall (Piano), (Vocals),
Dave Kelly (Guitar (Acoustic)), (Guitar), (Percussion), (Guitar (Electric)), Dave Kelly (Vocals)
Principally recorded at Barigozzi Studio, Milan, Italy in February 1979
BIO (BOB HALL) - [ Wikipedia ]

Robert 'Bob' Hall (born 13 June 1942, in West Byfleet, Surrey), is a leading English boogie-woogie pianist. A long-time collaborator of Alexis Korner, he also performed regularly with bottleneck bluesman Dave Kelly and his sister, Jo Ann Kelly. Founder member of several British blues bands including The Groundhogs, Tramp, The Sunflower Blues Band and The De Luxe Blues Band, Hall has worked and recorded with artists such as Peter Green, Danny Kirwan and Mick Fleetwood, of Fleetwood Mac, and is also a long serving member of Savoy Brown, and guests with The Blues Band, featuring Paul Jones, Dave Kelly and Tom McGuinness. Hall was also a founder-member, with Ian Stewart, of the Boogie Woogie Big Band which later became Rocket 88, and which included Hal Singer, Don Weller and Dick Morrissey among many leading jazzmen, together with Charlie Watts, Alexis Korner, and Jack Bruce.As a sideman, he has accompanied such blues names as John Lee Hooker, Howlin' Wolf, Little Walter, Jimmy Witherspoon, Chuck Berry, Homesick James, Lightnin' Slim, Lowell Fulsom, Charlie Musselwhite, Snooky Pryor, J.B. Hutto, Lazy Lester, Baby Boy Warren, Eddie Burns, Eddie Taylor, Big John Wrencher, Mickey Baker, and Eddy Clearwater. An acknowledged authority on blues and boogie woogie piano, Hall has contributed to a number of magazines and books and is the sleeve-note writer for the Yazoo Records piano blues series. He is also currently working on the piano sections of The Routledge Encyclopaedia of the Blues.
BIO (DAVE KELLY)
Dave Kelly, the British blues singer, guitarist and composer, was born on 13 March 1947, in Streatham, South London). He has been active on the British Blues music scene since the 1960s. He has performed with the John Dummer Blues Band, Tramp, The Blues Band, and his own Dave Kelly Band.He moved seamlessly from being a trombone player to a bottleneck slide guitar player sitting in with both John Lee Hooker and Muddy Waters during a US visit in 1966. Although playing on the folk club circuit a fair amount he was more of a band person. After the US trip he joined a band which developed into the John Dummer Blues Band. Albums were churned out at a pace in those days, Dave's production rate was well up to the average with sessions involving his sister, Jo Ann Kelly, a highly respected blues singer in her own right, and she and Dave participated in many musical projects together with Bob Hall and Bob Brunning passing themselves off as Tramp and Firefall. Then back to a spell playing on albums by US to notch acts like Son House and Arthur Crudup. Two solo albums appeared around this time (c.1974) accompanied by Peter Green, Jo Ann, Brunning and Steve Rye. There was a band called Rocksalt and then the Ooblee Dooblee Band, again with John Dummer.Fame (?) came in the late 70s when he became a founder member of the highly successful Blues Band. During that band's temporary split he put together his own very successful touring band, which lasted until the Blues Band re-formed in 1989. Not a lot of people know that during the 80s he developed another career as a writer of jingles, and film and television soundtrack music.