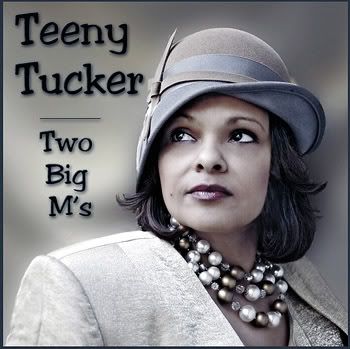 Teeny Tucker
-
Two Big M's
-
2008
-
TeBo Records
This blues lady has a a great vocal expansive range, and is surely one of the best blues singers on the scene today. Her father, Tommy Tucker, wrote and sang the 1964 song Hi-Heel Sneakers.which has been recorded by the Rolling Stones, the Beatles, Jose Feliciano and Elvis Presley. It has been stated in a blues magazine that "some people never liked blues until they heard Teeny Tucker's brand of blues." This album is a tribute to two blues legends, Big Mama Thornton and Big Maybelle, and Teeny pays a great compliment to these classic blues standards, with her great voice, and terrific back up musicians, and wonderful background vocalists. Teeny produced and released on her own, the great album "Tommy's Girl" which is an album of covers of great songs like Ellington Jordan & Billy Foster's "I'd Rather Go Blind" and Sam Cooke's "A Change Is Gonna Come." If you can find it, please buy it, and promote the great blues music of Teeny Tucker. For music in a similar vein, check out LaVern Baker's great "LaVern Sings Bessie Smith" album. There are other great albums of classic blues covers available. Check out Maria Muldaur's "Naughty, Bawdy and Blue" album, where she pays tribute to artists like Bessie Smith, and Ma Rainey Another covers album worth hearing is Rory Block's "The Lady and Mr. Johnson " on which Rory sings some outstanding versions of the songs of the legendary bluesman, Robert Johnson.
TRACKS / COMPOSERS
01. Hound Dog - Jerry Leiber and Mike Stroller
02. Unlucky Girl - Jack Dupree/Willie Mae Thornton
03. Bumble Bee - Willie Mae Thornton/Minnie Lawler
04. Rockhouse - Bob Duffy
05. Ramblin Blues - Fred Mendelsohn/Mabel Smith
06. Whole Lotta Shakin - David Williams
07. Saint Louis Blues - W.C Handy/Luther Henderson, Jr.
08. Sassy Mama - Willie Mae Thornton/Mattie Fields
09. Two Big M's - Teeny Tucker/Regina Westbrook/Robert Hughes
10. Heavy Load - Willie Mae Thornton/Fred McDowell
MUSICIANS
Teeny Tucker - Lead Vocals
Robert Hughes - All Guitar Tracks
Vernon Hairston - All Keyboards & Hammond B3
Drums - Jeff Peters & Tom Sawyer
Bass - Robert Blackburn
Harmonica - David Gastel
Background Vocals - Mary Lusco-Ashley, Paula Brown, Jackie Tate
REVIEW
This is a fun album by Teeny Tucker, daughter of Tommy Tucker ("Hi HeelSneakers".) It's tribute album to Big Maybelle and Big Mama Thorton. You have heard all of these songs before and if you are a fan of either artist you will love the "Two Big M's". Big Mama Thornton is the originator of the classic song "Hound Dog", that most people think was an original tune by Elvis Presley. Big Mama Thorton was paid a flat $500.00 for "Hound Dog" and three years later Elvis Presley made it a hit and got paid millions. On the other hand, Big Maybelle was the original singer of "Whole Lotta Shaken Going On" and later made a hit by Jerry Lee Lewis. She also got paid pennies and died broke while Jerry Lee Lewis made millions. Big Mama Thornton was a songwriter in her own right. She wrote the classic song "Ball & Chain" which Janis Joplin made into hit. However if you are "culture bandit", you will want to skip the one original song on the album, the title track entitled "Two Big M's". I don't think that Teeny would mind me mentioning a portion of the lyrics: "You were pioneers with a crossover style. Your presence and power would make folks bow. "Hound Dog", "Rockhouse" and all the great tunes were cool. They only became hits when someone stole them from you" Overall this album is a powerful presentation of classic songs, originated by two Black women that today few Blacks know anything about whatsoever. However students of the history of Rock n' Roll know all about Big Maybelle and Big Mama Thorton, they know their history. © Bob Davis, © www.soul-patrol.com/soul/south.htm
ABOUT TEENY TUCKER
Although Teeny was born into Blues royalty, (Daughter of Tommy Tucker) one need only to hear Teeny to know that she has cultivated and developed her "gifts" into her very own uniquely compelling 'world-class' package. As a child, this Dayton Ohio native began singing in the church choir. This experience, like so many other 'soulful' success stories, undoubtedly began to chart the course of Teeny's music career. The paths which would lead to her abilities to musically interpret with soulful, bluesy, and uniquely stylistic renderings were set. A 1994 performance at the Apollo Theatre won over the notoriously cruel and scrutinizing audience which earned Teeny a standing ovation. Encouraged by the Apollo experience, Teeny started her professional singing career in November 1996 when she caught the attention of a German Blues promoter and manager who had promoted European tours for her Father. Since then, her musical journey has seen Teeny performing at many of the major Blues Festivals in the USA, Germany, Sweden, France, Switzerland, Belgium, and Italy. Teeny was selected to appear on the cover of July/August 2004 edition of King Biscuit Time Magazine accompanied by a full feature story of her musical journey. Teeny has been invited to appear on the same bill with great blues artists such as: BB King, KoKo Taylor, Etta James, Buddy Guy, The Holmes Brothers, Calvin Owens, Robert Cray, and many others. Teeny wrote 8 of the 11 songs on her second CD, titled 'First Class Woman.' which can be heard in rotation on XM Satellite, Music Choice and Blues radio stations all over the country. Her songwriting abilities earned Teeny a place as a top-ten finalist in the International Songwriting Competition. Teeny is a two-time, top-three finalist in the International Blues Challenge which is held annually in Memphis, Tennessee. In 2005-2006 Teeny recently took some time off after a long eight year tour and has emerged with an exciting, and unique, third CD project. The goal of the new CD is to honor and pay tribute to two underappreciated, great and talented female Blues Giants of the past: Big Mama Thornton and Big Maybelle. Teeny, who spent a year in research and development, sees this CD as a 'labor of love.' Teeny, is aided by Robert Hughes who serves as executive producer on the project. Robert is a blues historian, guitar player, and world renowned photographer. Although Teeny has received admirable recognition for her projects prior to this CD, this is the one that should clearly catapult her into the ranks of the great women blues singers who have 'paid the heavy load dues.' It may be an understatement to declare that Teeny possesses that rare vocal quality which can effectively 'deliver' most any type of music style. Teeny's personal choice is to inject her music with that 'bluesy' feel. Sit back, relax and enjoy the Teeny Tucker experience. I am thrilled and delighted to declare that Teeny is most definitely one of America's most gifted and finest musical resources. © Robert Hughes, © 2007-2008, TeBo Productions, LLC. The Official Teeny Tucker Web site and its entire contents © 2007-2008 under license from TeBo Productions, LLC.. All Rights Reserved
MORE ABOUT TEENY TUCKER
[ © www.class-acts.com ]
The generation of the old Blues legends is passing away one by one, and the young newcomers are still searching for their own directions. But Teeny Tucker has already found her way. It's no wonder. Being the daughter of Tommy Tucker who achieved worldwide fame with "Hi Heel Sneakers." Teeny, comes by her talent naturally. Born in Dayton Ohio, Teeny Tucker received her first musical education with the United Gospel Choir and even recorded with them while still a child. Further influences were Mahalia Jackson, Billie Holiday, Aretha Franklin and Etta James. Teeny Tucker won countless talent contests, sang in radio shows, and performed for the Aids Task Force and on Cruise Liners. She appeared in a variety of musical and theatre productions of the Center Stage Theatre, the Martin Luther King Cultural Arts Center and the Palace Theatre (all in Ohio). Performances include 'This Man Jesus", "Black Nativity" (the main part of Mary), "Carmen Jones", "Who's Got His Own" and "Vaudevillities". On top of it, she was chosen "Ohio Beauty Of The Week" by the Communicator News in 1991. In October 1993 Teeny Tucker took the challenge of the notoriously cruel amateur contests at the "Apollo Theatre" in Harlem, New York. She received standing ovations — and was the winner. In the following December she triumphed again two weeks in a row in "Showtime At The Apollo", which was broadcasted by AFRTS-TV. She also performed The National Anthem in front of a crowd of 60,000 baseball fans at The Riverfront Stadium in Cincinnati where as they like to say, "the crowd went wild!" Much publicity and numerous gigs followed. On November 20th 1996, Teeny arrived in Germany where the German public lhad a first chance to enjoy Teeny Tucker on TV, in Mittwochs live on WDR. The TV-station's telephone lines wentfred hot that night In 1997 she had them cooking at the 14th Dresdner Blues Festival, the 24th Bluesfestival Balder Hohle, the Blues Estafette in Utrecht, Netherlands, at the gala "50 Years Hannover Messe" and in a string of clubs, harvesting seemingly endless adulation. In 2001 she made her debut as a recording artist with her self produced album "Tommy's Girl", dedicated to the favorite songs of her late Father. 'Tommy's Girl", received splendid reviews and made it into the top ten of the R & B play lists of a number of radio stations in the USA. Ever since she has been a welcome guest to the big Blues Festivals and in the States, and abroad. In November 2002 she won the national contest of the Columbus Blues Alliance (CBA) in Ohio and in February 2003 she made it into the Top Three at the Daisy Theatre as one of the Best Unsigned Blues Band at the International Blues Challenge (GBC) in Memphis, Tennessee. In August 2003 her second album "First Class Woman" was released on the Texan label Hot Rod Records. On this one she is not only confirming her class as an outstanding singer but also shines with her own songwriting. In the Nov.2003-Jan.2004 Living Blues Charts, "First Class Woman" placed in me top 25 of Blues albums. It also received extensive airplay in France, Switzerland and the Netherlands. In November/December 2003 she toured Europe again - after a three years' break - as part of the Chicago Blues Festival 2003 Tour. Countries included France, Italy, Belgium, Switzerland, and Monte Carlo. Her German and Dutch friends are hoping to see her live again in 2004. Always "Ebullient" Teeny Tucker enchants every audience with her powerful three octave contralto/mezzo-soprano voice and her repertoire of spicy Rhythm & Blues, hot melting Soul, expressive ballads and ardent Gospel songs.
NOTABLES
Blues By The Bay Festival (Michigan) in August of 2004 : Fleet Blues Festival (Albany, NY) in July 2004
: Billtown Blues Festival (Pennsylvania) in June of 2004 : Monterey Bay Blues Festival (California) Main Stage in June of 2004 :
Fat Back Blues Festival (Fort Meyer Beach, Florida) in April of 2004 :
Top Three Finalist at the 2003 International Blues Challenge in Memphis, TN : Released CD "First Class Woman"
on Hot Rod Records in August 2003 - four cuts playing on Cable Music Sound Choice :
Six week European Tour with Alligator Recording Artists Michael Burks and Maurice John Vaughn. Played Le Meridian in Paris :
Charted on Living Blues in November '03 - January '04 :
Played many European and US clubs and Blues Festivals including the Monterey Bay Blues Festival,
Monterey, California in 2002 & 2003.
QUOTES
"This one satisfies on all accounts: killer band, superior sound, impressive songs, and a singer with pipes, taste and control.
First Class Woman is one of this year's best."- Blues Revue Magazine 2004
"Not simply a powerful voice, Teeny Tucker is a wonderful singer who knows when to shout and when to whisper.
First Class Woman is a first class blues album."- D.C. Blues News 2003
"She knows how to work the crowd-good and hard, and to it's pleasure...she's blessed with that stingy golden
goose creation-genuine star quality."- Columbus Monthly Magazine 2003
"Watch out Shemieka Copeland here comes Teeny Tucker a big voiced blues singer who can give this youngster a run for her money.
'First Class Woman' puts Teeny firmly in the front ranks of women blues singers and heralds a major talent."
- Jeff Harris of "Bad Dog Blues" WITR 89.7 (Rochester, NY)
"I consider her one of the outstanding up-and-coming female blues artists on the scene today, and I'm expecting great things
of her in the future." - Bruce Igluaer - Alligator Records
"Teeny got the influences everybody likes to hear in a voice. She's got the low-down for country-blues,
she's got the swing for a jazzy sound. She's got gospel, a lotta soul, she's just very, very musical.
Plus she can paint a picture with words; she's a good songwriter."- Kaz Kazanoff - Texan Horns