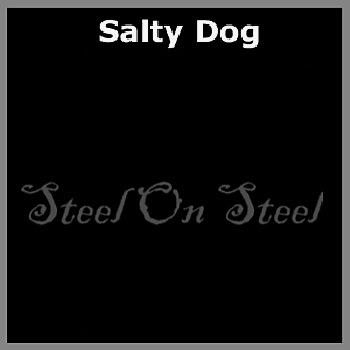 Salty Dog
-
Steel On Steel
-
2001
-
Black Market Music
Good earthy ol' fashioned roots blues style music from this Australian band. Great vocals from Marion Turner, and very good harmonica from Steve Plater. If you can find it, buy their 2003 "Jack of Diamonds" album on which the band band perform blues standards by Blind Lemon Jefferson, Hound Dog Taylor, and others and is a great example of Australian blues.
A.O.O.F.C
would appreciate info on the exact band line-up, and song composers on this album. Also the cover art on this post is not the original artwork. Can anybody down under help out?
TRACKS

01 - Walking Blues
02 - Annie Crab
03 - Medley - Heaven Sitting Down - Pallet On You Flo
04 - Blues For Madison
05 - What Happened To My Shoes
06 - Mistreated Blues
07 - Robbed Again
08 - Lonesome Dog Blues
09 - Ragged And Dirty
10 - Don't You Mind People Grinning In Your Face
11 - Dark Was The Night - Cold Was The Ground
BAND - PAST & PRESENT
Steve Plater: guitars, dobro, mandolin, banjo, stomp-box, fiddle, harmonica, vocals
Marion Turner: vocals, guitar, harmonica, mandolin, washboard, tub bass, percussion
Ian Phillips: washboard percussion, vocal
ABOUT SALTY DOG

Salty Dog play a myriad of blues and roots styles, from the urban blues of Chicago to the blues and cajun of the Delta and across to the bluegrass of Kentucky. They traverse the timeline from the 1920's to the 1980's and pay deep respect to the legends such as Robert Johnson, Mississippi Fred McDowell, Sleepy John Estes, John Hurt, Son House, Doc Watson and many more. They also throw a few of their own compositions into the mix to good effect. The band varies in size depending upon the needs of their gigs, however the core of the band has remained Steve Plater and Marion Turner. Steve is widely recognised as one of the finest blues guitarists in the country, though he is also a multi-instrumentalist and singer of note. Steve's well-known passion for all forms of blues music shows through loud and clear. Marion is a dynamic stage performer who combines harmonica with a rich and powerful voice, and is a talented multi-instrumentalist in her own right. The year 2000 was a watershed year for Salty Dog, with Steve winning the Vic/Tas Blues Awards Male Artist of the Year and Marion winning the corresponding Female Artist of the Year for the second year running. Steve's musicianship combined with Marion's energetic and heartfelt vocals also took Salty Dog to the Vic/Tas 2000 Band of the Year award. Since then, Salty Dog have progressed as a duo, growing their reputation as a hard-working and energetic band through almost non-stop touringi across Victoria and interstate. Reward for their efforts came in 2002 at the National Blues Awards when Salty Dog took out the Band of the Year award. © 1995-2003 Craig Smith except where noted. All rights reserved.
MORE ABOUT THE BAND

Salty Dog is actually a duo (though they sound like a full band) Quote (Jeff Turnbull Review)- Steve Plater-Cigar box guitar-biscuit-tin guitar-Jack Daniels Whiskey tin guitar-Electric Guitar-Drums & Backing Vocals, Marion Turner-Vocals - Harmonica - Electric Bass - Double Bass - Biscuit-tin Bass. We hate blues but we love what these guys do! are some of the comments made by people who have been fortunate enough to see Salty Dog in action for the first time. Instantly your ears are smacked with the edge of raw pure rare rhythmic groove!
Home grown from Ballarat Victoria - This is no laid back Band - Australia's Premier Two Piece High energy outfit with their material, stripped back, reworked bringing the old to a more modern sound, perform a mixture of Swamp Rock and Mississippi Hill country Blues, paying deep respect to the first generation pioneers of the music which is capturing new audiences world wide. These multi-award winning artists are well traveled troubadours with over a decade of performing the circuits and festivals, several recordings behind them, scooping up five awards since 1999-2004, including 'Band of the Year' 2002 at the National Australian Goulburn Blues 'Chain' Awards and the most recent Victorian Blues Awards 2004.. Steve Plater - A dynamic wicked guitar player has gained the recognition as one of Australia's finest multi-instrumentalists. Steve is a one man band performing on Drums, snare and hi-hat with his awesome sounding handcrafted Biscuit-Tin/Jack Daniels tin guitar and Cigar box guitars made by Steve himself, clearly giving the raw and rootsey edge to Salty Dog's unique sound. From their opening set Steve's energy is radiated into the crowd setting them on fire with his powerful drumming and fierce guitar playing. Captivating audiences from young to old, are dancing or either tapping their feet to the hypnotic beat immersing themselves into the music! Through out the show anxious punters speak to Steve about his wicked custom instruments which mostly result in a sale or two! Don't be surprised if you see one of Steve's creations hanging around at the odd venue here and there. Soon he won't have to bring all of his instruments to shows as he may just grab a Jack Daniels Whiskey Tin guitar from over the bar that various venues have purchased from him at past gigs and play it!
The guitar demon set the crowd a light when Salty Dog performed at the recent International Blues rock festival in Phuket Thailand this year which sealed their come back performance for 2009. Steve won'' Male Artist of the Year'' Vic/Tasmanian Blues awards back in 2000 and is the only non vocal guitarist to win such an award in the category, is, a master perfectionist at his craft. He recorded a Solo album in 2006 ''WILD GUITAR'' including originals and his own renditions of Surf/Blues dedicated to his all time favorite guitar players Dick Dale – Roy Buchanan – Robin Trower. Marion Turner - Australia's leading female vocal blues harmonica player completes the other half of salty dog and is the 3-times winner Vic/Tas Blues awards Female Artist of the Year. Marion has earned her place in the Blues industry over the years - her voice is a perfect mixture of honey and smoke with all the passion that you'd find in a Delta juke joint (Quote: Shane Speal Jug Fusion USA) In addition to her singing, Marion is a gutsy harmonica player, while playing her Danelectro bass guitar and cheeky way on stage is always a crowd pleaser! Marion has also caught the bug for the biscuit tin sound and insisted that Steve get back to the work bench and make her a two string slide Bass and now plays at the shows which sounds awesome! © www.freewebs.com/saltydog/bio.htm © 2006 All Rights Reserved.