Jim Kahr
-
Back To Chicago
-
1993
-
Atmos
The unfamiliar Chicago blues guitarist Jim Kahr is worthy of more attention. He played with Bobby 'Blue' Bland for many years, and has worked with some of the blues greats. Having lived in Germany, he is a well respected bluesman there, but his music really needs promotion worldwide, as the guy has so much talent, both as a vocalist, composer, and ace guitarist.. If you are into the blues of Robert Cray, Bobby "Blue" Bland, Albert King, or Paul Butterfield, you may like this album. Jim composed seven of the tracks on this album, and he also does great covers inclding Marvin Gaye's "Don't Mess With Mister T." His solo recorded output is not prolific, but the four or five albums he has recorded are all well worth hearing. Buy his great "Incredibly Live!" album, and give this guy some credit.
TRACKS / COMPOSERS
01. As The Years Go Passing By - D.Malone
02. Breaking Up Somebody's Home - A.Jackson/T.Matthews
03. Keep' Em Hot - Jim Kahr
04. Broken Man - Jim Kahr
05. Where We Goin'? - Jim Kahr
06. Off The Wall - M.W.Jacobs
07. If Loving You Is Wrong - M.Rice/L.Ingram
08. Chicago! (Doin' It To Me) - Jim Kahr
09. Ain't Nobody's Business - I.Taylor
10. You Oughta Know - Jim Kahr
11. Don't Mess With Mister T. - Marvin Gaye
12. Roughin' It - Jim Kahr
13. Miss That Ol' Feelin' - Jim Kahr
MUSICIANS
Jim Kahr: Vocals & Guitar
Bob Stroger: Bass
Jesse Green: Drums
Ron Sorin: Blues Harp
Bill Lupkin Blues Harp, Steve Lupkin Bass, Jorge "Rifa" Percussion, & Tim Tintary Keyboards - on Track 4, "Broken Man"
ABOUT JIM KAHR

This sensational guitarist / vocalist hailing from the great city of Chicago presents his powerful Southside Urban Jam…an awesome refreshing creation of his own. This unique blend has reached far beyond any musical boundaries or limitations to date. JIM KAHR "Chicago Jim" is right in touch with the times while setting the pace for the future with his contributions. An accomplished songwriter and arranger as well…have established this gifted artist as a true identity, leaving his signature on each and every song performed. "Chicago Jim" is an explosive artist indeed…cutting loose each time with remarkable expressions unleashing unforgettable guitar work and vocals! He has become a legend in his own time appearing on several albums (as featured guitarist) with other major recording artists. Consistency has earned him devotion and respect amongst fans and fellow artists alike. He constantly receives outstanding reviews worldwide for his sensational efforts and his projection of true virtuosity. A true professional in every sense and meaning of. "Chicago Jim" simply burns up the guitar whenever and wherever he goes. Jim Kahr is a legendary established artist hailing from the Chicago scene... having performed in all types of major music venues. JK has reached numerous audiences of every music genre gaining worldwide attention and loyal fan support. JIM KAHR received the highest recording honorary award ("Preis der Deutschen Schallplatten") in Germany for his "Incredibly live" album release on AMR records. His latest Memphis album production...Nothin To Lose... with renown producer Jim Gaines has recently been released throughout Europe. It's a very powerful "crossover" album featuring eleven original refreshing tracks with top Memphis players and background singers around in collaboration for a fine album. Jim Gaines has engineered and or produced Carlos Santana, Stevie Ray Vaughan, Huey Lewis, Coco Montoya, Luther Allison, Steve Miller, Bruce Hornsby...to mention a few. JIM KAHR BAND is actively and energetically touring in support of the new album ©
www.jimkahr.de/english/home/frame.htm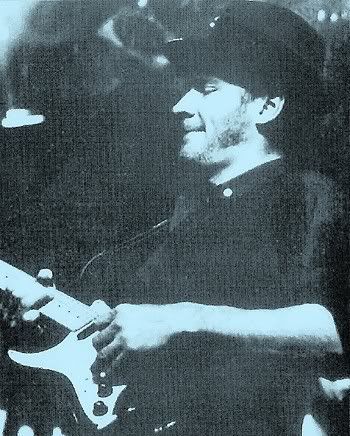 BIO (Wikipedia)

Jim Kahr (b. 11 October 1952 in Chicago) is a US-American guitarist and singer. He played with Bobby Blue Bland for many years before he became acquainted with Willie Dixon, Buddy Guy, Sunnyland Slim, James Cotton, Koko Taylor and Jimmy Rogers. He got his first job as Bandleader from the harmonica player Junior Wells. He has played with greats like Joe Cocker, John Lee Hooker and Freddie King. Kahr was based in Mannheim and Ludwigshafen im the mid seventies and in 1992 he returned the USA. Today the guitar Virtuose lives alternately in the USA and Europe, where he plays sensational concerts and gigs. Jim Kahr is nt a prolific studio artist, having released onlt four or five albums..His 2002 album, "Nothin' to Lose" received great critical acclaim in Germany.