Kyla Brox
-
Window
-
2003
-
Kyla Brox/Independent
When Danny Blomeley arrived back in the UK in the spring of 2001, he and Kyla formed a duo. Danny's sensationally unique style on the acoustic guitar is the perfect complement to Kyla's incredible voice, and often leaves the audience wondering where the rest of the band are hiding! Their vibrant performances quickly made them a favourite in the clubs and venues around North West England, and the rest of the UK was soon to follow. With media interest, including Kyla featuring on the front covers of the UKs two biggest Blues dedicated magazines, Blues In Britain and Blues Matters! (who coined her nickname, "The Voice") and radio play, including a live session for BBC Radio 2 (the UKs most listened to radio station), their reputation has grown and grown. The pair make a strong song-writing partnership and recorded their first album, 'Window', in 2003, a mixture of original and classic numbers. © cdbaby.com
"Window," is a great album with mainly acoustic renditions of Kyla's own compositions, and superb covers of songs such as Ann Peebles' "I Can't Stand The Rain" and Al Green's "Let's Stay Together." She is an incredible vocalist, and Danny Blomeley is an amazing guitarist with a fabulous playing style. This album is VHR by
A.O.O.F.C.
Most of her material is independently released. It's a crying a shame her albums are not widely available. They are all outstanding, Although she has had media exposure, mainly in the U.K, more international promotion would most likely ensure Kyla Brox's future as one of the great soul/blues singers.
A.O.O.F.C
is trying hard to promote Kyla Brox, but her albums are extremely difficult to buy. This is the only reason this album is posted here. If you do come across any of her merchandise and records,
PLEASE PLEASE
buy the stuff!! And if she's playing in your area, go and see this truly great artist and her band. Search this blog for more info about Kyla Brox.
TRACKS / COMPOSERS
1.Don't Mess With My Man - Dorothy La Bostrie
2.Today I Sing The Blues - C.Lewis
3.Candice - K.Brox/Blomeley
4.Let's Stay Together - W.Mitchell/A.Green/A.Jackson
5.Enough Room - K.Brox
6.Girlfriend - Young
7.Window - K.Brox/Blomeley
8.Backwater Blues - B.Smith
9.Feel Loved - K.Brox/Blomeley
10.I Can't Stand The Rain - Bryant/Peebles/Miller
11.I Love Too Much - K.Brox
12.Salty Papa - D.Washington
13.Stargazing - K.Brox/A.Brox/Blomeley
BAND
Vocals - Kyla Brox
Acoustic Guitar - Danny Blomeley
Saxophone - Tony Marshall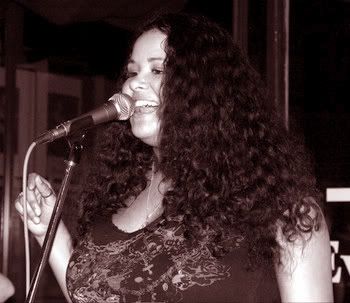 BIO
Kyla was born to sing. She grew up in Manchester, England, listening to her dad singing the blues and her mum singing opera, not to mention the soul and rock exploits of her four older siblings, so it seems inevitable that she would be bitten by the music bug. By the age of 3 she had her heart set firmly on becoming a singer (even asking for Chaka Khan's clothes, hair and voice for Christmas!) and by 1993, at 12 years old, she had already begun to sing in her father's band, the Victor Brox Blues Train (which he originally formed way back in the 60s with Kyla's mother, Annette). It's little wonder that Victor, multiinstrumentalist and singer (who fronted the Aynsley Dunbar Retaliation, and has played/recorded with the likes of Alexis Korner, Little Walter, Graham Bond, Muddy Waters, Champion Jack Dupree, Jimi Hendrix, Doctor John, Peter Green and Sonny Boy Williamson II...) has been a huge influence on Kyla's musical career, encouraging her to learn to play the flute and guitar, as well as sing. Tours, numerous gigs and festivals, and a handful of cds with the Victor Brox Blues Train, have ensured that Kyla has had the proper schooling in her craft. Fate played it's hand in 1993, when Kyla met the equally precocious, 13 year old multi-instrumentalist, Danny Blomeley, when he began to play bass in her dad's band. Danny was a seasoned musician even then, having formed the first of his own band aged 10 (in which he played electric guitar). The pair spent their teenage years honing their skills together in the Victor Brox Blues Train (then affectionately known as the "Child Slavery Band" due to the extreme youth of the musicians!), until 1998 when Danny left the UK to travel the world with guitar in hand. His musical expertise was soon in demand from a diverse range of bands, playing jazz, blues, salsa and rock, on guitar, bass, mandolin and piano. When Danny arrived back in the UK in the spring of 2001, he and Kyla formed a duo. Danny's sensationally unique style on the acoustic guitar is the perfect complement to Kyla's incredible voice, and often leaves the audience wondering where the rest of the band are hiding! Their vibrant performances quickly made them a favourite in the clubs and venues around North West England, and the rest of the UK was soon to follow. With media interest, including Kyla featuring on the front covers of the UKs two biggest Blues dedicated magazines, Blues In Britain and Blues Matters! (who coined her nickname, "The Voice") and radio play, including a live session for BBC Radio 2 (the UKs most listened to radio station), their reputation has grown and grown. The pair make a strong song-writing partnership and recorded their first album, 'Window', in 2003, a mixture of original and classic numbers. Kyla and Danny put together an electric band in 2002, with Danny on bass, Marshall Gill on electric guitar, Tony Marshall on saxophones and Phil Considine on drums. The Kyla Brox Band have recorded three studio albums, 'Beware', 'Coming Home' and most recently 'Gone', and also a powerful live album, 'Live at Matt & Phred's'. With their own special mix of funky, jazz-tinged blues, and armed with the two different touring outfits, they have caused a stir all over the world, performing concerts, and often headlining at festivals though out the UK, Europe, Australia and Asia, such as, The Great British Rhythm n Blues Festival (Europe's largest blues festival), Copenhagen Blues Festival, Blues autour du Zinc, (Paris), The Great Southern Blues and Rockabilly Festival (Australia), Phuket International Blues Festival (Thailand), Edinburgh Festival (Scotland) and Limavady Jazz & Blues Festival (Ireland), to mention a few. © 1994-2008 CDconnection.com