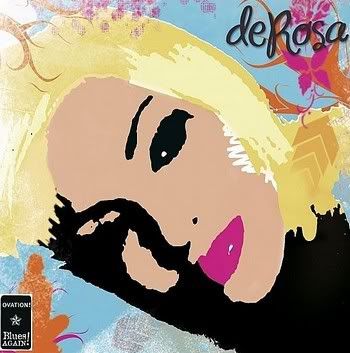 Janice De Rosa
-
De Rosa
-
2007
-
Pid
Her new CD "deRosa" is a blues-flavored concoction that triggers Janis Joplin flashbacks with a graceful pace reminiscent of a Tom Waits album. There's a wisdom in her lyrics that women relate to. Several world-renowned musicians, from Cambodia to New Jersey, contributed to the new CD such as Sam Andrew-the guitarist and songwriter for Janis Joplin- and Paul Breslin, the bandleader for Percy Sledge. Like her previous albums, most notably "Afroblues" (1998), "deRosa" is a melange of world music traditions. The album is a mix of covers and original songs, featuring redrawn classics such as "Little Wing" by Hendrix, "Sure Had a Wonderful Time Last Night" by B.B. King and "Baby, Baby, Don't Cry" by "Smokey" Robinson. The original tracks are equally captivating. In the first song "Hoodoo," a harmonica mixed with Janice's soulful voice summons a traditional blues flavor. The following song "Runaway" has a smooth jazz feel. "Mystery of Love" begins with a soft percussion and weaves through more of her lyrics landing on a key line in the album that brings it all back to Janice-"I am a painter, I paint in the world I want to see. Not what is out there, but what I want it to be." © Holly Leitner , © 2008 Parisvoice
A very good soul /blues/r&b album from the relatively unknown Janice De Rosa. See notes on Track 13. Check out her "Afro Blues" album.
TRACKS
1. Hoodoo
2. Runaway
3. Tell Mama
4. Mystery Of Love
5. Ball ; Chain
6. Hands In Your Pockets
7. Sure Had A Wonderful Time Last Night
8. Rather Go Blind
9. Little Wing
10. Baby, Baby Don'T Cry
11. Time Is Money
12. Bring It On Home
13. Morning After, The [
N.B
:
This track is listed as 11.21 in length. There is silence until 10.02 into track when a "strange" telephone/answering machine discourse takes place. Slightly avant garde, and definitely not in context with the rest of the album! Has anybody any information on this track?] Also, has anyone info on the musicians playing on this album?

BIO
Janice deRosa came to Paris in October 1990 as her to feature her paintings in an art show at the Galerie Medicis. the following summer after that exhibition, Janice was invited to take part in an international museum show on the Cote d'Azur. She had bought herself more time in Paris to paint, but according to Janice, her artisitic inspiration doesn't come from hours of isolated quiet reflection. "I'm not the type of person who likes to listen to the radiator clink," she says, "I like to be with the people." So, that led her to getting out into the Paris club scene. She began frequenting the jazz and blues clubs, and toward the end of the shows when the musicians were riding out the tail end of their whiskey buzz, she'd ask to sing a song. Slowly, she built up a rep around Paris and started getting her own gigs. Her popularity grew, and she crawled out of the small joints into the established Paris jazz venues. And she's been here ever since. This new album brings together Janice the painter and Janice the singer, as the album's cover art is a stylized self-portrait. When you ask Janice how Paris has influenced her music, and how it's different than playing music in New York City, she replied that all places are really the same to her.... striking is that her voice is that it's like a flame that hypnotizes rhythm & blues feeling deep down a special something you can't deny when it grabs you- you can't get away-seems to be an effortless natural sequel... Born in NY and raised in Harlem, she was the first American born to a family of refuges of the war "when there was a "Harlem", she was raised basking in jazz, blues & soul passionately. deRosa played piano at 5, sang in musicals at 8, picked up the guitar at 13, and created her own songs & groups in New York City. She learned the "meaning of the blues" when her father went out "for a pack of cigarettes and never came back" never called, wrote, or sent child support. "Whatever, it was the first man I ever loved..." By 14 she was selected to attend the highly prestigeous High School of Music & Art (the "Fame"school) where everyone is a star. Janice created the opportunities for her artistic discipline and visions. After dazzling audiences in her hometown New York City playing the big rock clubs, Janice started touring Europe alongside the Talking Heads and B52's, and has continued recently headlining festivals in europe known as the "Diva of Blues" alongside her sister Divas such as DeeDee Bridgewater, Tania Maria, Cesaria Evora as well as Dr. Jon, Syl Johnson, Brian Eno, and Suzanne Vega….to mention a few!
deRosa has always had jazz and rhythm & blues running through her veins... it was in Paris at the beginning of the 90's that her "blues feeling" and her sensual scented voice fitted in with the West African music scene. Janice started working with African artists, recording albums such as "Afro Blues" (WEA) and "Aduna" (Next Music) that caused sensation in the French capital as well as on the radios in over 25 or so other countries. deRosa has been featured on TV & radio all over the world via satellite live in concert, interviews & the documentary by Didier Agostini's "Coup de Blues à Janice deRosa"(TV5). Her blues feeling and her affinity with soul remain the vital elements of her music that's why Janice is really…something else!! /www.francodiff.org/en/4-artists/14-the-files-of-the-artists/364-janice-derosa/?s_alpha=D
MORE ABOUT ARTIST & ALBUM

La Vie en la deRosa - "Life doesn't come with a guarantee tag," says Janice deRosa, smiling slyly as she takes another pull off of a slender brown cigarette, "ya know?" That may not be one of the song titles on "deRosa," her new solo album released this month on Rue Stendhal Records, but the theme pervades the record. It's an early summer afternoon in Paris, and I'm spending it with French American diva Janice deRosa. Instead of watching her in a club illuminated by a pale indigo light, she's lit by sunlight in her Marais apartment, an area she calls "the center of the center of the most beautiful place in the world." Over cigarettes and ice water, we talk about her new album in a camouflaged way-chatting about the thoughts that inspired the lyrics-stories of love gone wrong, love gone right for awhile, fantasies of love, waiting on love ...lovers here and there. Janice prefers to use the term 'lover' to describe her relations rather than 'boyfriend', because as she says, 'boyfriend' is an outdated term, and makes her envision herself wearing Capri pants and meeting the parents. This native Harlem girl gone self-proclaimed Parisian diva is a woman who has defined her own way in this city and on the international music scene. She moved to Paris in 1990, playing clubs ever since and working her way up to a sort of fame not only in Paris, but Europe as well. She's produced five records, two of those with Warner Bros. Last year her recording of "Groovin" was at the top of French radio charts for weeks. Her new CD "deRosa" is a blues-flavored concoction that triggers Janis Joplin flashbacks with a graceful pace reminiscent of a Tom Waits album. There's a wisdom in her lyrics that women relate to. Several world-renowned musicians, from Cambodia to New Jersey, contributed to the new CD such as Sam Andrew-the guitarist and songwriter for Janis Joplin- and Paul Breslin, the bandleader for Percy Sledge. Like her previous albums, most notably "Afroblues" (1998), "deRosa" is a melange of world music traditions. The album is a mix of covers and original songs, featuring redrawn classics such as "Little Wing" by Hendrix, "Sure Had a Wonderful Time Last Night" by B.B. King and "Baby, Baby, Don't Cry" by "Smokey" Robinson. The original tracks are equally captivating. In the first song "Hoodoo," a harmonica mixed with Janice's soulful voice summons a traditional blues flavor. The following song "Runaway" has a smooth jazz feel. "Mystery of Love" begins with a soft percussion and weaves through more of her lyrics landing on a key line in the album that brings it all back to Janice-"I am a painter, I paint in the world I want to see. Not what is out there, but what I want it to be." Janice came to Paris in October 1990; as her paintings were featured in an art show at the Galerie Medicis. After that exhibition, Janice was invited to take part in an international show the following summer. She had bought herself more time in Paris to paint; but according to Janice; her artisitic inspiration doesn^t come from hours of isolated quiet reflection. "I'm not the type of person who likes to listen to the radiator clink," she says, "I like to be with the people." So, that led her to getting out into the Paris club scene. She began frequenting the jazz and blues clubs, and toward the end of the shows when the musicians were riding out the tail end of their whiskey buzz, she'd ask to sing a song. Slowly, she built up a rep around Paris and started getting her own gigs. Her popularity grew, and she crawled out of the small joints into the established Paris jazz venues. And she's been here ever since. This new album brings together Janice the painter and Janice the singer, as the album's cover art is a stylized self-portrait. When I asked Janice how Paris has influenced her music, and how it's different than playing music in New York City, she replied that all places are really the same to her. "I could be in a really chic celebrity kind of a place, but by the end, everybody's hootin' and hollerin' and it feels like you're in a bar in Texas," says Janice. "[With music], all of a sudden you realize you have a heart that's beating, you're alive...people tend to hide all day from their feelings. Then at a moment, the tears come down-doesn't matter what language it's in. People get it on the vibrational level," says Janice. After 17 years, she still hasn't made that return flight back to New York except for the occasional visit. But the spontaneous nature of her life tells her that even though there are guarantees, that this just makes life all the more interesting... and gives her something to sing about. © Holly Leitner , © 2008 Parisvoice