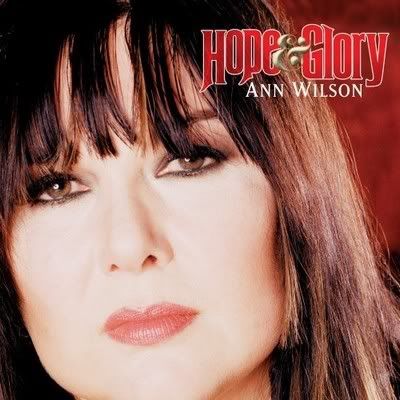 Ann Wilson - Hope & Glory - 2007 - Zoe Records
Heart's Ann Wilson has a host of big names in her corner for her first solo album, "Hope & Glory." The 12-track project features contributions from Wilson's sister/Heart colleague Nancy as well as Elton John, Rufus Wainwright, Wynonna Judd and Gretchen Wilson, among others.The repertoire comprises socially conscious material such as Pink Floyd's "Goodbye Blue Sky," John Lennon's "Isolation," Neil Young's "War of Man" and Led Zeppelin's "Immigrant Song.""Such songs as these carry me through my life, and they are a standard to which all new music I hear and write must compare," Wilson says.Heart remains active on the road but has not released a new studio album since 2004's "Jupiter's Darling."
TRACKS
"Goodbye Blue Sky" with Nancy Wilson (Written by Roger Waters - Popular version by Pink Floyd)
"Where to now St. Peter" with Elton John (John/Taupin - Elton John)
"Jackson" with k.d. lang (Leiber/Wheeler - Lucinda Williams)
"We Gotta Get Out of This Place" with Wynonna Judd (Mann/Weil - The Animals)
"Immigrant Song" (Page/Plant - Led Zeppelin)
"Darkness, Darkness" with Nancy Wilson (Jesse Colin Young - The Youngbloods)
"Bad Moon Rising" with Gretchen Wilson (Fogerty - Creedence Clearwater Revival)
"War of Man" with Alison Krauss (Neil Young)
"Get Together" with Nancy Wilson, Deana Carter & Wynonna Judd (Powers - The Youngbloods)
"Isolation" (Lennon)
"A Hard Rain's a-Gonna Fall" with Rufus Wainwright & Shawn Colvin (Dylan)
"Little Problems, Little Lies" (Ann Wilson)
Produced by the legendary Ben Mink
REVIEWS
"Hope & Glory," from Ann Wilson, is the lead singer of Heart's first solo accomplishment. Wilson teams up with artists like K.D. Lang and even country crooner Wynonna Judd for tracks that will call to listeners and make them feel all of the emotions that Wilson is presenting. "Goodbye Blue Sky" has Ann Wilson sharing a song with sister and fellow Heart bandmate, Nancy. This track has deep guitar and drum work that flows exceptionally well as the pair harmonizes in the intro. The message of the song seems to be that the two are evading some nameless force. "Did did did did did you ever wonder why we had to run for shelter…Beneath the clear blue sky." On "Where To Now St. Peter" Wilson and acclaimed piano man Elton John work together to form a melody that talks about following the providence no matter what one's religious affiliation happens to be. Profound percussion starts off the track, and then Wilson begins singing about her innermost thoughts. "Took myself…And I floated…Dazzling, dancing ….Crazy was the feeling, restless were my eyes." Then John takes over the rhythm of the song and beams his question to the apostle of where his next destination might be. "Where to now, St. Peter, it's true I'm in your hands." The spiritual bend inbred in this song might speak to listeners who feel they have lost their way and wish to find it in the musicality of this track. "Jackson" tones things down a bit as Wilson and balladeer K.D. Lang commiserate using their unique vocal talents. Fixed guitar strumming can be heard in the intro as one of the women sings to the other about a trip they are going to make and their feelings in regard to it. "All the way to Jackson, I don't think I'll miss you much. All the way to Jackson, I don't think I'll miss you much. Once I get to Lafayette, I won't mind one little bit. Once I get to Lafayette, I won't mind one little bit. Once I get to Baton Rouge, I won't cry a tearful hue. Once I get to Baton Rouge, I won't cry a tearful hue." Ann Wilson's "Hope & Glory" is an album that pairs her with singers that span multiple musical genres. Wilson's timbre has a no-nonsense tone on some tracks and a sweetness on others that will be impossible for listeners to shy away from. All in all, Wilson's debut solo album is sure to mark her ascension into musical paradise. © Sari N. Kent © 1995-2007 by TheCelebrityCafe.com. http://thecelebritycafe.com/cd/full_review/13022.html
Ann Wilson's first solo record comes out Tuesday. Ear Candy has been spinning it for a few weeks now and here's the low down on this awesome album. Seattle music maven Ann Wilson gets by with the help of her friends throughout the 12 tracks on her debut solo record "Hope & Glory. "The album includes 11 covers of artists ranging from Led Zeppelin ("Immigrant Song") to John Lennon ("Isolation"). On those two tracks Wilson sings solo, but for the rest of the record she brings in an A-list cast of collaborators including Rufus Wainwright and Shawn Colvin for Bob Dylan's "Hard Rain's A-Gonna Fall," Elton John for a version of his own "Where To Now St. Peter?" and Alison Krauss for Neil Young's "War Of Man," the best of the lot of tremendous songs. Of course Wilson's sister Nancy appears too. She's there for album opener, Pink Floyd's "Goodbye Blue Sky" and The Youngbloods' "Get Together." The latter also includes Deana Carter and Wynona. Her voice is a perfect fit for every contemporary standard she chose. This record should silence and amaze critics who think she can't excel beyond belting out "Barracuda." Each song receives a stylish rearrangement that is mindful of the original yet distinct enough for Wilson to claim herself. The slowed-down duet with k.d. Lang on Lucinda Williams' "Jackson" and the countrified collaboration with Gretchen Wilson on Credence's "Bad Moon Rising" that features plenty of fiddling flair are just two examples of how she is able to capture the spirit of a classic while breathing new life into it in the process. © Travis Hay at September 6, 2007
© 1996-2007 Seattle Post-Intelligencer
At a time when America was beginning the lengthy healing process that followed the Viet Nam War and rock bands like Aerosmith, The Eagles and The Steve Miller Band were dominating FM radio airwaves, Sisters Ann and Nancy Wilson emerged at the center of one of the first critically recognized female fronted rock-n-roll bands. With Heart the Wilson sisters redefined what it meant to be a woman in the male dominated world of rock and helped to pave the way for future female artists, and along the way they made some invaluable contributions to the rich lexicon of rock-n-roll music. Today America is turning another dark corner in its notable history and Ann Wilson has chosen September 11, 2007 to offer a glimmer of light in these perplexing times. With her first solo effort Hope & Glory on Zoë/Rounder Records, Ann revisits the rock-n-roll classics that inspired her to embark on her distinguished career in the recording industry. She puts her signature on some of the music she has enjoyed over the ensuing years and introduces the new song "Little Problems, Little Lies." Collaborator/producer Ben Mink insisted that Ann push herself as an artist and as a singer so that this collection of songs would be a relevant and personal expression for our times. All of the songs for Hope & Glory were lovingly selected by Ann for their collective message that the world can't be healed by fighting or by turning our eyes away from the truth. Featured are seminal rock-n-roll classics such as Pink Floyd's "Good Bye Blue Skies," Led Zeppelin's "The Immigrant Song," Bob Dylan's "A Hard Rain's A-Gonna Fall," as well as songs by The Animals, Creedence Clearwater Revival, The Youngbloods, Lucinda Williams and Neil Young. Joining Ann on the recording is a list of artists that includes Elton John, K. D. Lang, Alison Krauss, Rufus Wainwright and Ann's sister Nancy Wilson. Change is in the air. The world of amity and love that were celebrated in song all those years ago is still within our reach, but we now find ourselves lost in a furious desert. Ann Wilson has discovered elemental wisdom in the music that has shaped her life, and Hope & Glory is her valiant effort to illuminate the path on our continuing journey. © 2005 jazz news
BIO (Wikipedia)
Ann Dustin Wilson (born June 19, 1950 in San Diego, California) is the lead singer and flute player of Heart. Wilson's family moved around as a child because her father was a Marine Corps colonel. The family eventually settled in Bellevue, a suburb of Seattle, Washington. Shy due to a stutter, Wilson turned to music, and in the early 1970s she joined a local band, Whiteheart, which, in 1974, changed its name to Heart. Her younger sister Nancy joined the group in 1974. The band moved to Canada and cut their first album Dreamboat Annie in Vancouver in 1975. It was released in the United States in 1976. In 1977, Little Queen was released. She also sang the duet "Almost Paradise" with Mike Reno in the movie Footloose. Ann started a recording studio, Bad Animals, with her sister in the mid-1990s. She formed a side band, The Lovemongers, which performed Battle of Evermore on the soundtrack to brother-in-law Cameron Crowe's 1992 movie Singles and later released a four-song EP. The band's debut album Whirlygig was released in 1997. Ann adopted her daughter Marie in 1991 and her son Dustin in 1998. She underwent a weight-loss surgery called Adjustable gastric band in January 2002 after what she calls "a lifelong battle" with her weight. In June 2004, Heart released Jupiter's Darling, which is a popular favorite among classic rock stations.