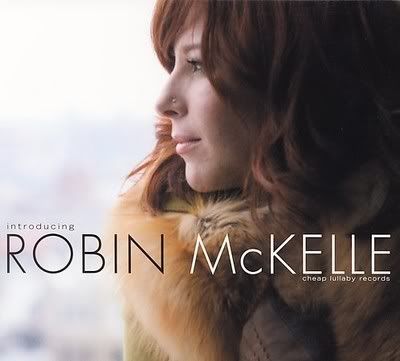 Robin McKelle - Introducing Robin McKelle - 2006 - Cheap Lullaby
Swinging, sultry - the band adds much, but Ms. McKelle's voice, with good range and a fabulous sense of phrasing carries the show. A highly recommended album.
TRACKS
01. Something's Gotta Give
02. Bei Mir Bist Du Schon
03. Night & Day
04. For All We Know
05. You Brought A New Kind Of Love
06. Dream
07. Yes, My Darling Daughter
08. Deep In A Dream
09. I've Got The World On A String
10. Come Rain Or Come Shine
11. The Lamp Is Low
12. On The Sunny Side Of The Street
PERSONNEL
Larry Koonse (guitar);
Peggy Baldwin, Kathleen Robertson (strings);
Bob Shepard, Brian Scanlon (clarinet, alto saxophone);
Ray Herrmann (clarinet, tenor saxophone);
Glenn Berger (clarinet, baritone saxophone);
Gary Foster (clarinet);
Pete Christlieb, Mark Visher (tenor saxophone);
Willie Murillo, Gary Grant, Wayne Bergeron, Don Clark (trumpet);
Paul Klintworth (French horn);
Charlie Morillis, David Stout (trombone);
Andy Martin (bass trombone);
Quinn Johnson (piano);
Reggie McBride (bass guitar);
Bernie Dresel (drums, percussion).
REVIEWS
Vocalist Robin McKelle's jazz profile is in excellent order. A graduate of the prestigious Berklee School of Music, McKelle went on to place as a finalist in the 2004 Thelonious Monk Vocal Jazz Competition. With Introducing this more-than-promising singer continues her exploration of the venerated jazz vocal tradition, expertly interpreting such enduring standards as "On the Sunny Side of the Street," "For All We Know," "Deep in a Dream" and even the Andrews Sisters' Swing-era hit "Bei Mir Bist Du Schön." McKelle's focus and energy -- not to mention sturdy pipes and terrific taste -- make her a diva-in-training to keep a sharp eye on. .© Steve Futterman Barnes & Noble
The debut of vocalist Robin McKelle is a throwback to an earlier era, when singers were backed by big bands as they sang songs destined to become standards. Although McKelle doesn't break new ground in her interpretations of this material and doesn't take many chances, she is an expressive performer, opening with an exuberant, slightly breathy "Something's Gotta Give," followed by an enchanting cha cha treatment of "Bei Mir Bist Du Schoen." Vocalist Robbie Wykoff joins her for her a duet of "You've Brought a New Kind of Love to Me." She's clearly having fun in "Yes, My Darling Daughter," a forgotten number from the big band era, with a brief detour into a Latin setting. The orchestra, which sometimes adds a string section, brings life to the charts adapted or transcribed by trumpeter Willie Murillo and trombonist David Stout, while the band includes veteran jazz instrumentalists like clarinetist Gary Foster, guitarist Larry Koonse and tenor saxophonist Pete Christlieb .© Ken Dryden All Music Guide
"A unique new voice on the jazz scene who someday soon will require no introduction" - Jazz Week
"First-rate jazz album" - All About Jazz
Top 10 Billboard chart entry
A Barnes & Noble bestseller
Extensive plays on BBC Radio 2
Approaching 50000 sold in France
2nd July 2007 will mark the release of "Introducing", Robin McKelle's debut album that is already a best seller in the USA and Europe. Critics compare he voice to Sarah Vaughan and Ella Fitzgerald! Produced by Willie Murillo (Brian Setzer Orchestra producer, Aimee Mann, LeAnn Rimes)
"Introducing" announces the arrival of a song interpreter without equal. Be prepared! It's a remarkable voice; a soul-infused alto tinged with haunting echoes of the postwar jazz greats and now its possessor, Robin McKelle, has inched closer to her inevitable destiny with the spotlight.
Having shared stages with revered artists such as Herbie Hancock, Wayne Shorter, Terence Blanchard, Michael McDonald, Jon Secada and others, McKelle now assumes centre stage with a debut solo album that exuberantly broadens the boundaries of retro-swing. "Introducing Robin McKelle" evokes the jazzy spirit of 1940's America, while retaining a contemporary edge that speaks of a new wartime. With its well-struck balance of potent swing and fearlessly sentimental balladry, the album heralds the arrival of a peerless interpretive artist.
In the UK McKelle has already won the affection of legendary broadcaster Michael Parkinson who has been regularly showcasing tracks from the record on his ever so popular BBC Radio 2 programme.
Working from a songbook that's over 70 years-old, McKelle and producer Murillo laboured to invest "Introducing Robin McKelle" with an up-to-date relevance". Towards that goal, the duo employed old and new recording techniques, while coaxing some of McKelle's most emotive vocal performances. "As a younger jazz singer, I don't feel like I could relate to the lyrics as much," the singer says. "There's so much going on in a song like 'For All We Know.' You have to have loved and gone through those storms to be able to sing that song in a way that people will be touched by it. 'Cause when you're 20 years old, even though you could be in love, you don't have that life experience to draw upon. All material copyright © 2007 All About Jazz and/or contributing writers/visual artists. All rights reserved.
BIO
Robin McKelle, born Robin McElhatten, started singing in church at age five. From the first note it was clear she was a natural talent. McKelle has done everything from Classical and Music Theater to Rock and R&B. But JAZZ is in her soul. In 2004 McKelle had the opportunity to work with many well respected artists including Herbie Hancock, Wayne Shorter, Terence Blanchard, George Duke, Lonnie Plaxico, and Carl Allen. McKelle also worked with Michael McDonald and The Boston Pops. In previous years, McKelle has been a featured soloist with the Boston Pops Orchestra. Pops Conductor Keith Lockhart was quoted," Star of tomorrow. A voice that compares with Sarah Vaughn and Ella Fitzgerald, although at times she also sounds like a young Aretha Franklin. She blew us all away when we heard her." McKelle was also on tour with Darren Hayes in Europe. Other vocal projects have included working with BeBe Winans and John Secada. McKelle's debut release "Never Let Me Go" showcases Robin as an experienced performer and accomplished arranger. After her debut performance at the Reggattabar (Boston), she and her trio were invited to New York to perform privately for Blue Note Records CEO, Bruce Lundval. Robin has also had the privilege to perform for David Bowie, Carly Simon and Wayne Shorter in Berklee Commencement Concerts. McKelle's formal education includes The University of Miami, and Berklee College of Music. Robin graduated with her Bachelors of Music from Berklee and she is now a member of the Berklee Faculty. © www.robinmckelle.com/bio.html