Curved Air - Air Cut - 1973 - Warner Bros
Perhaps the most under-rated album of all the seventies. Starring Eddie Jobson, late of the almost forgotten fat Grapple, Eddie was one of those very rare things, a musical genius. Barely 18, he was the most mind blowing keyboard player imaginable and as for his violin work, well. No wonder the musically inept Roxy Music snapped him up (and then Jethro, Zappa and so on). Another boy genius, Kirby (Gregory), now working in rehabilitation, was a guitarist's guitarist. Jim Russell (of Armada) was another fabulous musician, and with the glue of old timers Mike Wedgwood and Sonja to hold it all together, they pulled off a real cracker. High point is, of course, 'Metamorphosis', written by Eddie, with just amazing playing from all. Mike's Fender Precision Fretless bass really drives, and the heavy bit is just Mike, Eddie and Jim, recorded in one take with no overdubbing. Just listen to Mike and Sonja alternating leads on 'Easy', and hear Kirby's solos in that and in 2-3-2. Armin is a really cool instrumental, and the great thing is that they could do it live so well. Not only that, but they did the old Curved Air stuff better than the old Curved Air. Perhaps it didn't have quite the loose artistry of the old CA, but, by God, it rocked! This is such a good album by a bunch of kids, really: old timer Mike was just 23 and Sonja just a year or two older. The average age was 21 and they managed this, compared to the facile drivel of "new" bands. Sadly undervalued, this album is due for a massive reappraisal. © contributor to http://starling.rinet.ru/music/curvedc.htm
Tracks / Composers
Side 1:
1. The Purple Speed Queen (1:32) - (Sonja Kristina/Kirby Gregory)
2. Elfin Boy (4:13) - (Sonja Kristina)
3. Metamorphosis (10:38) - (Sonja Kristina/Eddie Jobson)
4. World (3:43) - (Michael Wedgwood)
Side 2:
5. Armin (3:42) - (Michael Wedgwood, Kirby Gregory, Eddie Jobson, Jim Russell)
6. U.H.F. (5:07) - (Kirby Gregory)
7. Two-Three-Two (4:10) - (Michael Wedgwood)
8. Easy (6:40) - (Sonja Kristina)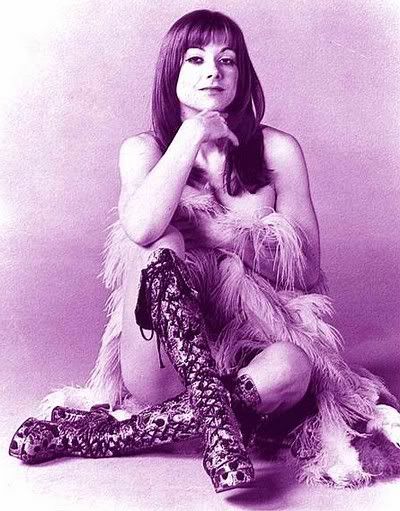 Sonja Kristina
Line-up/Musicians
- Kirby Gregory / guitars, vocals
- Eddie Jobson / keyboards, violin, vocals
- Sonja Kristina / vocals, acoustic guitar
- Jim Russell / drums, percussion
- Mike Wedgwood / bass, acoustic guitar, vocals, lead vocal on "Two Three Two"
BIO (Wikipedia)
Curved Air were a pioneering British rock group formed in 1969 by: Francis Monkman (keyboards, guitar), Darryl Way (electric violin, vocals), Sonja Kristina Linwood (vocals), Florian Pilkington-Miksa (drums), & Rob Martin (bass). The group evolved from the band Sisyphus and was named by Monkman after the piece A Rainbow in Curved Air by contemporary composer Terry Riley. The line-up experienced frequent changes: Ian Eyre (born 11 September, in Knaresborough, Yorkshire) took over on bass for the second album, Mike Wedgwood (born Michael Wedgewood, 19 May 1950, in Derby, Derbyshire) took over on bass for the third. Later members included Eddie Jobson (later Roxy Music, Frank Zappa and Jethro Tull), Stewart Copeland (The Police), Tony Reeves (born Anthony Reeves, 18 April 1943, in London), ex-Greenslade, Colosseum, John Mayall). Only Sonja Kristina continuously remained as member. Monkman, member of Academy of St. Martin in the Fields, was later to play with John Williams in a group called Sky. The musicians developed from quite different artistic backgrounds, classic, folk, and electronic sound, which resulted in a mixture of progressive rock, folk rock, and fusion with classical elements. The band's groundbreaking 1970 debut , Airconditioning, reached no. 8 in the UK Albums Chart, and was the second picture disc released - the first being by the band Saturnalia in the previous year. In 1976 the band recorded their last studio album and then eventually split . Intermittently since then, the group, particularly in its original line-up, has re-joined for periodic concerts, one of which in 1990 gave rise to another live album.