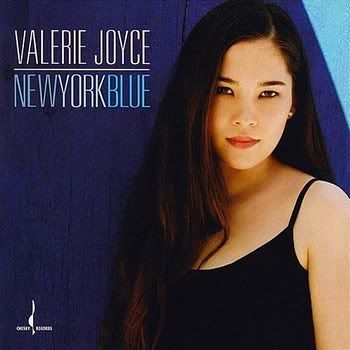 Valerie Joyce -
New
York
Blue -
2005 -
Chesky Records
Along with enchanting interpretations of familiar jazz standards...Valerie breathes new life into pop nuggets like Tracy Chapman's "Baby Can I Hold You Tonight," Jimi Hendrix's melancholic "Little Wing" and the Beatles' "Golden Slumbers." Elsewhere, she turns in a smouldering "Fever," soars sensuously over an undulating samba flavored "Blue in Green," and swings serenely on "Weaver of Dreams," which features some robust alto sax work from Lawrence Feldman. She also resurrects her own "Oasis," a lilting waltz-time original from Reverie that has her ethereal voice fairly floating into the stratosphere. Not since Cassandra Wilson's Blue Light 'Til Dawn has a vocalist cast such an entrancing spell as Valerie Joyce does on New York Blue. Check out her 2003 album, " Reverie. "
TRACKS
1. It Never Entered My Mind
2. Blue in Green
3. Baby Can I Hold You
4. Fever
5. Oasis
6. Every Time We Say Goodbye
7. Moon and Sand
8. Little Wing
9. Weaver of Dreams
10. It's Easy to Remember
11. Darn That Dream
12. I Fall in Love Too Easily
13. Golden Slumbers
CREDITS
Valerie Joyce - Vocals
Andy Ezrin - Piano
Lawrence Feldman - Alto & Tenor Saxophone
Eugene Jackson - Drums
Jon Hebert - Acoustic Bass, tracks 4, 8, 9, 10 & 11
Tim Lefebvre - Acoustic Bass, tracks 1,2,3, 5,6,7,12 & 13
All Arrangements - Andy Ezrin, Valerie Joyce
Produced by David Chesky
Executive Producer - Norman Chesky
Recording, Editing and Mastering Enginee r- Nicholas Prout
Recorded at St. Peter's Church, Chelsea, NYC June 28-29, 2005
REVIEW
A new name but a great talent all the same. Time after time my trusty CD player has been subjected to great sounding but musically dubious recordings from assorted audiophile labels, which given their experience should know better. Well not this time. Valerie Joyce is a young Japanese - American jazz singer and pianist who has the talent and inherent musicial breath of vision, and plain good taste to make it big. She has a smoky intimate voice that works extremely well with the after hours feel of her sophisticated jazz-cabaret- style. Expect to hear more of this Lady. Valerie is joined by arranger and pianist Andy Ezrin. His arrangements and playing provide an uncluttered and entirely sympathetic setting for the singer's voice. The band, Lawrence Feldman- with his lovely warm sax tones that compare with the likes of Stan Getz and Benny..is a standout, Jon Hebert on acoustic bass plays with an understated but sure hand, while Eugene Jackson is the very model of discreet rhythm provider on drums, are simply superb. Tracks include 'Blue In Green', 'Fever', 'Little Wing' and a lovely cover of 'Baby Can I Hold You'. Recommended. Fans of Jacintha, Peggy Lee and Cassandra Wilson will find a lot to enjoy here. November 2005 © Vivante Productions Limited www.vivante.co.uk
BIO
Valerie Joyce has been performing as a musician on the Seattle music scene since 1994. Born in Japan to an American father and Japanese mother, she was exposed to classical music through her mother's piano playing and extensive record collection. Her music education began early, enrolling in solfege classes at the age of six. She started piano lessons at the age of eight. She attended an international school in Yokohama. In 1991 Valerie moved to Tacoma, Washington to attend the University of Puget Sound where she majored in Music Business. She was awarded a classical piano scholarship there and studied piano with Dr. Steven Moore and Dr. Duane Hulbert for four years. At college she sang in the vocal jazz choir directed by Dr. Moore and in her junior and senior years played piano in the college jazz band directed by Syd Potter. As a pianist in the big band, she even had the opportunity to play and perform with Stanley Turrentine. She took jazz improvization classes during the summer at the University of Washington with Michael Brockman and attended the Port Townsend Workshop and studied with Jay Clayton.
To help satisfy her growing interest in jazz, Valerie also studied jazz voice and piano with Jerome Gray on the weekends. The first jazz records that she discovered were Thelonious Monk's ''Brilliant Corners'', Dexter Gordon's ''Our Man in Paris'' and Miles Davis' ''Kind of Blue'' and the soundtrack to the movie '''Round Midnight''. Valerie was hooked on Jazz. She soon discovered many other great jazz records. During her sophomore year, she auditioned for the Berklee College of Music in Boston, and won a vocal jazz scholarship, but decided to complete her liberal arts education at the University of Puget Sound.
After graduating, she moved to Seattle which had a more vibrant music scene. She worked full time during the day at an exporting company and freelanced as a musician by night. She played in solo, duo, trio and quartet formats and played in Jay Thomas's big band as a piano player for four years.
In 2002, Valerie recorded "Reverie", with Seattle area musicians Jay Thomas, Milo Petersen, Joshua Wolff, Paul Gabrielson, and Phil Sparks, under her own label VJI Music, a project that featured four of her original compositions and modern renditions of classic standards. In 2003 Valerie also recorded a world jazz music project that was produced by Michael Wolff, which featured Badal Roy on tablas, Victor Jones on drums, John B. Williams and Mike Richmond on bass and Alex Foster and Dan Jordan on saxophones and flute. In 2004, a radio personality in Puerto Rico read a cd review of Reverie (Jazz Improv Magazine) and contacted musician Carlos Franzetti, who introduced her to Chesky Records in New York. Valerie was signed to Chesky records in October of 2004, and recorded New York Blue, her first album for Chesky in June of 2005, with musicians Andy Ezrin, Gene Jackson, Tim Lefevre, Jon Hebert and Lawrence Feldman. The album was released in Italy, Germany, Japan in other Asian countries in January of 2006. The record has been released in the United States in April of 2006. © 2002-2007 - Valerie Joyce