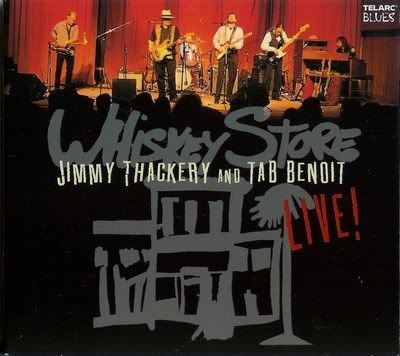 Jimmy Thackery & Tab Benoit - Whiskey Store Live - 2004 - Telarc
The tour to support 2002's Whiskey Store album featuring guitarists Jimmy Thackery and Tab Benoit is captured here in all of its raging six-string glory. Not just for those who own the studio album, this disc repeats six tracks, but they are overhauled and extended so radically (the title cut is nearly tripled in length to a nine-minute blowout), that it's far from a cash-generating retread. Although the formidable Double Trouble rhythm section stayed home, road tested Thackery's saxist Jimmy Carpenter jumps aboard, as does B-3 keyboardist Ken Faltinson, and both ignite the concert sparks substantially. Benoit, who takes the majority of the vocals, brings versions of classics like "I Got Loaded" and Otis Redding's "These Arms of Mine," as well as his own blistering "Bayou Boogie" to the set list, replacing a few of the less stellar songs from the studio effort. Thackery is also in top form, livening up Chicago shuffle-versions of Dylan's "Leopard Skin Pillbox Hat" and Percy Mayfield's "Strange Things Happen" -- the latter featuring a honking sax solo from Carpenter -- with his tough Strat attack and gritty vocals. Benoit's tighter Telecaster sound and Louisiana-tinged swampy singing offset Thackery's gruff barroom approach, and the dueling guitars complement each other even better than on the studio set. It's a rousing hour and 15-minute performance that displays each guitarist's strengths and approach. But more importantly, it shows how their differing styles can accent the music without overburdening it with meandering solos.
TRACKS
Freddy's Combo;
I Got Loaded;
Leopard-Skin Pillbox Hat;
Bone Pickin',
Away, Way Too Long;
Strange Things Happen;
Bayou Boogie;
These Arms Of Mine;
Whiskey Store.
PERSONNEL
Tab Benoit - vocals, guitar
Jimmy Thackery
Mark Stutso - drums
Carl Dufrene - bass
Darryl White
Jimmy Carpenter - saxophone
Ken Faltinson - Hammond
REVIEWS
Blues artists Tab Benoit and Jimmy Thackery are turning out to be one of the better pairings coming out of the Telarc Blues stables. Independently, the two artists deliver their own unique brand of guitar-based blues, soul, and R&B. Together, Benoit and Thackery meld the disparate elements of their styles into a corrosively unified vision. Not bad Mojo for two white guys playing the blues in the 21st Century.
In their 2002 studio release, Whiskey Store , both men drew from their respective band books, isolating the best they had to offer and presenting their selections first to each other and then to us listeners. The result was a very productive collaboration that rocked from beginning to end. Several of the songs are reprised on the new Whiskey Store Live, their electric life infused with weapons-grade plutonium.
I was at first disappointed that this set did not include Tab Benoit's exquisite slow blues "Nice and Warm," from Benoit's Justice Recording by the same name and also included on Whiskey Store. But that was no matter, because the opening notes of Jimmy Thackery's "Freddie's Combo" blew back my hair and singed my eyebrows. The song is propelled by the dual guitar-saxophone front that sounds closer to a jump blues big band than a blues septet. Benoit's "I Got Loaded" added just enough of that Creole spice to shift the bus into high gear and prepare the crowd for Thackery's merciless take on the Minnesota Bard's "Leopard-Skin Pillbox Hat."
All of the previous songs were merely building up to the guitar orgy of the disc, the mass-murdering Benoit composition, "Bone Pickin'," where both guitarists stretch out and burn. Percy Mayfield's "Strange Things Happen" and Otis Redding's "These Arms of Mine" are played with blues power and soulful grace and also provide healthy ground for guitar improvisation.
The disc ends with nine minutes of the molten slab o' blues that gives title to the collection. Both Benoit and Thackery show off. In a period where all popular music is anti-guitar god, it is nice to know that giants still walk among us. © © 2007 All About Jazz and/or contributing writers/visual artists. All rights reserved.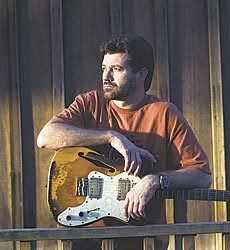 Tab Benoit
Tab Benoit Bio
Guitarist, singer, and songwriter Tab Benoit makes his home near New Orleans in Houma, LA. Born November 17, 1967, he's one of a handful of bright rising stars on the modern blues scene. For most of the 1990s, he's been working each of his records the old fashioned way, by playing anywhere and everywhere he and his band can play. Unlike so many others before him, Benoit understands that blues is not a medium in favor with 50,000-watt commercial rock radio stations, so as a consequence, he's worked each of his releases with as many shows as he can possibly play. Since the release of his first album for Justice, Benoit has taken his brand of Cajun-influenced blues all over the U.S., Canada, and Europe. Nice and Warm, his debut album for Houston-based Justice Records, prompted some critics to say he's reminiscent, at times, of three blues guitar gods: Albert King, Albert Collins, and Jimi Hendrix. Although the hard-working, modest guitarist scoffs at those comparisons, and doesn't think he sounds like them (and doesn't try to sound like them), Benoit doesn't appear to be one who's easily led into playing rock & roll in favor of his down-home blend of swamp blues and east Texas guitar-driven blues. Talk to Tab at one of his shows, and he'll tell you about his desire to "stay the course," and not water down his blues by playing items that could be interpreted as "alternative" rock. Despite the screaming guitar licks he coaxes from his Telecaster and his powerful songwriting and singing abilities, Benoit's laid-back, down-to-earth personality off-stage is the exact opposite of his live shows. Benoit's releases include Nice and Warm (1992), What I Live For (1994), Standing on the Bank (1995), and Live: Swampland Jam (1997), all recorded for Vanguard. Benoit then moved over to the Telarc label for These Blues Are All Mine (1999), Whiskey Store (2002, with Jimmy Thackery), Wetlands (2002), and The Sea Saint Sessions (2003). In 2004, Benoit released Whiskey Store Live, recorded with Jimmy Thackery on the support tour for Whiskey Store. 2005 saw the release of Fever for the Bayou on the Telarc label. 2005 also saw Voice of the Wetlands come out on Rykodisc. Another album from Telarc, Brother to the Blues, appeared in 2006. Power of the Pontchartrain followed in 2007. Considering that many of Benoit's records have surpassed the 50,000 mark, he's well on his way to a career that could rival the kind of popularity the late Stevie Ray Vaughan enjoyed in the late '80s. © Richard Skelly & Al Campbell, All Music Guide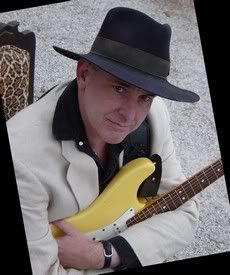 Jimmy Thackery
Jimmy Thackery Bio (Wikipedia)
Jimmy Thackery (born May 19, 1953) is a blues singer/guitarist. Known for his gritty, blue-collar approach and marathon live shows, Jimmy Thackery was for many years part of The Nighthawks. The Nighthawks were known as one of the hardest-working blues bar bands in North America. Since the late 1980s, Jimmy has been touring under his own name, and has found a wide audience. His hard-edged, tough-as-nails approach to guitar playing and his trio's driving rhythm section holds appeal for fans of both traditional Blues and roots Rock. Born in Pittsburgh, PA, Thackery was raised in Washington, D.C.. After joining the Nighthawks in 1974, and recording over 20 albums with them, he struck out on his own in 1987. Since 1991 he has been leading a trio, Jimmy Thackery and the Drivers, whose early recordings were for the San Francisco, CA-based Blind Pig Records. In 2002 Thackery released "We Got It", his first album on Telarc and in 2006 "In the Natural State" with Earl and Ernie Cate on Rykodisc.