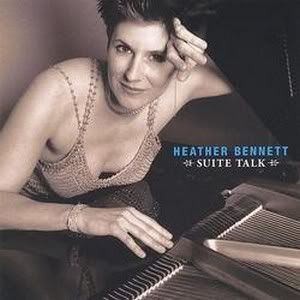 Heather Bennett - Suite Talk - 2002 - Apria.
"Suite Talk not only displays pianist Heather Bennett's artistry as an improvisor. Even more than that, a dozen original pieces (including two jazz suites) reveal Heather's formidable talent as a composer. This is one young musician to watch ...Don't miss her!" © Bob Bernotas host of "Just Jazz" WDVR-FM New York
TRACKS
1. Cadillac Roundup
2. Silent Witness
3. Cact
i4. Giddy Down
5. 'Nite Awl
6. Falling
7. Rattlesnake Dance
8. Mustangs
9. Sweets
10. Deep Fried Tumbleweed
11. Blue Bonnett
12. Taps for A.D.
PERSONNEL
Heather Bennett, piano;
Rufus Reid, bass;
Billy Hart, drums
Billy Mobley, trumpet & flugelhorn;
Rick Margitza, tenor & soprano saxes
REVIEWS
"One of the most promising bop-and-beyond players of the younger generation." - Will Friedwald The Village Voice New York
"...She has "the gift" as an improvisor and performer." - Richie Beirach
"Suite Talk not only displays pianist Heather Bennett's artistry as an improvisor. Even more than that, a dozen original pieces (including two jazz suites) reveal Heather's formidable talent as a composer. This is one young musician to watch ...Don't miss her!" - Bob Bernotas host of "Just Jazz" WDVR-FM New York
"Jazz piano is Heather Bennett and Heather Bennett is Jazz piano." - Robert Giles JazzReview.com
"Heather Bennett continues her rise to prominence as an accomplished jazz pianist." - All About Jazz
"She is a pianist first and foremost and that subtle distinction sets her apart from most of her peers." - Michael Point Austin Statesman
BIO
Ms. Bennett, born in Buffalo, NY, raised in Needham, MA and Dallas, TX, comes from a rich musical background (her mother is an accomplished classical pianist). Heather began formally studying the piano at the age of seven. She continued her musical studies at Richland College in Dallas, then the University of North Texas and followed her mentor Bert Ligon, to the University of South Carolina where she graduated Magna Cum Laude with a major in jazz performance. As a fixture on the Austin, TX, scene during the mid-90s, Ms. Bennett released two self-produced CDs: the first, "New Light" (1996), consists entirely of her own compositions. Her second CD, "Throwing Sparks" (1997), features an all woman trio of Texas personnel. In 1997, Ms. Bennett moved to New York City to become part of a large community of prominent jazz musicians. She also continued her studies privately with Richie Beirach and later Sal Mosca. In 1998, she organized an all female quintet of New Yorkers with Houston bassist Erin Wright which debuted at the Sumarts Jazz Festival in Houston, recorded, then toured all over Texas. Her premiere New York release is All Through The Night (2000), with drummer Billy Hart, bassist Dennis Irwin, and alto saxophonist Dave Pietro. Interspersed between Bennett's originals are a combination of tunes from Cyndi Lauper's "All Through the Night" to the American classic "When It's Sleepy Time Down South." Heather has performed with her own groups at jazz clubs in New York City and surrounding areas (Ryles in Boston, Cleopatra's Needle, Up Over Jazz Café, Smith's, Detour, Metropolitan Café, Pumpkins, etc. in New York, Ortliebs in Philadelphia and more). Ms. Bennett recently performed solo piano concerts in Germany for the Off New York festival: the tour was kicked off at New York's Imagine Festival, 2004. In addition to these appearances, Ms. Bennett, with Billy Hart and Dennis Irwin, was featured for the Melon Jazz Festival in Philadelphia, and she has done numerous Texas tours featuring her music mainly in the cities of Austin, Houston, San Antonio and Dallas. Ms. Bennett is currently performing with Bill Mobley's Space Time Big Band, Elephunk (a nine piece jazz/funk band), Mujeres Latinas (an all female Salsa band) singing and playing jazz standards with her trio, playing Gospel music in church and freelancing with several jazz, R&B, and pop projects. She also teaches piano, vocals and jazz improvisation in New York City schools through 144 Music and Arts. She has performed and/or recorded with Billy Hart, Rufus Reid, Dennis Irwin, Will Lee, Dave Pietro, Roseanna Vitro, Randy Brecker, Ingrid Jensen, Greg Tardy, Ed Schuller, Rick Margitza, Joe Cohn, Danny Walsh, Daniel Carter, Pamela Hart, Ratzo Harris, Jaz Sawyer, George Schuller, Ari Hoenig. Mike Pope, Bill Mobley, Pete McCann, and Donny McCaslin among others. Last year she had the opportunity to play and sing for Liza Minelli. In 2004 she opened with Mujeres Latinas for Ray Barretto. For more information on this artist, please visit www.apriarecords.com. © 2007 All About Jazz