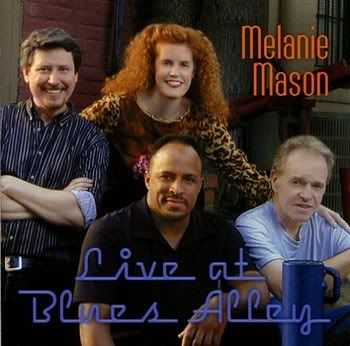 Melanie Mason - Live at Blues Alley - 2005 - Melanie Mason
The third release from blues guitarist/vocalist Melanie Mason, contains 14 songs - half of which are penned by Mason. A powerful live performance recorded at the legendary Blues Alley. Mason unleashes absolutel monster axe power. Her guitar playing is impeccable. " Live At Blues Alley " is Mason in her element. Inspired, powerful playing and one of the best sounding blues live records you will ever hear. If you're looking for great blues music, Melanie Mason Live At Blues Alley is a must have. Check out her great "Bendin' the Blues" album. Check out an interview with Melanie @ http://www.modernguitars.com/archives/001259.html
TRACKLIST
01 Crave
02 I'm Tore Down
03 Mississippi Blues
04 I'm In the Mood
05 Lonely Lonesome Gal
06 Work Your Magic
07 Born In the Country
08 Love's Slow Burn
09 Before You Accuse Me
10 Thrill Is Gone
11 Castles Made of Sand
12 Crossroads1
3 When Love Comes to Town
14 Gospel By the River
REVIEWS
"If Melanie Mason had leant against the door frame of Blues Alley, crooked her finger, winked her eye and thrown back her ginger curls she could not have made a more irresistible invitation than 'Crave,' the opening track of her live CD. Hot, sultry and sexy – if Mason wasn't breathless at the finish, the audience must have been. The 14 tracks on 'Live At Blues Alley' are split between six originals, seven covers and one hybrid, 'Born In The Country.'
As is usual with artists of this calibre, her own songs fit far more snugly than someone else's. The aforementioned 'Crave' and 'Mississippi Blues' are a natural product of her own sensuality...Melanie Mason is no slouch on lead guitar and the album is studded with magical moments, most notably on 'Love's Slow Burn,' a song so heavy with atmosphere it comes with it's own weather warning. As the album progresses, Mason and the band fall back on some old favourites, Hendrix's 'Castles Made Of Sand' and Robert Johnson's 'Crossroads.' Fittingly, the album finishes as it began, with a fabulous Melanie Mason original, 'Gospel By The River.'" © Eric Thom, Oct/Nov 2005 Blues Revue Magazine
"Melanie Mason doesn't stake her claim on her sultry looks; instead, she puts her sturdy guitar and vocals front and center. On her latest album, 'Live at Blues Alley,' she also shows she knows how to work a hook in her favor: Tracks such as 'Work Your Magic' do their stuff simply and effectively, and 'Crave,' with Mason's breathy vocal, is a radio single waiting to happen. Not shy about big covers, she tackles John Lee Hooker's 'I'm in the Mood,' cranking her feminine wiles to the max to make it her own. Elsewhere she bites off 'Thrill Is Gone,' Hendrix's 'Castles Made of Sand,' Robert Johnson's 'Crossroads,' and U2's 'When Love Comes to Town.'
There's a Southern sound here, and a potent link to the Delta. Inhibited Mason is not: Her guitar work on 'Thrill,' 'Castles,' and (especially) 'Before You Accuse Me,' where organist Tommy Lepson leaps to the fore on vocals, is eye-opening. And Mason can unleash absolutely monster axe when she needs to, as 'Love's Slow Burn,' minus the subtleties, demonstrates. She seems to shine brightest on her own compositions, such as 'Gospel by the River,' where her attack recalls Robert Cray even as her vocals cook up something uniquely hers.
Mason's band--Lepson on organ and vocals, Sam Goodall on bass, and ElTorro Gamble on drums--hits a deeper groove with another original, 'Mississippi Blues.' Here, Lepson provides a thick, solid base of B-3 upon which the bandleader addresses her stinging slide....Keep your eye on this lady...." © Eric Thom, Oct/Nov 2005 Blues Revue Magazine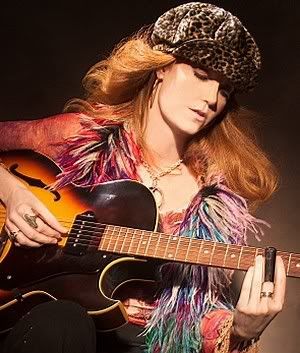 Melanie Mason © YvonneTaylor www.melaniemason.com/
BIO
One of the few female lead guitarists in the Northeast region, Melanie Mason continues to expand her popularity on the indie blues-rock scene as electric guitarist, vocalist and songwriter for the Melanie Mason Band. She also excels as a solo traditional acoustic blues artist, specializing in Delta and Piedmont-style country blues.
AWARDS AND HIGHLIGHTS
Since releasing her debut CD in 2001, Mason has been recognized in a number of ways:
International top-seller on CD Baby for over 6 years; current status: Guitar Blues (#1), Electric Blues (#2), Blues (#3), Acoustic Blues (#16)
Winner of 2005, 2004 and 2001 Best Blues Recording Awards, Washington Area Music Association (WAMA)
Featured lead guitarist in Emmy award-winning PBS WETA-TV ads promoting Martin Scorsese's "The Blues" film series. Check it out at www.sonicbids.com/melaniemason!
Winner of the 2003 D.C. Blues Society's International Blues Challenge Competition (Washington, D.C.)
Band competitor in the 2004 20th International Blues Challenge (Memphis, Tennessee)
Solo finalist (1 of 6 selected nationwide) in the 2007 Telluride Acoustic Blues Competition ( Telluride, Colorado)
"Mason is an artist clearly on the rise."
Elliott Gross, WPFW, 89.3 FM Washington, D.C.
© 2007 Melanie Mason www.melaniemason.com