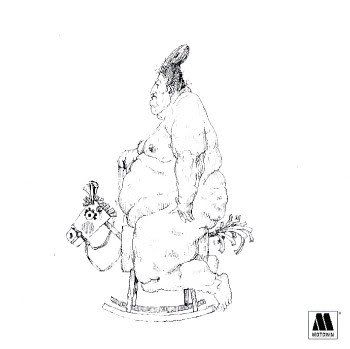 Rare Earth - Ma - 1973 - Rare Earth
Rare Earth's most satisfying LP, Norman Whitfield wrote and produced all five songs. "Ma," the title track, had been done by Temptations and Undisputed Truth but nobody rocked the sucker like Rare Earth; they jam for 17:17 on the funkiest mama song ever. "Hum Along and Dance," first appeared on the Temptations' Psychedelic Shack; Rare Earth gives the groover and update, a rolling organ sets it off. Lead, Gil Bridges brags about his musical ability on the loud, horn dominated stomper "Big John In My Name."A haunting arrangement of "Smiling Faces Sometimes" will make you shiver. And you don't get much more sensual than the soft and lush "Come With Me," where a female simulates an orgasm that puts Donna Summers' exhibition on "Love to Love You Baby" to shame; it's the only new song on the LP, but who's quibbling, MA is da bomb! © Andrew Hamilton, All Music Guide
Check out their 1969 " Get Ready" album.
TRACKS
1. Ma
2. Big John Is My Name
3. Smiling Faces Sometimes
4. Hum Along And Dance
5. Come With Me
BAND
Mark Olson - vocals, keyboards
Michael Urso - vocals, bass guitar
Peter Hoorelbeke - vocals, drums
Ray Monette - guitar
Eddie Guzman - congas, timbales
BIO (Wikipedia)
The group formed in 1961 as The Sunliners, and changed their name to "Rare Earth" in 1967. After recording an unsuccessful debut album "Dream/Answers" on the Verve label in 1968, they were signed to Motown in 1969. The band was the first act signed to a new Motown imprint that would be dedicated to white rock acts. The record company didn't have a name for the new label yet, and the band jokingly suggested Motown call the label "Rare Earth." To the band's surprise, Motown decided to do just that.
The main personnel in the group included Gil Bridges (saxophone and vocals ), Pete Rivera a.k.a. Peter Hoorelbeke (lead vocals and drums), John Parrish a.k.a. John Persh (bass guitar, trombone and vocals), Rod Richards (born Rod Cox, guitar), Ray Monette ( guitar ), Edward "Eddie" Guzman (congas and assorted percussive instruments) and Kenny James (born Ken Folcik, keyboards). The personnel lineup changed considerably over the years, with three members of the group dying during the 1980s and 1990s, and the only original member currently left in the group is Bridges.
Rare Earth had a number of Top Ten hits in the 1970-1971 period, including covers of The Temptations' "(I Know) I'm Losing You" (which was used in the documentary video It's Time) and "Get Ready". The cover of "Get Ready" was their biggest hit, peaking at #4 on the US pop charts, a better performance than the original. Other songs include "I Just Want to Celebrate" and "Hey, Big Brother" They did not chart significantly after 1971, although they continued to record into the 1980s. Their 1973 album Ma, written and produced by Norman Whitfield, is considered their best overall work, and features their version of "Hum Along and Dance".
The group gained a bit of notoriety when it was mentioned dismissively in the lyrics to Gil Scott-Heron's landmark 1970 poem "The Revolution Will Not Be Televised," which included the line, "The theme song [to the revolution] will not be written by Jim Webb, Francis Scott Key, nor sung by Glen Campbell, Tom Jones, Johnny Cash, Engelbert Humperdinck, or the Rare Earth."
Rare Earth, which continues to perform at corporate events and on the oldies circuit, appears to have had the last word, however; bits from their recordings have been used as samples on recordings as diverse as Beck's "Derelict", UNKLE and DJ Shadow's "GDMFSOB (feat. Roots Manuva - U.N.K.L.E. uncensored version)", Black Sheep's "Try Counting Sheep", Peanut Butter Wolf's "Tale of Five Cities", Scarface's "Faith", NWA's "Real Niggaz Don't Die" and Eric B. and Rakim's "What's Going On". Their hit "I Just Want to Celebrate" was also used in a major national advertising campaign by Ford Motor Company and in the final episode of TV show Six Feet Under.