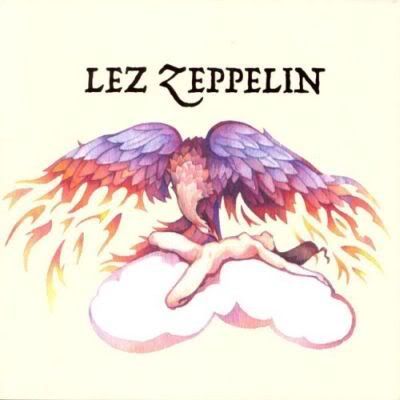 Lez Zeppelin - Lez Zeppelin - 2007 - Emanation Records
Lez Zeppelin, the New York City-based all-girl, all-Zeppelin quartet. This is a great debut album. Since forming in 2004, Lez Zeppelin has gained unanimous critical acclaim as one of the most exciting live acts around, becoming the first female rock act to pay homage to Led Zeppelin and to garner rave reviews across the board. Lez Zeppelin has engineered a perfect realization of the rock and roll fantasy and brought it to life. These chicks kick out the jams of the greatest rock band ever.
BAND
QUEEN OF WANDS: SARAH MCLELLAN, vocals
QUEEN OF CUPS: HELEN DESTROY, drums
QUEEN OF SWORDS: STEPH PAYNES, electric and acoustic guitar
QUEEN OF PENTACLES: LISA BRIGANTINO, bass, mandolin, keyboards
TRACKS
01. Whole Lotta Love
02. The Ocean
03. On The Rocks
04. Since Ive Been Loving You
05. Rock And Roll
06. Winter Sun
07. Communication Breakdown
08. Kashmir
REVIEW
It's been over 20 years since mega-producer Frank Farian's rock lab experiment Far Corporation had their wretched claim to 15 minutes of fame – a cover of Led Zeppelin's classic "Stairway to Heaven." With a roster that featured members of the band Toto, few paid any credence to the act and fewer still had any love for the schmaltzy remake. But like it or not, Far Corporation kicked open a door for a glut of Zeppelin tributes. Some say they might even be responsible for the mid-1980s "tribute band phenomenon" that continues today… for better or worse... erm, well, mostly worse.
Of all the musically-inclined Zeppelin mongers who have jammed the airwaves and store shelves since 1985, I think the early Dread Zeppelin took the cake. How perfect: an American band covering the songs of Zeppelin, done in a summery reggae style, and belted out by an Elvis Presley impersonator named Tortelvis – who regularly performed with a mic in one hand and a grilled peanut butter and banana sandwich in the other?!? Even Zep's Robert Plant was said to have a thing for those guys in their prime. Who could blame him?
I digress. Living in a town like Cleveland, one has a difficult time getting away from Led Zeppelin altogether. But I've fought a valiant battle for many years, steering clear of the clubs and bars on off nights and all classic rock radio stations. Brilliant though they were, I have been comfortable with that knowledge in such a way that I could put Zeppelin to rest and listen to them occasionally. That is, until now. The NYC-based Lez Zeppelin, an all-female, all-Zeppelin quartet really does get the Led out. They're a scary good, well-rehearsed and note-for-note accurate depiction of their idols' prowess with blues-rock. And their self-titled debut proves it.
Produced by veteran Zeppelin knob-twiddler Eddie Kramer (Kiss, AC-DC, Hendrix), the foursome burns through a dynamic run of classics including "Whole Lotta Love," "Rock and Roll," "Communication Breakdown" and "Kashmir." Singer Sarah McLellan gets fiery in her delivery, channeling Plant with a fervent sense of reverence and innate sensuality. The rest of the band – Steph Paynes (guitars), Lisa Brigantino (bass/keys) and Helen Destroy (drums) – fall right in line. Their intermingling on second-tier Zeppelin tracks "On the Rocks," "Winter Sun" and the divine "Since I've Been Loving You" is organic, incisive and passionate. Nothing shy of inspired.
In the end, this debut is at least a real treat and at most a revelation – likely to motivate even the most "over it" Led Zeppelin fan to re-examine the originals. If there's one criticism, it's that the disc is a short one. Once you get a taste of what they're capable of, you'll be looking for second helpings. Let's hope we don't have to wait long. Though Spin Magazine has called Lez Zeppelin "the most powerful all female band in rock history" (both preposterous and presumptuous... someone buy the editors the Rolling Stone Women in Rock box set, for heaven's sake!!)...these gals definitely rock. Maybe they'll even take a stab at covering "Stairway." If anyone could pull it off... it's them.
I bet even Plant himself would agree. © Peter Chakerian Published July 18, 2007 http://blogcritics.org/
Sarah McLellan © www.classicrockmagazine.com
BIO (Wikipedia)
Lez Zeppelin are a New York City-based all-female tribute band, performing the work of Led Zeppelin. Steph Paynes plays guitar, Helen Destroy takes John Bonham's role on drums, Lisa Brigantino performs bass guitar, mandolin, and keyboards, and Sarah McLellan is the lead vocalist. The members were featured on the cover of the June 2005 issue of Spin magazine. Steph Paynes was interviewed by Brian Ibbott on Coverville 6/8/2007 in episode 330. They have released a self-titled debut album which was recorded with legendary producer/engineer Eddie Kramer, best known for his work with Led Zeppelin, Jimi Hendrix, and KISS; and was mastered by George Marino, who with Jimmy Page digitally remastered all of the original Led Zeppelin recordings. The album, released on Emanation Records, will be distributed by Redeye Distribution.