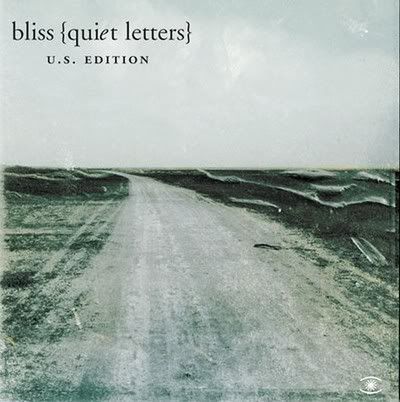 Bliss -
Quiet Letters (US Edition) -
2005 -
Quango Records
Accordian, ambient, jazz with textures and production sensibilities of Gotan Project, with a Latin edge, slightly bluesy and with a lush, cool female vocal. Mixed up with a lush, soundtrack feel with lots of strings, subtle keys and a languid mellow tone. Quiet Letters is described by Buddha Bar's DJ Ravin as "The Album of the Year", one of those albums that you have always been looking for without ever finding.
TRACKS
1. Sleep Will Come
2. Kissing
3. Wish U Were There
4. Wish U Were Here
5. Dunia
6. Song For Olabi
7. The Suns of Afterlife
8. Don't Look Back
9. Long life
10. Remember My Name
11. Right Here
12. If Heaven Closes
(Tracks 7, 9, 10 & 12 also on "Afterlife")
MUSICIANS

Steffen Aaskoven, producer & composer
Marc-George Andersen, composer
Alexandra Hamnede, singer
Salvador 'Tchando' Embalo, singer & composer
sophie barker, singer
and features guest vocals by Sophie Barker from Zero 7.
REVIEW
Quiet Letters is a chill-out masterpiece with its captivating vocals, gentle percussion and gracious orchestration. Deeply rooted in a fine collage of Western, African and classical musical influences, representing the vast musical backgrounds of the band, Bliss has inspired comparisons to Sade, Massive Attack and Ennio Morricone. Bliss is an international chill out pop music collective from Denmark, Sweden and Guinea-Bissau, West Africa. Since 2001, they have released material on the Danish label, music for dreams, appeared on more than 60 compilations worldwide and in such tv shows as csi: crime scene investigation. Quiet Letters is Balearic, classic and mysterious, one of those albums that you have always been looking for without ever finding. It will transport you far beyond the beaches of Ibiza, on a travel through African soul, Scandinavian jazz, and ethereal pop featuring guest vocals by zero 7's sophie barker. Experience the chill out record of the summer. Catch some Bliss. © 2007 Whiteswanmusic.com