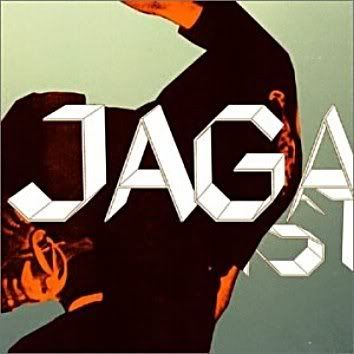 Jaga Jazzist - A Livingroom Hush - 2002 - Ninja Tune
Jaga Jazzist creates a unique mix of jazz, electronica, progressive rock, shoegazer, psychedelic, hip-hop, alternative rock, experimental artists, post-rock and more. This is mellow, upbeat modern contemporary jazz at it's best. Highly recommended by A.O.O.F.C
TRACKS
1. Animal Chin (4:07)
2. Going Down (5:19)
3. Press Play (1:16)
4. Airborne (5:13)
5. Real Racecars Have Doors (4:15)
6. Low Battery (5:49)
7. Midget (2:32)
8. Made for Radio (5:21)
9. Lithuania (8:37)
10. Cinematic (6:23)
MUSICIANS
Andreas Mjøs / vibraphone, drums
Even Ormestad / bass, synthbass
Harald Frøland / guitar, fx
Ivar Chr. Johansen / keyboards
Jørgen Munkeby / flute, bass-clarinette, tenor sax, keyboards
Lars Horntveth / Tenor saxophone, soprano saxophone, bass-clarinette, guitars
Lars Wabø / trombone, percussion
Line Horntveth / tuba, melodica, percussion
Martin Horntveth / drums, drum-machines
Mathias Eick / trumpet, upright bass, percussion, keyboards
Also: Jorden TRaeen
REVIEWS
BBC votes Jaga Jazzist's The Livingroom Hush album of the week. Ninja Tune-signed Jaga Jazzist receives a boost to the re-launch campaign of their The Livingroom Hush-album when BBC Music voted the release album of the week. 11/28/2002 Text © Tomas Lauvland Pettersen www.mic.no/mic.nsf/doc/art2002112813261468569008
If you need any further proof that Europe (and particularly Norway) is the place where all the interesting stuff is happening, look no further than this record. A Livingroom Hush is the debut from Norwegian collective Jaga Jazzist, now given a wider release by Ninja Tune.The album's already picked up critical praise (even from the NME!) with one memorable quote describing it as 'Charlie Mingus with Aphex Twin up his arse'. Though this is an interesting (if unsavoury) notion, the album is far from the kind of confrontational experience it suggests. Jaga Jazzist bolt together elements of electronica, formal jazz writing and the wide open spaces of dub and post rock into a lush, listenable stew that's very much their own.Unlike some of their contemporaries, there aren't any specific references to jazz tradition; you won't find any Alice Coltrane samples here. In fact they're as likely to remind you of Soft Machine or John Barry as much as Herbie Hancock. This pluralist approach is laid out on the opening "Animal Chin" as flute and vibes patterns swirl over lurching breakbeats and churning bass, and the luscious glide of "Going Down", where luminous horns carve out aching melodic lines.Often the cool beauty of the brass arrangements is reminiscent of or Oliver Nelson, and the short, sweet solos of Lars Horntveth, Jorgen Munkeby and Mathias Eick offer the same mix of introspection and inquisitiveness that you might find on a late 60s Blue Note date.Nothing stays still for very long; "Airborne" kicks off as spacey jazz ballad peppered with digital crackle n' pop before morphing into a slinky Hancockian bass clarinet riff, joined by intricate countermelodies from strings and horns as the tenor takes over. All in under 6 minutes. Elsewhere you get space age bachelor pad music ("Lithuania"), breakbeat electronica mashup ("Midget") or abstract ambience ("Cinematic").Jaga Jazzist's grasp of dynamics and structure (whether achieved in real time or through digital cut-up) puts them apart from the usual jazztronica suspects. It's the mix of 21st century texture, intelligent jazz writing and improvisational concision that makes this one of the most enjoyable records of this (or any other) year. ~ Review © Peter Marsh @ BBC Music
Licensed to Ninja Tune after its highly acclaimed release on Smalltown Supersound, this excellent outfit features members from the Norwegian jazz, improv and electronics scene to make up what is akin to the Charles Mingus big band for the 23rd century. Influenced by 70's Weather Report to the manic rhythms of Squarepusher from darkness and serene light (there are some truly beautiful melodic sections). So if you like electronics and jazz this album comes strongly recommended though it's more jazz than anything else and in so is one of the most mischiveous jazz CD's of 2002 that's had strong reviews across the board. Excellent. © www.boomkat.com/
Combines elements of jazz, progressive and modern/techo in a REALLY impressive way. This is by a real band with horns, keyboards, guitars, rhythm section, etc. etc. and is not just a sampling creation. One of the freshest things I've heard recently. If you don't know them, I would give the nod to "The Stix" over this one, but this is still recommended! "Worlwide re-issue of this Norway act's amazing debut. The comparisons reached for by the press were as broad as they get -- from Talk Talk, Soft Machine, Eric Satie, John Coltrane and Don Cherry to acts like Aphex Twin, Stereolab, Squarepusher, Isotope 217 and Tortoise. This range sums up the breadth and originality of the group's sound. Jaga Jazzist are indeed a musical one off who's arsenal includes trumpets, trombone, electric guitar, bass, tuba, two bass clarinets, Fender Rhodes and vibraphone, and it is the mixture of these instruments with a sometimes harsh electronic edge that really makes the music stand out. It is melodic, delicate and subtle but a million miles from wallpaper music. It is music that demands and rewards attention, further proof that you don't have to shout to avoid being lazy chill-out-by-numbers. It's a journey into sounds and moods that manages to sound both classic and contemporary and is an oasis to anyone interested in music which combines iconoclasm with beauty, melody with avant gardism and, in general, a complete lack of interest in anything other than good music." [Ninjatune] © 2007 Wayside Music www.waysidemusic.com/ProductInfo.aspx?productid=28/Zen%2076
After reading a couple different reviews heaping praise on Jaga Jazzist, I decided to hunt down their CD and give it a whirl. Upon first listen, the opening track of "Animal Chin" came flying out of the speaker at me from nearly all directions and blew my mind. It's one of those tracks that effortlessly mixes jazz, skitter-fried electronics, and about five other genres into a steaming stew of fortified funk. I played the track over and over again, thinking that as a musician I should just give up, because there was no way I would be able to match the sheer lunacity and skill captured within.
While the rest of the album doesn't reach quite such dizzying heights as that opening track, A Livingroom Hush is still a nicely bonafide debut entry for the collective of Norwegians. Arriving on the little Smalltown Supersound label, the group is a large batch of friends mixing all kinds of styles together for something nicely unique, calling to mind a slightly more refined version of the Tied And Tickled Trio or a tweaked-out Tortoise. After the breakbeat/vibraphone/horn/guitar colission of the aforementioned first track, the disc settles down into a slightly more subdued groove. "Going Down" blends some slightly processed guitar with layers of horns and subtle percussion, and "Press Play" follows it up with a short burst of springy cocktail jazz.
"Airborne" opens up with a soothy saxophone solo over a bed of slightly crackling noise and some soft percussion, but as it progresses, other instruments slowly make themselves known and by the closing three minutes, they've broken things off into a downright swaggering strut with upright bass and layers of horns. One thing that the group also keeps in mind is that although there are 10 people in the band, every single track on the release allows plenty of room for different instrumentation to breath. After the dense opening of "Real Racecars Have Doors," the track drops off several different times to allow for interplay between horns, guitars, and other instruments.
The only other time the album revisits the rather frenzied moments of the opening track are is in the cracking breakbeat and keyboard layers during of the oddly-titled "Midget." It's another nice burst of energy towards the end of the disc, and although it's quite a bit more simple in construction than other tracks, it works well before the slow burn ending of the release. From there, it's a bit of tropicalia on "Made For Radio," the meandering "Lithuania," and the more experimental closer of "Cinematic." It's the final track that the group actually introduces some serious noise into things, and while it never reaches Merzbow levels, the hissy radio static and cracks juxtaposed with a pretty piano melody don't quite gel with the music that came before (even though it's still a pretty interesting track). In the end, there are a few soft spots, but the release is still a great debut and shows some serious moments of brilliance. With an EP arriving shortly, there won't be much of a wait for new material, and I have a feeling the group will just continue to get better. All content (except music of respective artists) © 2007 Almost Cool. All rights reserved, all wrongs reversed. www.almostcool.org/mr/617/
BIO (Wikipedia)
Jaga Jazzist is an experimental jazz band that rose to prominence when the BBC named their fourth album, The Stix (Ninja Tune/Smalltown Supersound), the best jazz album of 2002. In their native Norway, Jaga Jazzist became well known in 2001 after their third record, A Livingroom Hush (Warner Music) sold unexpectedly well. The core of the band are brothers and main songwriters Lars and Martin Horntveth, who formed Jaga Jazzist while still in their teens in 1994. They are also prominent figures of the Norwegian pop act The National Bank. The band feature trumpets, trombone, electric guitar, bass, tuba, bass clarinets, Fender Rhodes, vibraphone and a rack of electronics, as well as strong melodies and rhythms. Talk Talk, Soft Machine, John Coltrane, Don Cherry, Aphex Twin, Stereolab, Squarepusher and Tortoise are frequently mentioned as sources of inspiration. Jaga Jazzist is widely considered to be one of the premier acts of the so-called nu-jazz movement of Scandinavia. Also, The Mars Volta cites Jaga Jazzist as one of their favourite bands. Recently, an episode of the anime IGPX featured the song For All You Happy People as background music for one scene.