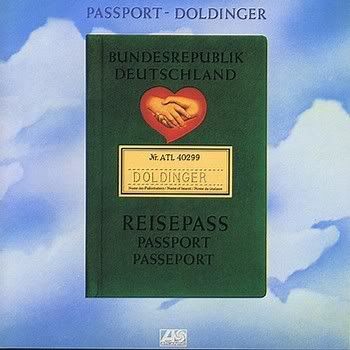 Passport - Passport [aka Doldinger] - 1970 - Atlantic Records
The groups first recording, "Passport" was released in 1970, and featured Doldinger on sax and keyboards, together with an electric rhythm section consisting of Olaf Kubler on second sax and flute, Jimmy Jackson on organ, Lother Maid on electric bass and Udo Lindenberg on drums. The result of the recording became a wonderful mix of jazz-rock and 70s jazzy fusion/funk.
Tracklisting:
A1.Uranus (6:35)
A2.Schirokko (5:44)
A3.Hexensabbat (4:27)
A4.Nostalgia (5:13)
B1.Lemuria's Dance (4:37)
B2.Continuation (9:53)
B3.Madhouse Jam (5:47)
CREDITS
Artwork By [Illustration + Design] - Wandrey's Studio, Hamburg
Bass [Electric] - Lothar Meid
Composed By - Klaus Doldinger
Drums - Udo Lindenberg
Organ - Jimmy Jackson
Producer - Klaus Doldinger
Saxophone [Tenor], Flute - Olaf Kübler
Saxophone [Tenor], Saxophone [Alt], Saxophone [Soprano], Synthesizer [Moog], Piano [Electric] - Klaus Doldinger
REVIEW
Passport is the creation of saxophonist Klaus Doldinger who has stated that Passport is not so much a set group but a label and a name for his many projects. Doldinger, who had started out playing dixieland back in the 1950's, by the following decade was a modern tenor-saxophonist who also worked in the studios. His mind has always remained quite open and in 1970 he formed Passport so as to explore the combination of advanced jazz improvising with rockish rhythms. Passport matches Doldinger's reeds (tenor, soprano, flute and occasional keyboards) with an electric rhythm section. The group's first recording (1970's Passport) also included Olaf Kubler on second tenor and flute, organist Jimmy Jackson, electric bassist Lother Maid and drummer Udo Lindenberg. Soon the group went through the first of several complete turnovers. The mid-1970's version usually teamed Doldinger with keyboardist Kristian Schultze, electric bassist Wolfgang Schmid and drummer Curt Cress and by 1978 it had changed drastically again. However, no matter who was in the rhythm section, Klaus Doldinger's lead voice and his band's musical direction remained consistent through the years. Passport has made numerous recordings, particularly for Atlantic. © Scott Yanow © 2007 All Media Guide, LLC. All Rights Reserved
BIO
The master of the German jazz and fusion/funk scene, Klaus Erich Dieter Doldinger was born on the 12th of may in 1936 in Berlin, Germany. He was from an early age interested in music and started, by the age of eleven, to play the piano and to take piano lessons. He began studying music at Robert Schuman Conservatoire in Dusseldorf, and at the age of 16 he traded the piano for the clarinet. The step from the clarinet to the saxophone was not very far, and soon the sax became his first and also most creative instrument. Doldinger's biggest influences during this period was jazz and in perticular jazz musicians as Sidney Bechet and tenorsaxophone player, 'Lucky' Thompson. His great interest in jazz soon drove him into Germany's absolute Dixieland circuits, and during the 1950s he came to perform and play with the famous German Dixieland band, Dusseldorf Feet farmers among others.Doldinger was however looking for something more and deeper within his music. He wanted a more direct and a more personal contact with the music and with his audience and that was something that either the Dixieland, nor the traditional jazz, was able to offer him. He therefore gave his influences from slick, cool and intellectual saxophone players as Lee Konitz and Stan Getz free space within his playing. He also got more involved in blues, be-bop and hard bop. He soon started playing with artists like Kenny Clarke, Ron Ellis, Roland Kovac Quintet and Werner Giertz Combo. In the beginning of the 60s Doldinger had developed his sax skills, and he was now recognized as a very gifted and talented saxophone player, which resulted in several performances with legendary musicians as organ player Johnny Griffin, Benny Bailey and trumpet player Donald Byrd among others.In 1962 he formed his own group, the Klaus Doldinger Quartet. After playing many years with Ingfried Hofmann, Doldinger had developed such a "black" sound in his saxophone that he among American jazz critics was known as "the black tenor from the Southside of Chicago", without any of the journalists knowing his German background. In 1964 Doldinger went on his first tour abroad. In 1970 he took another big step in his own musical career and formed his now legendary fusion group Passport, and by doing so, he wrote international jazz history. His intentions with Passport was to explore the combination of more rock-like-rhythms with advanced jazz improvisation.