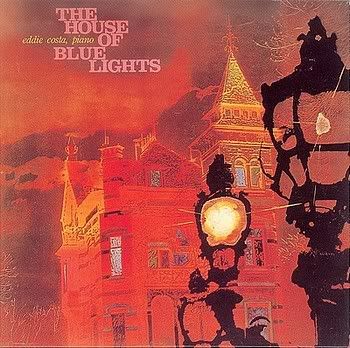 Eddie Costa - The House of Blue Lights - 1959 - Dot Records
"The House of Blue Lights", by the obscure, but brilliant jazz pianist and vibist, Eddie Costa is one of the best piano trio albums ever recorded. If you can find his 1956 albun," Guys And Dolls Like Vibes", give it a spin. A terrific musician, whose music deserves more exposure.
TRACKS
a. The house of blue lights 10:01
b. My funny Valentine 6:58
c. Diane 4:28
d. Annabelle 4:07
e. When I fall in love 4:07
f. What's to ya 9:26
PERSONNEL
Eddie Costa, p;
Wendell Marshall, b;
Paul Motian, dm
Recorded January 29th, 1959, N.Y.C.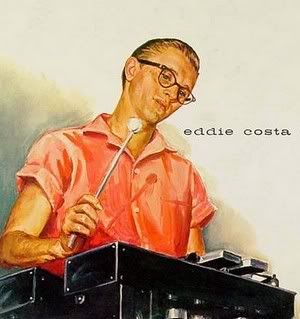 BIO (Wikipedia)
Eddie Costa, (August 14, 1930 - July 28, 1962), was an American jazz pianist and vibraphonist born in Atlas, Pennsylvania, now based in Pittsburgh. He recorded on vibraphones with pianist Bill Evans. One notable recording with Bill Evans was "Guys and Dolls Like Vibes", now reissued as "Bill Evans and Eddie Costa, Complete Quartet" on CD. Eddie Costa died in a car accident on New York's Westside Highway on July 28, 1962, cutting short a very promising career. Like Clifford Brown, Eddie's another jazz man who left the stage at too young an age.
MORE BIO INFO
Eddie Costa emerged from an unlikely background into a heralded -- if too brief -- career in jazz. Born in a rural coal mining town, Costa studied piano with his brother Bill and developed a taste for the swing greats; later, exposure to Bud Powell turned him to bop. Self-taught on vibes, Costa became known as an excellent sight reader, which produced a lot of studio work. On piano, his trademark sound was the emphasis of the middle and lower registers while nearly ignoring the top two octaves. In addition to recording as a sideman with Tal Farlow, Woody Herman, Johnny Smith, the Bob Brookmeyer-Clark Terry Quintet, and Bill Evans, Costa led his own trio and quintet dates. Sadly, most of Costa's recorded output remains unavailable on CD, with the notable exception of the VSOP reissue of his Quintet LP. Costa died when his car careened off of a busy New York parkway in 1962. © www.vervemusicgroup.com