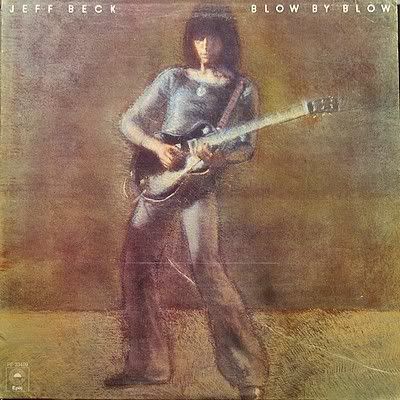 Jeff Beck - Blow By Blow - 1975 - Epic
Jeff Beck's pivotal jazz-rock fusion album, Blow By Blow, finds the guitarist teaming with legendary producer George Martin, on an all instrumental album that woke up Beck's fans and created legions of new devotees. With his virtuosity and taste at a creative pinnacle, Beck struts his stuff on such memorable tracks as the Roy Buchanan-inspired "Cause We've Ended as Lovers" and the driving, freewheeling "Freeway Jam." Blow By Blow is one of rock's great instrumental recordings. Copyright © 1996-2007 Guitar Nine Records All Rights Reserved
TRACKS:
A1.You Know What I Mean (4:02)
A2.She's A Woman (4:28)
A3.Constipated Duck (2:50)
A4.Air Blower (5:07)
A5.Scatterbrain (5:30)
B1.Cause We've Ended As Lovers (5:51)
B2.Thelonius (3:17)
B3.Freeway Jam (4:57)
B4.Diamond Dust (8:24)
CREDITS
Bass - Phil Chenn
Drums, Percussion - Richard Bailey
Guitar - Jeff Beck
Keyboards - Max Middleton
Producer - George Martin
REVIEW
Blow By Blow typifies Jeff Beck's wonderfully unpredictable career. Released in 1975, Beck's fifth effort as a leader and first instrumental album was a marked departure from its more rock-based predecessors. Only composer/keyboardist Max Middleton returned from Beck's previous lineups. To Beck's credit, Blow by Blow features a tremendous supporting cast. Middleton's tasteful use of the Fender Rhodes, clavinet, and analog synthesizers leaves a soulful imprint. Drummer Richard Bailey is in equal measure supportive and propulsive as he deftly combines elements of jazz and funk with contemporary mixed meters. Much of the album's success is also attributable to the excellent material, which includes Middleton's two originals and two collaborations with Beck, a clever arrangement of Lennon and McCartney's 'She's a Woman,' and two originals by Stevie Wonder. George Martin's ingenious production and string arrangements rival his greatest work. Beck's versatile soloing and diverse tones are clearly the album's focus, and he proves to be an adept rhythm player.
Blow By Blow is balanced by open-ended jamming and crisp ensemble interaction as it sidesteps the bombast that sank much of the jazz-rock fusion of the period. One of the album's unique qualities is the sense of fun that permeates the performances. On the opening 'You Know What I Mean,' Beck's stinging, blues-based soloing is full of imaginative shapes and daring leaps. On 'Air Blower,' elaborate layers of rhythm, duel lead, and solo guitars find their place in the mix. Propelled by the galvanic rhythm section, Beck slashes his way into 'Scatterbrain,' where a dizzying keyboard and guitar line leads to more energetic soloing from Beck and Middleton. In Stevie Wonder's ballad 'Cause We've Ended as Lovers,' Beck variously coaxes and unleashes sighs and screams from his guitar in an aching dedication to Roy Buchanan. Middleton's aptly titled 'Freeway Jam' best exemplifies the album's loose and fun-loving qualities, with Beck again riding high atop the rhythm section's wave. As with 'Scatterbrain,' Martin's impeccable string arrangements enhance the subtle harmonic shades of the closing 'Diamond Dust.'
Blow By Blow signaled a new creative peak for Beck, and it proved to be a difficult act to follow. It is a testament to the power of effective collaboration and, given the circumstances, Beck clearly rose to the occasion. In addition to being a personal milestone, this album ranks as one of the premiere recordings in the canon of instrumental rock music. © Mark Kirschenmann, AMG Copyright © 2007 musicdirect. All rights reserved
BIO
One of the most influential lead guitarists in rock, Jeff Beck has helped shape blues rock, psychedelia, and heavy metal. Beck's groups have been short-lived, and he has probably been handicapped by the fact that he doesn't sing, but his aggressive style - encompassing screaming, bent sustained notes, distortion and feedback, and crisply articulated fast passagework - has been more important than his material.
After attending Wimbledon Art College in London, Beck backed Lord Sutch before replacing Eric Clapton in the Yardbirds [see entry]. He established his reputation with that band, but he left in late 1966 and after a short sabbatical released a version of "Love Is Blue," played deliberately out of tune because he loathed the song. In 1967 he founded the Jeff Beck Group with Ron Wood and Rod Stewart; the band's reworkings of blues-based material laid the groundwork for '70s heavy metal. Clashing temperaments broke up the group after two acclaimed LPs and several U.S. tours. Stewart and Wood went on to join the Faces [see the Small Faces/the Faces entry], and Stewart continued to use drummer Mickey Waller on his solo albums until 1974. Beck was planning to form a band with Vanilla Fudge members Tim Bogert and Carmine Appice when he was sidelined for 18 months with a fractured skull he sustained in a car crash. (A car aficionado, Beck has been in three crashes and was once sidelined for months after getting his thumb trapped under a car.) When he recovered, Bogert and Appice were busy in Cactus, so Beck assembled a second Jeff Beck Group and put out two albums of Memphis funk laced with heavy metal. When Cactus broke up in late 1972, Beck, Bogert, and Appice returned Beck to a power trio format, but weak vocals hampered the band, and it dissolved in early 1974.
Beck then went into the first of many periods of hibernation. In 1975 he reemerged in an all-instrumental format, playing jazzy tunes. He toured as coheadliner with the Mahavishnu Orchestra and started an on-again, off-again collaboration with former Mahavishnu keyboardist Jan Hammer in 1976 with Wired (#16). During the later '70s Beck reportedly spent most of his time on his 70-acre estate outside London. He and Hammer worked together on the 1980 album There and Back, but Hammer did not join Beck for his 1980 tour, the guitarist's first in over four years. In 1981 Beck appeared at Amnesty International's Secret Policeman's Ball, and in 1985 he toured Japan. Flash, which includes Beck's sole charting single, "People Get Ready" (#48, 1985), with Rod Stewart on vocals, and the Grammy-winning "Escape," written by Hammer, peaked at #39. Four years later Jeff Beck's Guitar Shop With Terry Bozzio and Tony Hymas (#49, 1989) garnered the Grammy for Best Rock Instrumental Performance. Crazy Legs, an homage to Gene Vincent's Blue Caps and rockabilly guitar legend Cliff Gallup, met with mixed reviews.
During the '80s and '90s Beck turned up on recordings by artists including Mick Jagger, Malcolm McLaren, Roger Waters, and Jon Bon Jovi. He finally recorded an album of new material (all instrumental) in 1999. On Who Else!, the guitarist got support from longtime collaborators Hammer (on one song) and Hymas and explored a more electronic environment; a tour followed. The same year Beck was nominated for two Grammys: "A Day in the Life," his contribution to George Martin's album In My Life, was nominated for Best Pop Instrumental Performance, while the guitarist's own "What Mama Said" was nominated for Best Rock Instrumental Performance. Beck spent much of 1999 touring, then returned to the studio with his road band to record You Had It Coming ( from The Rolling Stone Encyclopedia of Rock & Roll (Simon & Schuster, 2001) © Copyright 2007 Rolling Stone )