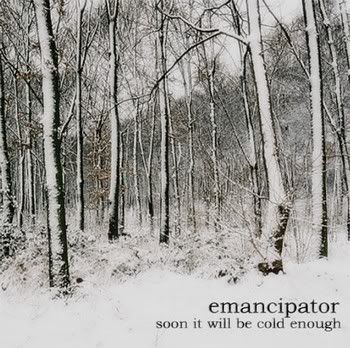 Emancipator - Soon It Will Be Cold Enough - 2007 - Hydeout Productions ?
Do you like beautiful electronic epic instrumental hiphop beats?, then check out 'Soon It Will Be Cold Enough,' an album of beautiful, densely layered melodies, epic instrumentation, and brilliant tribal beat drum programming. A.O.O.F.C would welcome more info on Emancipator, musicians, record label, etc . If you are aware of any more albums, please post info.
TRACKS
1. Eve (5:43)
2. Soon It Will Be Cold Enough to (2:52)
3. First Snow (5:11)
4. Wolf Drawn (3:17)
5. Anthem (5:35)
6. Smoke Signals (3:45)
7. When I Go (5:34)
8. Periscope Up (2:58)
9. With Rainy Eyes (4:58)
10. Good Knight (5:05)
11. Lionheart (6:19)
12. Maps (4:20)
13. Father King (6:09)
14. The Darkest Evening of the Year (2:11)
CREDITS
Emancipator - Guitars / Keyboards / Samples / Production
Cindy Kao - Violin / Additional Vocals
Thao Nguyen - Vocals on "Soon It Will Be Cold Enough to Build Fires," "When I Go," and "Good Knight."
REVIEWS
Some albums just feel so good, so cool, you can't help but feel good while listening to them.
Emancipator's Soon It Will Be Cold Enough is such an album. Incorporating hints of jazz, electronica, trip-hop and down-tempo into its violins, keys, various samples and the occasional female voice, this 19-year-old college student has put together a release worthier of the attentions of a record label.
Taking a liking to music at an early age, the quality and professionalism of the production is in stark contrast to the fact this artist can't even legally buy booze yet. "Eve" sweeps in with some modified harmony vocals then shows off both Emancipator's piano skills as well as the beautiful violins of Cindy Kao, whose work is peppered throughout the 65-minute epic. "Soon It Will Be Cold Enough To Build Fires" plays around with some lovely acoustic guitars, a sampled horn and some left over vocal cuts from another track.
The rhythm of programmed drums and wash of beautiful violin on "Anthem" reminds me a little of Moby and DJ Shadow, the tribal beat opening and subsequent electronic bass on "Good Knight" feels like some of Bobby Cochran's (Hands Upon Black Earth) best work, the driving bass and Kao's violin on "Lionheart" feel like the soundtrack to dusk, while the voice of Thao Nguyen on "When I Go" sings "off key," as she puts it, but really her style is addictive, sexy and the sound of her lovely speaking voice when she says, "You are nourishing. That's what he said" gives me a chill.
The amount of work that went into this album is amazing. As Emancipator himself states, " …instrumentation on the album was either played and recorded by myself, or was programmed from scratch using individual 'oneshots,' which are basically just recordings of single notes being played. Many of the melodies or bass lines were constructed in this way – by pitch shifting and moving around individual sounds like sound legos."
The fact that this is funded not by a record label, but by a college student who does this in his spare time, is admirable. Pop onto his site you can even download some remixes (including his mash up remix pairing Sigur Ros with Mobb Deep. Hearing Mobb Deep rap "I'm only 19 but my mind is old" has so much added weight when melded like this). And, to boot, the music is damn cool. Highly recommended. John Dunphy , 16/4/07 © 2002-2006 Matthew Rowe. www.musictap.net/Reviews/EmancipatorColdEnoughCD.html
I'm not usually much taken with press releases, but I have to say Emancipator's list of achievements is quite impressive
'Emancipator escaped from the Underground Railroad Chain Gang in the 11th century. He invented the hot air balloon, with which he chartered the Amazon River. He invented wine.
Emancipator found the formula for the crystallization of ice during a quiet Japanese winter. He perfected the art of agriculture. He can climb trees faster than you.'
And not least amongst his achievements, in 2007 Emancipator released a pretty cool chill out album in the vein of Sigur Ros, Bent et al.
At first listen, 'Soon It Will Be Cold Enough' is a fluid amalgam of seminal lounge artists. The first track, 'Eve', for example, contains icy droplets of keyboard a la Mike Oldfield combined with wordless vocals that are melodically very similar to Royskopp's 'So Easy', only here they are muffled and swathed in effects until they sound like winter wind.
'Eve' is followed by 'Soon It Will Be Cold Enough to Build Fires' which is, ironically, a much warmer track that throws in brief, soft snatches of brass and cut up vocals with the same sense of playful mischief as Nightmares on Wax, and creates a gently euphoric track.
'Smoke Signals' is a soft hopscotch of birdsong and electric guitar that skips and fizzes along while tracks such as 'Anthem' and 'Lionheart' contain entrancing threads of violin, at times with melody and tone as harsh as Chinese folk, at others more Western, pseudo-classical and occasionally dancing somewhere in between.
Thao Nguyen provides lazily sensual vocals for example on 'When I Go' where she sounds reminiscent of Roisin Murphy, an irresistible mix of 'come hither' allure and smoky, drawling indifference.
And by now, I seem to have covered the album in post-it notes pointing out perceived influences which does it a great disservice because throughout its fourteen songs, and complimenting its crisp, winter theme, there is a freshness to it all that comes not just from the clean production and sweet melodies, but from the sense that this is a small, windblown project hanging faint in the ether without marketing budget or the taint of faustian pacts with ad agencies involving car or telecommunication companies.
As a result, it's a precious thing - a case of synchronicity between songs and themes and presentation. A small winter gem. © Irfan Shah, 08/01/2007, © CRUD MUSIC MAGAZINE/
2-4-7-MUSIC.COM 2006