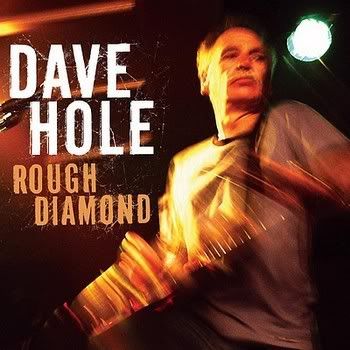 Dave Hole - Rough Diamond - 2007 - Blind Pig
From Perth in western Australia, where the water goes down the drain in the opposite direction, and Dave Hole plays slide guitar over the top -- both figuratively and literally! The album contains some original rockers, plus covers from Robert Johnson, Buddy Holly, Elmore James and more. It grooves, rocks and slides and it's a pleasure to discover all the little guitar inventions that Dave put in each and every song. A great blues rock album, and highly recommended by A.O.O.F.C. Try and listen to his " Slow Fuse Blues " album.
TRACKS
04:48 Rough Diamond Child
05:54 White Trash Girl
06:23 Something Inside Of Me
04:53 Can't Stop Loving You
04:13 Vintage Wine
05:16 Yours For A Song
04:35 Since I Met You Baby
04:09 I'll Get To You
06:25 I'm A King Bee
03:10 Think It Over
03:37 Rambling On My Mind
CREDITS
Dave Hole - Guitar, Vocals, Production
Roy Daniel - Bass
Bob Patient - Keyboards
Ric Eastman - Drums
John Villani - Engineering, Mixing
Don Bartley - Mastering
Peter Vroon - Photography
Al Brandtner - Design
Recorded at Northbridge Sound Studios, Perth, Australia.
REVIEWS
One of the great blues guitar heroes has come from that noted home of the blues, Perth, Australia, to share a Rough Diamond or two. Dave Hole, a slide guitar master, originates from Perth and for 20 years he paid his dues in the clubs of his native land. The dues-paying paid off, though, because by the time he burst onto the international scene, Hole was ready -- and he was equipped. He's a good writer. His original songs soar, with neat but natural metaphors and good progressions, and his solos will blow you away. Hole never seems to play what you're anticipating; he takes it in a different direction, playing against, rather than to, your expectations. When he covers the classics of the blues, such as "Since I Met You, Baby" or Elmore James' "Something Inside of Me" -- rather than going at them the way so many British companies go after Shakespeare, with way too much reverence and a respect for the past that will not allow them to invent -- he approaches them almost as though they were new compositions, "Since I Met You, Baby" benefits most from this approach. Rather than a standard song about the triumph of love, Hole makes it sound like a ray of sunshine that has poked through on a cloudy day, one that he hopes will remain. He pulls every bit of blues out of Robert Johnson's "Rambling on My Mind" and bring out all of the rock that lurks inside Buddy Holly's "Think It Over." If you have any feeling for contemporary blues, you have to hear Dave Hole. review © Michael Scott Cain, 9 June 2007, Rambles.NET
Dave Hole, an Australian artist, is well known for his guitar mastery. Since his recording debut fifteen years ago, Dave's records and live performances have drawn raves from countless international publications, and garnered legions of fans. "Nothing interferes with Hole's searing guitar when he is in full flight," said Rolling Stone magazine, while Guitar World added, "Hole produces solo upon blistering solo that is exhilaratingly relentless." His newest recording, Rough Diamond, amply reaffirms his title as the reigning master of the slide guitar. His fret-melting guitar riffs are infused with the same spirit as those of such blues and rock slide legends as Duane Allman, Johnny Winter, and Elmore James. © 1996-2007 Guitar Nine Records All Rights Reserved
After seven house-rocking albums for Alligator, Dave Hole moves to the Blind Pig label--America's other established blues indie--for this solid, if somewhat predictable, release. In certain respects, the journeyman Australian slide guitarist is comparable to stalwarts such as George Thorogood, since his discs are nearly interchangeable yet none disappoint. Both artists also rely heavily on well-chosen covers. The slide demon taps into tracks from obvious inspirations such as Elmore James, Slim Harpo, and Robert Johnson, along with rearranged tunes written by the far less obvious likes of Willy Deville ("White Trash Girl"), Ivory Joe Hunter ("Since I Met You Baby"), and even Buddy Holly ("Think It Over"). But Hole's originals are plenty sturdy, as demonstrated by the opening riff-rocker "Rough Diamond Child" and the atypically tender ballad "Yours for a Song." Still, it's the sizzling solos that drive these tunes, and Hole's scorching tone--something like a mix of James and Rory Gallagher--torches everything it touches. He makes the guitar sing, howl, moan, or cry depending on the mood, but never lets his molten leads overwhelm the songs. The album-closing version of "I'm a King Bee" stings like the titular bug as Hole buzzes and burns through a showcase that shifts from grinding to gentle and back. The no-frills, three-piece backing band provides able accompaniment--that is, they stay out of the way--as Hole's passionate playing proves that the blues can be powerful and potent, even from a continent away. © Hal Horowitz, Amazon.com
BIO
Dave Hole is a real self-taught man because it was difficult to get any blues records on a regular basis in Australia when he was a child. At first, only Eric Clapton and Jimi Hendrix albums were easily available, so he listened to their records over and over again, absorbing all he could from these blues masters.
Then, either by accident or by fate, Hole broke his little finger in a football game. The only way he could continue to play without pain was to play slide guitar and to put the slide on his index finger and hang his hand over the top of the guitar neck. When his finger healed, Hole never turned back.
After self producing his debut album in 1991, a review appeared in the American "Guitar Player" magazine in April of that year, followed by a July 1991 feature story which launched Hole to stardom. Then Alligator Records president Bruce Iglauer took a chance and signed the only non U.S. based artist in the label's 30-year history.
It wasn't just the critics who were paying attention. Metallica's Kirk Hammett named Dave Hole as one of his favourite guitarists, saying, "His slide playing kills me." And when veteran rock and blues guitarist Gary Moore heard « Short Fuse Blues », he was so impressed he invited Dave to join him on two European tours.
Now, here is « Rough Diamond » the new album of the australian slide guitar master ! Dave cut it in Perth, his australian hometown, at Northbridge Sound Studios. © Bluesweb.com | Dixiefrog 2006