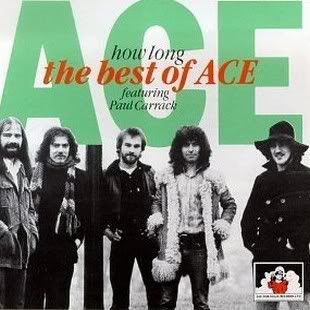 Ace - How Long (The Best Of Ace) - 1988 - See for Miles
Ace were a British rock music band, who enjoyed moderate success in the 1970s. They are notable for their part in the early career of Paul Carrack, who later became famous as a solo artist, and as a member of several other groups. The band was formed in December 1972 as Ace Flash And The Dynamos, but this name was quickly abbreviated to just Ace. Ace are mainly remembered for the one song, "How Long", which was believed to have been an instrumental influence on Steely Dan as well as shaping the vocal styling of Boz Scaggs. Ace, a great soul and R & B funk band, with very talented musicians, never achieved the success they deserved, and split in 1977. This album is a good testament to their talent
TRACKS & COMPOSERS
How Long ... Paul Carrack
I'm a Man ... Ace
Ain't Gonna Stand for This No More ... Ace
Rock 'N' Roll Runaway ... Paul Carrack, Terry "Tex" Comer, Alan "Bam" King
The Real Feeling ... Paul Carrack
Rock and Roll Singer ... Paul Carrack, Terry "Tex" Comer
You're All That I Need ... Paul Carrack
24 Hours ... Paul Carrack
Crazy World ... Alan "Bam" King
No Future in Your Eyes ... Paul Carrack, Ace
Tongue Tied ... Terry "Tex" Comer
Time Ain't Long ... Paul Carrack
Sail on My Brother ... Paul Carrack
I Think It's Gonna Last ... Paul Carrack
ORIGINAL BAND MEMBERS
Paul Carrack (born 22 April 1951, Sheffield, Yorkshire, England; keyboards, vocals).
Alan "Bam" King (born 18 September 1946, Kentish Town, London; guitar, vocals).
Phil Harris (born Philip Harris, 18 July 1948, Muswell Hill, London; guitar, vocals)
Terry "Tex" Comer (born 23 February 1949, Burnley, Lancashire, England; bass)
Steve Witherington (born 26 December 1953, Enfield, Middlesex, England; drums
REVIEW
Best of Ace is a smartly assembled, fourteen-track collection which draws from each of the band's albums. Ace is best remembered for the ultra-slick "How Long," but little of the collection bears resemblance to that hit. Instead, they're shown doing what they did best (and more often) -- playing laidback, rootsy pub-rock. ~ Chris Woodstra, All Music Guide
BIO
Ace were one of the few pub rock groups to enjoy success on the pop charts, largely due to the warm, soulful vocals of Paul Carrack. While Carrack's voice certainly had crossover appeal -- as he would later prove with his own records, as well as his work with Squeeze and Roxy Music -- the band was also less devoted to the three-chord boogie and country-rock that marked most pub rock bands, favoring soulful R&B. And while they did have hits, their time in the spotlight was brief, and they fell apart shortly after Carrack left for a solo career.
Phil Harris (guitar) and Alan "Bam" King (guitar, vocal) formed Ace in 1972, recruiting Paul Carrack (keyboards, vocals), Terry "Tex" Comer (bass), and Steve Witherington (drums) over the course of the next year. Before the group began recording, they went through several drummers -- Witherington was replaced by Chico Greenwood, who was later replaced by Fran Byrne in 1974. After developing a small but dedicated following on the pub rock circuit, Ace signed with Anchor Records and recorded Five-a-Side. "How Long" -- a song about Comer leaving the band briefly to play with the Sutherland Brothers and Quiver, and his subsequent return -- was released as the first single. Most listeners interpreted the song as an ode to a crumbling love affair, and it became a fluke hit in both the U.K. and the U.S. Ace released Time for Another in 1975, but it was generally ignored, especially since the popularity of pub rock was declining rapidly.
Harris left the band in early 1976 and was replaced by John Woodhead. Later that year, Ace opened unsuccessfully for Yes, and then moved to Los Angeles, hoping that the U.S. would prove more receptive to their music. It wasn't. Ace released a final album, No Strings, in 1977 and then disbanded. Comer, Carrack, and Byrne all joined Frankie Miller, but by 1979, Carrack had left to sing with Roxy Music. Following his time with Roxy, he launched a solo career, which he balanced with playing with artists like Squeeze, Nick Lowe, and Mike + the Mechanics. © Stephen Thomas Erlewine, All Music Guide
CAREER
The members were assembled from various other professional bands, and were all competent musicians. Carrack and Comer had previously played with Warm Dust, and King with Mighty Baby, whose antecedents were the highly regarded 1960s band The Action. Ace were popular on the pub rock circuit. Their music was pop with a funk influence.
Before the recording of their debut album, Five-A-Side, ex-Bees Make Honey drummer Fran Byrne (born 17 March 1948, Dublin, Ireland) replaced Witherington. The single "How Long" (a song about one of the members leaving for another group) was taken from this record, and was a significant chart success, achieving a top twenty place in the UK Singles Chart, and reaching number three in the U.S. charts. Its bass introduction was similar to that of "Travelling Song" by Pentangle. Carrack's electric piano was also prominent on the recording. In addition, "How Long" is believed to have been an instrumental influence on Steely Dan as well as shaping the vocal styling of Boz Scaggs.
The band eventually moved to America, and replaced Phil Harris with Jon Woodhead in 1976. But it was all in vain as they disbanded in July 1977, when most of the remaining members joined Frankie Miller's band.
Carrack has since played in Eric Clapton's band, joined Squeeze in the early 1980s, and later played with [[Mike + The Mechanics]]. He also re-recorded "How Long", as a solo artist, which became a UK Top 40 hit again in 1996. Copyright © 2007 Answers Corporation. All rights reserved