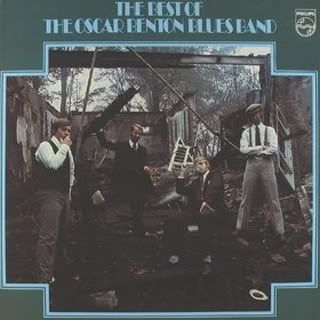 Oscar Benton - The Best Of The Oscar Benton Blues Band - 1972 - Decca
Oscar Benton, b. Ferdinand van Eis in 1949, is a Dutch blues vocalist and guitarist. He formed the Oscar Benton Blues Band in 1967, in Haarlem, Noord Holland, Netherlands. A.O.O.F.C would appreciate any info on this great album. Can anybody post the track composers names?. I am not sure if the recording is from 1969 or 1972. I think it was originally released on the Decca label. Also, the artwork displayed may be incorrect. Please help!
TRACKS
1. Bensonhurstblues
2. Somebody's Love Will Do
3. Helpless
4. I Don't Know
5. Not The Same Dream Anymore
6. Took Me A Long Time
7. The Day A Got Rid Of The Blues
8. Lovin' C.M.B.H.
9 The Long And Winding Road - Lennon/McCartney
10. Busted
11. The Tree Bells
12. It Ain't Nobody's Business
13. I Believe In Love
14. How Can I Just Start Again
15. Bensonhurstblues(ver 2)
BAND
Oscar Benton [Ferdinand van Eis] (guitar, vocals),
Hank 'Jay' Hawkins [Peter van Kouteren] (bass),
Han van Dam (piano, keyboards, vocals),
Tanny Lent [Herman Souverein] (drums),
Gerard Van Doorn (bass)
BIO
This blues band from Haarlem was around between 1967 and 1975 and left an impression at the Loosdrecht jazz festival in 1968. The first line-up was: Oscar Benton (v,g = Ferdinand van Eif), Tanny Lant (dr = Herman Soeverein), Hank Hawkins (b = Peter van Kouten) and Hans van Dam (p).