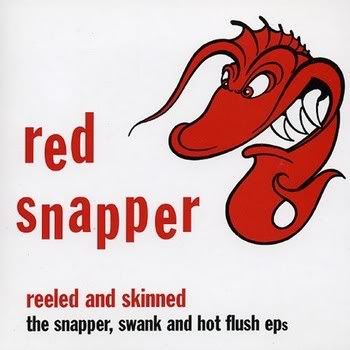 Red Snapper - Reeled and Skinned [IMPORT] - 1995 - Warp
Reeled And Skinned is a collection of Red Snappers first three singles and EPs. Red Snapper a London freak-beat jazz combo, create enjoyable, and very original mixes of electronica, funk, rhythm & blues, drum'n'bass, hip hop, acid jazz and dub. The list goes on. Maybe a bit avant garde, and sophisticated, but the music is very good , and well worth a listen for it's creativity alone.
TRACKS
1. Snapper
2. One Legged Low Frequency Guy
3. Swank
4. Hot Flush
5. Cortina
6. Hot Flush (Sabres Of Paradise Mix)
7. In Deep
8. Wesley Don't Surf
9. Lobster
CREDITS
Double Bass - Ali Friend
Drums - Richard Thair
Flute, Melodica, Saxophone - Alan Riding
Guitar - David Ayers
Mastered By - John Davis (4)
Mixed By - Dean Thatcher (tracks: 1, 5 & 9)
Producer [Additional Production], Mixed By - Tim Holmes
Producer, Written-By, Mixed By - Red Snapper
Artwork By - Adrian Marler
Artwork By [Design] - Simon Bell
ABOUT RED SNAPPER
Red Snapper is a London combo that draws from Massive Attack and the school of trip-hop. Their music is jazz and funk enhanced by avantgarde disc-jockey tricks, encapsulated into dub-derived ambience and drenched in moody atmospheres reminiscent of Barry Adamson's imaginary noir soundtracks. The core is made of drummer Richard Thair, bassist Ali Friend and guitarist David Ayers, with occasional guests (mostly vocalists). Saxophonist Ollie Moore was the most prominent guest on the early EPs, later collected on Reeled & Skinned (Warp, 1995), and on the debut album, Prince Blimey (Warp, 1996). The album definitely promoted them among the most daring fusionists of their era, incorporating jazz, rhythm and blues, drum'n'bass, hip hop and dub in a complex, arcane and recombinant harmonic structures. Get Some Sleep Tiger, Moonbuggy, The Paranoid, Digging Doctor What What, Gridlock are sophisticated mini-chamber concerts.
The EP Loopascoopa (Warp, 1997) contains remixes.
Down to a trio (Thair, Friend and Ayers), Red Snapper continued their investigation of post-hiphop dance music with the single Bogeyman and the album Making Bones (Warp, 1998). The new direction is both harder (the drum'n'bass eruptions of The Sleepless and Like A Moving Truck) and more atmospheric (the flamenco guitar of 4 Dead Monks, Image Of You and, generally speaking, Byron Wallen's cornet).
Red Snapper sold their stylistic innovations to a broader audience with Our Aim Is To Satisfy (Warp, 2000). The dance tracks (The Rake, The Rough And The Quick, Some Kind Of Kink) are among the most forceful of their career, a veil of psychedelic dub envelops Bussing and Belladonna, and funky rhythms are packaged in baroque formats (Ghost Town, Shellback). Copyright © 1999 Piero Scaruffi www.scaruffi.com/vol6/redsnapp.html
Notable for their pioneering synthesis of acoustic instruments and electronic textures, the British acid jazz trio Red Snapper comprised guitarist David Ayers, double bassist Ali Friend and drummer Richard Thair. Formed in 1993, the group's debut EP The Snapper appeared the following spring; after two more EPs, Swank and Hot Flush, Red Snapper signed to the acclaimed Warp Records label, where their early singles were later compiled as Reeled and Skinned. The full-length Prince Blimey was released in 1996, followed two years later by their American debut Making Bones. After releasing one more LP, Our Aim Is to Satisfy Red Snapper, the trio briefly split during 2002. (Thair formed a new band, Toob, while Friend worked on a soundtrack and Ayers collaborated with Alan McGee and Felix Tod.) The trio returned one year later with a self-titled record for Lo Recordings and an accompanying remix album, Redone.. © Jason Ankeny, All Music Guide
Critics, bless them, didn't quite know what to make of Red Snapper. Were they jazz? (They kept playing at the legendary London jazz club Ronnie Scott's.) Electronica? Trip-hop? Of course, this very contrariness was the band's great strength, lending their music a fractious, busy quality that set them apart from the vast majority of their peers. The aim was simple enough: to achieve the mesmeric textures of loops and mixes, through a clash of live and electronic instrumentation--the former including such comparative oddities as saxophone, clarinet and double bass. Mostly it worked, and the result was sublime. Prince Blimey was their first album (Reeled And Skinned is a collection of their first three singles and EPs), and the sound is often reminiscent of a late 1960s British gangster flick--an impression reinforced by titles like "3 Strikes And You're Out" and "Thomas The Fib". At other times, it imagines some inspired fusion of King Tubby, Miles Davis and Dick Dale. Indescribable, really. Ultimately, the best tag might be one coined by the band themselves: "Fuck-Off Jazz". Nice. © Andrew McGuire © Amazon.co.uk