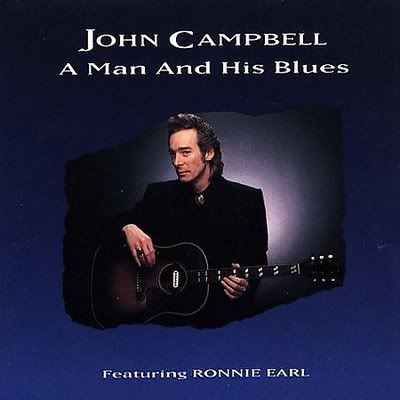 John Campbell
-
A Man and His Blues
-
1988
-
Cross Cut Records
A Man and His Blues, by the late John Campbell is a brilliant demonstration of traditional blues tunes by a great artist. Like the late Stevie Ray Vaughan, and Rory Gallagher, he had a deep love of the blues, and also, like them, he never achieved his full potential. He passed away from heart failure at the age of 41. Campbell did not play any slide guitar on this album, but still displays his brilliant guita playing on tracks like "Judgement Day". He is also aided on this album by the great Ronnie Earl. Check out Campbell's album,"One Believer", if you can find it.
A.O.O.F.C
is interested in any info on live recordings by John Campbell. All comments are very welcome.
TRACKS / COMPOSERS / CREDITS
Going to Dallas (Lightening Hopkins) 3:36
John Campbell – guitar, vocals
Bad Night Blues (John Campbell) 4:15
John Campbell – guitar, vocals
Judgment Day (Snooky Prior) 5:15
John Campbell – guitar, 2nd guitar solo
Ronnie Earl – guitar, 1st guitar solo
Jerry Portnoy – harmonica
Per Hanson – drums
Darrel Nulisch – vocals
Bluebird (Lightening Hopkins) 4:26
John Campbell – guitar, vocals
Deep River Rag (John Campbell) 3:01
John Campbell – guitar, vocals
Texas Country Boy (John Campbell/Jerry Portnoy) 3:10
John Campbell – guitar, vocals
Jerry Portnoy – harmonica
Per Hanson – drums
Sittin'Here Thinkin' (John Campbell) 6:41
John Campbell – guitar, vocals
Ronnie Earl – lead guitar
Sunnyland Train (Elmore James) 4:51
John Campbell – guitar, vocals
Ronnie Earl – lead guitar
White Lightnin'(Furry Lewis, adapted by John Campbell) 5:50
John Campbell – guitar, vocals
Per Hanson – drums
REVIEW
Those who knew the late John Campbell only through his recent Elektra releases would do well to seek out this 1988 album. Produced by Ronnie Earl (who guests on several tracks, most notably on Snooky Pryor's "Judgment Day"), it was recorded in Boston with distinguished help from harp ace Jerry Portnoy and drummer Per Hanson. Darrel Nullisch contributes a nice vocal, too.
But, this is Campbell's show and its wonderful. Forget his most recent preoccupation with the dark side of the blues; this album showcases Campbell's ability to bring to life classics like "sunnyland Train" or Lightnin Hopkins' "Bluebird" with warmth and an unusually authentic country blues feel. His own "Deep River Rag" instrumental is totally unlike anything on his last recording, a down home gem. On the laconic, sensuous "White Lightnin'," an old Furry Lewis tune, Campbell's restrained, powerfull guitar work beautifully bolsters his half-spoken, half-sung and positively heartrending vocal. "Sittin' Here Thinkin'," which was written by the artist, has similar appeal.The Elektra products may have more luster, but in many ways, the Cross-Cut effort gives a truer picture of John Campbell's talent. © Deborah M. Nigro Copyright 1994 Blues Access
SHORT BIO (Wikipedia)

John Campbell (20 January 1952 – 13 June 1993), blues guitarist and singer, was born in Shreveport, Louisiana, USA.
A supremely talented guitarist who took blues technique to new heights in live performance with a unique modern blend of driving rhythms, staccato riffs and bravura slide guitar sequences. His favoured instruments were a 1952 Gibson Southern Jumbo acoustic, a 1934 National Steel and a 1940's National resophonic guitar.
At the time when his recordings and live performances were gaining him ever increasing popularity and respect, he suffered heart failure, in his sleep, aged 41, at his home in New York City.
ARTIST INFO
For some Blues musicians tales of mojos and gris-gris make for nice story lines behind their songs. For guitarist John Campbell though, they were a part of his life. A self-proclaimed hoodoo man, Campbell lived a lifetime full of tragedy and sadly succumbed just as his career was hitting its stride, at an altogether much too early age.
John Campbell was born in Shreveport, Louisiana, on January 20, 1952. The son of a construction worker, he was first exposed to string music at an early age by his grandmother, who played a Hawaiian-style lap steel guitar. Young John received his first guitar at the age of five and was quickly immersed with a desire to learn as much as he possibly could. As his family moved between Shreveport, Baton Rouge and East Texas, John sought out musicians to fulfill this hunger. He learned his lessons well, as he began playing professionally by the time he was 13, opening shows for Blues greats like Clarence "Gatemouth" Brown, Son Seals and Albert Collins.
But, it was another passion that altered John Campbell's life permanently. As a teenager, John craved fast things. Especially cars and motorcycles. He'd enter local drag races and it was at one of these that he was involved in a near-fatal accident. Campbell suffered several broken ribs, a collapsed lung and lost his right eye. His face had to be reconstructed, a feat that required nearly 5,000 stitches and left him horribly scarred.
Campbell's recuperation from the accident took almost a full year. He spent most of this time in solitude and occupied his time with his guitar. It was during this recovery period, Campbell explained to "Offbeat" Magazine Blues historian Keith Spera, that he "first met the Blues." He tenaciously studied the music of Lightnin' Hopkins, John Lee Hooker and Muddy Waters. Playing the guitar was an outlet for him; a method for reaching his inner self, his spirituality, and also to communicate with his dreams and nightmares.
At the age of 16, John Campbell left home with his family's blessing to seek his future as a musician. He lived as an itinerant Bluesman, playing wherever he could find an audience; mostly on street corners and at gas stations. He first traveled to New Orleans, which he viewed as a musical mecca, but he only stayed in most places long enough to make enough money to survive before moving on.
By 1985, he had moved to New York City, where his talent earned him work opening shows for some of the biggest names in Blues music as they passed through town. It was at one of these gigs that guitarist Ronnie Earl caught Campbell opening a show for Johnny Littlejohn. Fascinated by Campbell's growling vocals and deft playing, the two developed an instant friendship and Earl decided to produce an album for him.
The album, "A Man And His Blues", was released in 1989 on the German label CrossCut Records. Backed by Earl and seasoned Bluesmen Jerry Portnoy (harmonica), Per Hanson (drums) and Darrell Nulisch (vocals), and using an acoustic guitar with a single pick-up, it was truly a showcase of the musical styles Campbell had blended from those earlier influences of his recovery period. At the time the album did not receive much media attention in the United States, but it was nominated for a W.C. Handy Award. It also earned John an invitation to perform at the New Orleans Jazz and Heritage Festival, where he became life-long friends with JazzFest creator Quint Davis.
Another person who was captured by Campbell's skills was talent manager Barbara "B.B." Becker, who also handled the career of Dr. John. After first witnessing Campbell's playing at a New York restaurant, and armed with a copy of "A Man And His Blues", Becker convinced Elektra Records to sign the rising star. In 1991, the first American John Campbell release was issued titled "One Believer". Well produced by Dennis Walker (best-known for his work with Robert Cray), it was full of the haunting sounds of hoodoo-based swamp guitar played on a 1934 National Steel that was Campbell's trademark. The success of the album did not change his life-style, though, as John continued to play whenever and wherever possible.
Campbell and his wife Dolly married that same year. His passion for motorcycles was still evident as the president of the local chapter of the Hell's Angels served as his best man, while Dr. John (a minister of his own temple) performed the service.
A second recording was issued in 1993, "Howlin' Mercy", which even further pursued his inner magic and demons to a greater extent. Critical acclaim followed and Campbell pushed himself even more, traveling to Europe on an extensive tour with Buddy Guy.
John Campbell suffered his entire life from poor health that was mostly a result of the drag racing accident as a teenager. Drug abuse also played a role, as did his nightmares, for he rarely slept, believing that he may never wake again. After his European tour, he entered into the studio laying down tracks with Double Trouble bassist Tommy Shannon. It would be a project that would never be finished. On the night of June 13, 1993, John Campbell died in his sleep of heart failure at the age of 41. His worst fear had come true, leaving behind his widow Dolly and their 5-month-old daughter, Paris.
John Campbell's body was cremated along with personal items and talismans from his family and friends to help him rest in peace. A memorial service was held on June 17, 1993, with Dr. John delivering the eulogy. His urn was then ridden home on a motorcycle by a procession of Hells Angels, in a manner that his wife said would be just as he wanted it.
A new CD was made available in early 2000, featuring unreleased tracks from a session recorded prior to his Elektra contract. Titled, "Tyler Texas Sessions", the CD is a compilation of Campbell working an acoustic guitar on personal standard Blues favorites by greats like Muddy Waters, Lightnin' Hopkins and Elmore James.His music will mark his legacy. Campbell's haunting slide work on his steel-bodied guitar will forever bring envisions of the mystical and spiritual world he possessed. It will also serve as a sad epitaph to the brilliance that John Campbell held and the rest of the world will never know. © Greg Johnson (Article Reprint from the May 2000 BluesNotes) © 2000 Cascade Blues Association www.cascadeblues.org/History/JohnCampbell.htm