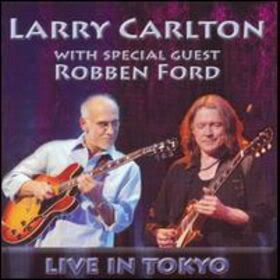 Larry Carlton - Larry Carlton Live in Tokyo with special guest Robben Ford - 2007 - Victor
Recorded live in Tokyo Japan September 2006. Astonishing performance and recording from two of the world's finest guitarists, featuring a superb rhythm section. The 8 track set features 6 instrumentals and 2 vocals from Robben Ford. Highlights of this blues, rock, jazz mesh include Carlton's "Rio Samba" and Ford's version of "Talk to You Daughter".
TRACKS
1. THAT ROAD/ LARRY CARLTON
2. BURNABLE/ LARRY CARLTON
3. COLD GOLD/ LARRY CARLTON
4. RIO SAMBA/ LARRY CARLTON
5. DERRICK'S BLUES/ LARRY CARLTON
6. TWO BAD/ LARRY CARLTON
7. TALK TO YOUR DAUGHTER/ ROBBEN FORD
8. TOO MUCH/ ROBBEN FORD
MUSICIANS
Larry Carlton(G),
Robben Ford(G),
Travis Carlton(B),
Jeff Babko(Kbd),
Toss Panos(Ds).
REVIEW
This disc was given to me by Larry himself after his concert at Sambucca Jazz Club in Atlanta, GA on May 22, 2007. The challenge is to review the disc on the merits of the disc and not let the concert influence me. The idea of two guitar legends, Carlton and Ford, together for a live collaboration, celebrating over thirty years of friendship is something remarkable in itself. Add to the mix, that between the two of them, the extent of their composing and recording credits would require a separate hard drive on this web site and you have some high expectations.
But this is Larry Carlton, and with him is Robben Ford, and there was never a doubt that it would be a great disc. "That Road" by Ford is a funky grooving number that let the two settle into each other. The rhythm section of Travis Carlton, Larry's son on bass and Toss Panos on drums held a tight pocket while Larry and Robben harmonized and played back and forth off each other, giving the listener the sense that this was going to be a case where one plus one equals more than three! Ford and Carlton's styles are very different but where they overlap is in their foundation in the blues, riffs bore the signature of each player. They really were playing together, comping and filling tightly. They were warming up!
"Burnable" is classic Carlton, it even starts with that LA funk groove that is so characteristic of Larry's composing. Again the rhythm section just put down the palette for Ford and Carlton to spread their colors over. Babko's work on the keys is ever present but never gets in the way of the delivery of the textures and styles that Ford and Carlton are exchanging. When they get funky, Babko is there to fill it up for them. "Cold Gold" starts off slow and melodic, a duet of guitar greats, their signature sounds overlayed. Then the soloing starts. And the completeness of their blues sensitivity is heard. Carlton's solo is powerful and crisp. When the hand off comes, it is clear that they are preaching to the choir, Ford, takes a completely different approach to the song and the changes, but in the end, their messages are the same. Great blues played by two of great guitarists of our times.
"Rio Samba" opens showcasing Travis' funky style. He rolls into this song with a tight funk groove setting the scene for some classic Carlton-style rambling. Babko's keys are an integral part of the theme of this one and really do keep the tune together. Ford and Carlton trade off leads and take you on a really fun ride. The diversity of these two players makes this disc a real experience to listen to. No two songs the same, and yet they share so much. Just like the composers and players, different in their treatment of the same themes. The overlap is indisputable, but the individuality is dominant.
On "Derrick's Blues", Ford delivery belies just how powerful this song is. Ford's treatment of the song, and the injection of Babko's solo to create the change of the mood is just great band work. The clarity and precision of the solo execution is why you buy this CD. Two masters of touch and technique. Just sit back and drink in the notes!
By "Two Bad" you start to feel the changes coming, and just when you think you know how Larry or Robben will treat the solos, they mix it up. Harmonizing, and starting and finishing each other's phrases. Its as if they feel what each other is feeling and just express it differently, but the energy is the same. Technique being the operative word in this piece. How they do what they do is as important as who is doing what! Its a master class led by two of the real masters. "Talk to your Daughters" is a Lenoir/Atkins composition that features Ford on vocals, and it is a fun romp through the blues. Lots of energy, lots of fun to listen to, you can tell they are now having fun with each other, collaborating, no jamming with each other. You are now hearing what these two love to do with the blues. So one plus one should equal two, but when those two are Carlton and Ford, the sky is the limit and you will not be disappointed. Great music, by great musicians. Thanks Larry, for a great disc, some great music and a great show! © Charles Vecoli Copyright ©1997 - 2007. All Rights Reserved. jazzreview.com® / jazzpreview.com®