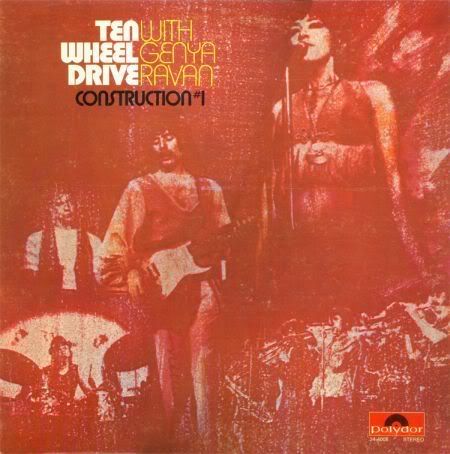 Ten Wheel Drive - Construction #1 - 1969 - Polydor
A brilliant album of blues and jazz fusion. An almost forgotten late sixties clasic. Superb vocals by Genya Ravan. Album from original vinyl.
TRACKS
1 - Tightrope
2 - Lapidary
3 - Eye of the Needle
4 - Candy Man Blues
5 - Ain't Gonna Happen
6 - Polar Bear Rug
7 - House in Central Park
8 - I Am a Want Ad
Founding Members
Vocals, Harmonica, Tambourine: Genya Ravan
Guitar, Vocals, Banjo, Percussion: Aram Schefrin
Organ, Piano, Clarinet: Mike Zager
Various musicians on other instruments
Bass: Bill Takas, Bob Piazza, Blake Hines
Drums, Percussion: Leon Rix, Allen Herman, David Williams
Cello: Leon Rix
Flute: Jay Silva, Louis Hoff, Dave Leibman
Trumpet: Jay Silva, Richard Meisterman, Peter Hyde, Steve Satten, John Getchell, John Eckert, Dean Pratt, Danny Stiles, Frank Frint
Saxophone: Louis Hoff, Dave Leibman
Trombone: Dennis Parisi, Bill Watrous, Tom Malone
Flugelhorn: Jay Silva, Peter Hyde, Richard Meisterman, Steve Satten, John Gatchell, John Eckert
Woodwinds: Alan Gauvin
Last line-up
Vocals: Annie Sutton
Organ, Clarinet, Keyboards, Vibraphone: Michael Zager
Guitar, Vocals: Aram Schefrin
Piano, Keyboard: Don Grolnick
Trombone: Gerry Chamberlain
Drums, Percussion: Barry Lazarowitz
Bass, Violin: Harry Max
Trumpet, Flugelhorn, Horn: Dean Pratt
Woodwinds: Ed Xiques
Choir: Daryl Hall, John Oates, Tom Cosgrove, Joey Ward
REVIEWS
This exemplary recording by songwriters Aram Schefrin, Mike Zager and singer Genya Ravan was highly experimental in ways that Chicago, Big Brother & The Holding Company, Traffic and other of their contemporaries wanted to be. Imagine Ronnie Spector leaving The Ronettes to join Blood Sweat & Tears, and realize the sweet Goldie Zelkowitz from Goldie & The Gingerbreads did just that by reinventing herself here as the great Genya Ravan. The Ravan co-write Tightrope is five minutes and ten seconds of psychedelic blues/jass/funk. This is the sound Janis Joplin would refine for her Kozmic Blues experience, and while Janis Joplin and Kozmic Blues performed at Woodstock, Ten Wheel Drive were getting such a buzz they turned Woodstock down. History would, indeed, have been different had they played I Am A Want Ad at that event, but with Sid Bernstein as co-manager, and songs like Lapidary, the band had a lot going for it. Lapidary is a complete about face, Traffic's John Barleycorn with a female vocalist. Eye Of The Needle on the other hand, was an eight minute plus show stopper of horns and guitars that come in like some country's national anthem. With Genya's amazing wail at the end it becomes powerful stuff. Songwriter Louie Hoff got to arrange his Candy Man Blues, which puts Genya in a nightclub setting, the piano and flutes changing the mood dramatically. This is such an adventurous and remarkable record by such a talented crew, it is a shame they didn't record twenty or more platters. A Polydor executive made a statement that if they couldn't break Slade they weren't a real company. Polydor did, in fact, fail to launch that British supergroup in America, and one wonders if these recordings were made for another label, if oldies stations wouldn't be playing Ten Wheel Drive today. Ain't Gonna Happen is extraordinary music, a band on the prowl, and a singer that pounces every chance she gets with a voice that does all sorts of wild things. If Polar Bear Rug and House In Central Park were a bit too evolved for Top 40, their A & R man should have brought them a single. Ten Wheel Drive could, like Etta James, play to those who crave this wonderful fusion of jazz and blues with a rock edge. A Ten Wheel Drive reconstructing, bringing this music back onstage, is something that would make the world a better place. © Joe Viglione, All Music Guide
Genya Ravan's never received her due. Even if you haven't heard her music, you should recognize her place in music history. She led Goldie and the Gingerbreads, the first all-woman rock band to record for a major label (ATCO, an Atlantic subsidiary). After her own singing career faded, she became the first established female rock producer, working with the Dead Boys (including "Sonic Reducer"), Ronnie Spector on her comeback, and countless other New York City punk groups in the early '80s. Oh, yeah, and all these achievements were preceded by a childhood stint in a concentration camp during World War II.
Of course, we could brush off the accomplishments if the music wasn't any good, but Ravan left behind a string of records worth finding, if you can. Her solo albums certainly have their moments (including the feminist question mark, "I Won't Sleep on the Wet Spot No More"), but she's at her best when that powerful voice is backed by Ten Wheel Drive, as it was for three albums from 1969 to 1971. Though the band changed lineups for each album, primary arrangers Michael Zager and Aram Schefrin stayed in place to, well, steer the band. As skilled as those two were, Ravan needed to put her stamp on the act before it could be something, turning the pop-Broadway songs with overly collegiate lyrics into gutsy rock 'n' roll. If you are wondering if it's worth your time to scurry down a genre crevasse and search the used record shops or eBay for something that won't fit smoothly anywhere in your collection, trust me -- of course, you do.
On 1969's Construction #1, the band's first album, these three artists combined perfectly with their horn players and drummer to make a rare statement: a jazz-rock record with as much heart as technical precision, and as much dirt and sweat as brains and finesse. It's hard to imagine how this album that once reached the charts has managed to fall so far out of sight. With pop music currently fetishizing the past, you'd expect someone to dig up something this strong, but likely its hard-to-classify nature prohibits it from being influential.
The album opens with "Tightrope", arguably its strongest track. Bill Takas puts down a memorable bass line, and the horns punctuate the groove, echoing Ravan's vocals throughout the chorus. At the three-quarter mark, the band goes off into an absurd breakdown which makes you think at least eight of the ten wheels have fallen off, before Takas brings them back in line. Then Ravan starts wailing again.
Despite the dictionary-necessitating lyrics, smart arrangements and tight playing, nothing about this band surpasses Ravan's astonishing voice. Like many singers from the late '60s, she owes more to blues and R&B vocalists like Bessie Smith, Etta James, and Billie Holiday than to anyone in the rock scene. Early in her career, she would often cover Ray Charles, and his influence remains strong throughout her recordings. Ravan's strong and soulful -- in her memoir Lollipop Lounge she's specific about this description meaning "black"; people would often look at the stage and be shocked to see a white woman. She calls to mind a harder-luck Dusty Springfield, and its hard to find an article on her that doesn't mention Janis Joplin, but she's got a bigger voice than either of them.
When she uses her voice aggressively, it's the sound of the world coming unhinged. On the Cream-gone-dizzy "Eye of the Needle", you don't need to listen to the lyrics to understand what the song's about -- the music and the singers' deliveries give better expression to the obstruction and futility experienced by the singer than any literal interpretation of the words. At the same time, Ravan's repetition of "I can't make it" turns from a wail of despair into a battle cry as she screeches "I got to make it!" "Limited" here to background vocals, Ravan emotes frustration and anger as well as anyone. The high trumpet intro only suggests the strength that the vocals will bring once they begin. But the song isn't driven by just emotion; there's a great sax solo, and at one point Ravan and the uncredited male lead sing not quite together, building a tension between the two vocal lines that won't be resolved until the horns force their point. This kind of smart structure keeps the album both fun and interesting on repeat listens.
Admittedly, the album isn't perfect. The band doesn't harness its energy as well on its slower tracks, such as "Candy Man Blues", but even that number works in a nice buildup, turning the first half's background jazz into a hurt blues instrumental -- a nice piece of arranging by original songwriter Louie Hoff. When Ravan comes back in after the solo, she sounds fortified, as if the music has pushed her through a rough time.
The record closes with "I Am a Want Ad", in which Ravan brings the sex from within a horn section that rages out of control even as it stays tied to the grinding bass line. In between hand drums and a cutting trumpet solo, Ravan sings and screams, and I can't help but imagine her on the ground, Joe Cocker-style, the audience in a frenzy. It's hard to get a grip on what she's talking about -- the psychedelic abstraction in the lyrics veers from anticapitalist leanings to sultry come-ons -- but it doesn't matter in the least. When the needle skips to the inside of the vinyl, it feels like Ten Wheel Drive has ignited another explosion and is ready for more, even if you've been beaten down. © Justin Cober-Lake www.genyaravan.com/tenwheeldrive.html
BIO ( Wikipedia )
Ten Wheel Drive were an American Jazz/Rock Fusion band from 1968 to 1974. In 1968, after the final disbandment of the all-female rock band Goldie & The Gingerbreads, Genya Ravan was looking for a new band. The same applied for Michael Zager and Aram Schefrin, two musicians and songwriters from New Jersey.
Acquainted by their managers, the three musicians who would become the nucleus of the new band had initially some hard work to do. Their origins and artistic backgrounds were very different, and, at first the music was not after Genya Ravan's fancy. Also, she alone had some noteworthy experience in the music business.
More musicians had to be found for the rhythm and brass sections. Only people who were able to read sheet music were contracted. The one exemption from this rule was Genya Ravan.
In 1969 the band started to perform regularly and attract positive notice, and comparisons were drawn between Genya Ravan and Janis Joplin.
At the same time, the Polydor record label was forming an American division. Its new President, Jerry Schoenbaum, closed a deal with Ten Wheel Drive, and together with producer Walter Raim the band released its first album, Construction #1.
The first big concert appearance of Ten Wheel Drive was (arguably) in 1969 at the Fillmore East in New York City. Apart from the band's intense musical presence, Genya Ravan caused some excitement when she took off her transparent vest and continued the performance half naked with painted breasts and shoulders.
In the summer of the same year, Ten Wheel Drive appeared at the Atlanta Pop Festival. On this occasion Genya Ravan and Janis Joplin, who previously had often been compared, met in person for the second time. They had met initially at Steve Paul's club The Scene when Janis sat in with the band.
In 1970, Ten Wheel Drive released their second album, Brief Replies, with producer Guy Draper. Many of the brass musicians had also been replaced, meanwhile.
1971 saw Ten Wheel Drive performing at Carnegie Hall a rock opera of sorts based on the Battle of the Little Big Horn and the history of the Native North American peoples. The American Symphony Orchestra and a choir participated in the project, which had been meticulously prepared with a lot of time spent for the investigation work. But notwithstanding the provable quality of the material produced, Polydor decided against the recording of the event and was later blamed for bad judgement.
Also in 1971, the band's third album Peculiar Friends appeared, for the first time produced by Aram Schefrin and Michael Zager themselves. Genya Ravan's decision to leave the band and start her solo career at this time, was presumably influenced by the record company's attitude towards the Carnegie Hall concert. She was replaced by Annie Sutton of The Rascals. But even after this, Aram Schefrin and Michael Zager contributed to Genya Ravan's first solo album.
Ten Wheel Drive left Polydor and in 1974 their fourth and last album, Ten Wheel Drive, was released by Capitol Records. It includes music which had earlier been composed by Genya Ravan and Aram Schefrin. With this record the already loose cooperation between the band musicians ended.