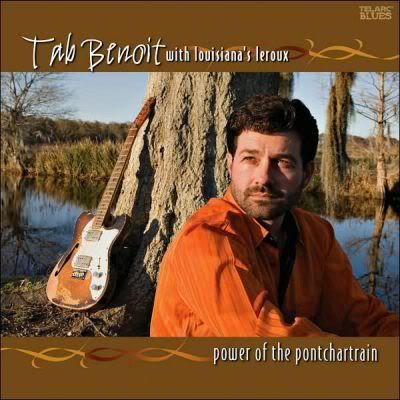 Tab Benoit - Power Of The Pontchartrain - 2007 - Telarc
Tab Benoit`s finest album of his career, "Power of the Pontchartrain", reunites him with Louisiana LeRoux, the classic rock combo that backed him on his Grammy-nominated 2006 release "Brother to the Blues." On this release, he lends his soulful voice to a smoking set of songs; including a Cajun-inflected cover of "For What it`s Worth," the bluesy original "Don`t Make No Sense," and the sexy rocker "Addicted." Produced by veteran David Z (Prince, Kenny Wayne Shepard), "Power of the Pontchartrain" is an exciting blend of R&B driven roots music.
TRACKS/COMPOSERS
1 Don't Make No Sense - Smith, Faulkner 4:23
2 Good to Ya, Baby - Flett, Egan 4:43
3 Shelter Me - Miller, Miller 5:06
4 Power of the Pontchartrain - Medica, Wall, Teekell, Rowell, Diefender 6:07
5 For What It's Worth - Stills 5:19
6 Midnight and Lonesome - Miller 5:05
7 Sac-Au-Lait Fishing - Benoit 3:56
8 Somebody's Got to Go - Johnson 4:19
9 I'm Guilty of Lovin' You - Parker, Williams 4:18
10 Addicted - Roddy 4:59
11 One Foot in the Bayou - Egan
PERSONNEL
Tab Benoit - guitar, vocals
with Louisiana's Leroux
Tony Haselden - banjo
Jim Odom - guitar
Nelson Blanchard - keyboards, piano, backing vocals
David Peters - drums
Leon Medica - bass
Mark Duthu - percussion
ALBUM CREDITS
Tab Benoit Primary Artist, Guitar, Vocals
Leon Medica Bass, Leader
Jim Odom Guitar
Nelson Blanchard Piano, Keyboards, Background Vocals
David Peters Drums
Tab Benoit Producer
Lincoln Clapp Mastering
David Z. Producer
David Farrell Engineer
Robert Woods Executive Producer
Anilda Carrasquillo Art Direction
Randy Labbe Liner Notes
Rueben Williams Liner Notes, Management
REVIEWS
Louisiana bluesman Tab Benoit has just dropped the best album of his career on us. "Power of the Pontchartrain" is an 11-track wonder that showcases Benoit's thorough command of contemporary blues. He's got it going on here with splendid songwriting, gritty vocals and choice lead guitar work. He cut the record with Louisiana band Leroux, a crew that carries a pretty heavy reputation in the bayou country. The disc opens with killer blues tune "Don't Make No Sense," and the groove only gets better. Benoit taps his Cajun roots for the very cool "Sac-au-lait Fishing," knocks off a great soul number on "Guilty of Lovin' You" and imparts a decidedly bluesy vibe to Stephen Stills' "For What It's Worth." © Philip Van Vleck
Tab Benoit is a real Louisiana music man, born in Baton Rouge and nourished on swamp-flavored sounds until he could cook his own. And he does. He conjures music in a blue haze over swampy roots, and lively second-line rhythms. The songs he's chosen here are excellent vehicles for his almost-lazy vocals and sharp guitar work. There's "Midnight and Lonesome," a haunting Julie Miller song that opens with this imagery: "There's a wordless moon that's watchin' tonight / there's a garden that's left to grow wild / there's a sound with no name when a faraway train / cries like an unloved child." His reading is flawlessly poignant; his guitar gently makes you want to weep. And he offers a gritty new take on Stephen Stills' classic "For What It's Worth," with a little Huricane Katrina salt to rub in. Benoit was Contemporary Blues Male Artist of the Year and B.B. King Entertainer of the Year at this year's Blues Music Awards. It's not hard to see why. Copyright © 1997-2007 PG Publishing Co., Inc. All Rights Reserved. © www.billboard.com
Tab Benoit's album titles leave little doubt as to where he's from or the music he plays. Brother to the Blues, Fever for the Bayou, Wetlands, and now Power of the Pontchartrain exude the sweaty Louisiana swamp, blues, and R&B inherent in their names. But that only tells part of the story--the rest is in the grooves where Benoit's distinctive, grainy voice and tough Telecaster leads bring soul, grit, and intensity to a sound already infused with an earthy sensibility. There's more of the same on this disc, but that's no criticism. Benoit generally sticks with others' songs here, yet he unearths hidden gems. Julie Miller's "Midnight and Lonesome" is dragged into the murky swamps as a driving ballad with eerie qualities that live up to its name. Miller and husband Buddy are also credited with the righteous-yet-rugged gospel of "Shelter Me." "Somebody's Got to Go," originally by Lonnie Johnson, gets a crisp, frisky makeover, and even Buffalo Springfield's crusty "For What It's Worth" takes a swim in the muddy waters of Benoit's home state, with a little help of some altered, post-Katrina lyrics. The guitarist lets his Cajun influences fly on the bouncy rhythms of "Sac-Au-Lait Fishing," the album's only original, and shifts into pleading Otis Redding mode for the aching blues ballad "I'm Guilty of Lovin' You." The Chicago-by-way-of-the-Delta shuffle of "One Foot in the Bayou" is also an apt description of Benoit's approach. He touches on a variety of Americana styles, yet always keeps part of himself planted firmly in the wetlands of his roots. © Hal Horowitz www.full-albums.net
BIO
Guitarist, singer, and songwriter Tab Benoit makes his home near New Orleans in Houma, LA. Born November 17, 1967, he's one of a handful of bright rising stars on the modern blues scene. For most of the 1990s, he's been working each of his records the old fashioned way, by playing anywhere and everywhere he and his band can play. Unlike so many others before him, Benoit understands that blues is not a medium in favor with 50,000-watt commercial rock radio stations, so as a consequence, he's worked each of his releases with as many shows as he can possibly play. Since the release of his first album for Justice, Benoit has taken his brand of Cajun-influenced blues all over the U.S., Canada, and Europe. Nice and Warm, his debut album for Houston-based Justice Records, prompted some critics to say he's reminiscent, at times, of three blues guitar gods: Albert King, Albert Collins, and Jimi Hendrix.
Although the hard-working, modest guitarist scoffs at those comparisons, and doesn't think he sounds like them (and doesn't try to sound like them), Benoit doesn't appear to be one who's easily led into playing rock & roll in favor of his down-home blend of swamp blues and east Texas guitar-driven blues. Talk to Tab at one of his shows, and he'll tell you about his desire to "stay the course," and not water down his blues by playing items that could be interpreted as "alternative" rock. Despite the screaming guitar licks he coaxes from his Telecaster and his powerful songwriting and singing abilities, Benoit's laid-back, down-to-earth personality off-stage is the exact opposite of his live shows.
Benoit's releases include Nice and Warm (1992), What I Live For (1994), Standing on the Bank (1995), and Live: Swampland Jam (1997), all recorded for Vanguard. Benoit then moved over to the Telarc label for These Blues Are All Mine (1999), Whiskey Store (2002, with Jimmy Thackery), Wetlands (2002), and The Sea Saint Sessions (2003). In 2004, Benoit released Whiskey Store Live, recorded with Jimmy Thackery on the support tour for Whiskey Store. 2005 saw the release of Fever for the Bayou on the Telarc label. 2005 also saw Voice of the Wetlands come out on Rykodisc. Another album from Telarc, Brother to the Blues, appeared in 2006. Power of the Pontchartrain followed in 2007.
Considering that many of Benoit's records have surpassed the 50,000 mark, he's well on his way to a career that could rival the kind of popularity the late Stevie Ray Vaughan enjoyed in the late '80s. © Richard Skelly & Al Campbell, All Music Guide