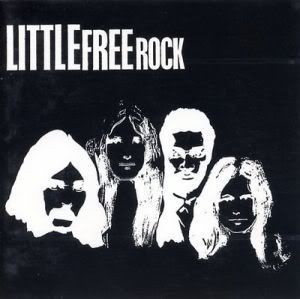 Little Free Rock -
Little Free Rock -
1969 -
Transatlantic
Their Eponymous Album was released in November 1969, and they were an evolution of Purple Haze, who were a highly respected three piece outfit formed originally performing covers of songs from bands like The Who, Creation, Tomorrow etc but quickly developing a style and presentation of their own. To avoid association with Jimi Hendrix's tune, the name was changed to Little Free Rock from the meaning of their names. Paul means 'Little', Frank means 'Free' and Peter the 'Rock'. This debut album contains well structured songs with fine melodies, and outstanding guitar work from Peter Illingworth. The album has Cream influences, but uses occasional mellotron, making Little Free Rock a more progressive outfit. Has anybody got any info on any live recordings by this band ? Also, can anyone give me the definitive track list for this album. The same album has been released with the following tracklist - Roman Summer Nights (A different track to Roman Summer ?) , Lost Lonely, Blud, Castles In The Sky, Dream, Tingle, Evil Woman (A bonus track ? ) , Age Of Chivalry, Making Time. There may have been different pressings of this album released. Posts appreciated.
TRACKS
Tingle
Roman Summer
Making Time
Lost Lonely
Age Of Chivalry
Castles In TheSky
Blud
Dream
BAND
Peter Illingworth, Lead Guitar and Vocals,
Paul Varley, Drums and
Frank Newbold, Bass Guitar and Vocals.
BIO
Little Free Rock was a late 1960s Heavy Rock Trio from Preston in Lancashire, England. It featured Peter Illingworth (lead guitar and vocals) (formerly with David John and the Mood who recorded with Joe Meek), Paul Varley (drums) (later with The Arrows) and Frank Newbold (bass and vocals). They began performing covers of The Who, The Creation, Tomorrow but were soon doing mainly own songs. The band performed regularly at the Roundhouse Sunday Night Implosion Events and had numerous residencies at the Marquee Club. As well as performing all over Belgium, Continental Trips included the Star-Club in Hamburg, Essen Jazz and Blues Festival, and festivals in Frankfurt, San Tropez and Santa Margarita de la Costa in Italy. They changed their name from Purple Haze to avoid confusion with Jimi Hendrix' single. Peter Green (Fleetwood Mac) joined the band for a short period, but the recordings were never released.