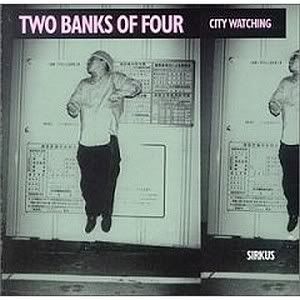 Two Banks Of Four - City Watching - 2000 - Toy's Factory (Japan) - Originally released as an 11 track CD in 2000, on the Sirkus label
For those that like non commercial jazz, give this nu-jazz album a listen. It is smooth and funky, with a cafe acid jazz flavour. Very laid back, similar to the approach of "Massive Attack" . Its also got a stylish " Morcheeba" flavour.. Check out their album, "City Watching". Also check out albums by Jazzanova, Koop, & Zero 7.
TRACKS
1-Skylines Over Rooftops (5:18)
2-Theme De La Tete (3:52)
3-Afro Blue (4:32)
4-Time Flies (5:07)
5-Erols Cafe (4:18)
6-Last Dance (5:33)
7-Speedy's Auto Repair (4:14)
8-Perilous Ways (4:40)
9-Hook & A Line (4:53)
10-Routemaster (5:07)
11a-Street Lullaby Pt. 1 (5:35)
11b-Lullaby Reprise
12-Street Lullaby (2 Banks Of 4 Remix) (5:41) - Bonus track for Japan only.
13-Street Lullaby (Fourtet Remix) - Remix - Four Tet (6:28) - Bonus track for Japan only.
CREDITS
Arranged By [Piano And String] - Ski Oakenfull
Reeds : Kate St. John
Bass - Andy Hamill
Featuring [Reeds] - Kate St. John
Guitar - Alias Nelson
Saxophone - Chris Bowden
Scratches - Tony Vegas
Trumpet - Kevin Davey
Violin - Sally Herbert
Vocals - Culture G , Doug & Jean Caramouce , Marsha White , Paul Jason Fredericks , Red Egyptians, The .
Special Thanks To The Singers And Players Who Gave For Little Or Nothing
Produced by 2BO4 (D. Harris & R. Gallagher)
Recorded at Junior Strictly Meals Only Studio
Design by James Sloan, Image Supplied by Tomato
SHORT BIO
Formed in 1999, Rob Gallagher and Demus are Two Banks of Four, a nu-jazz band from London, UK, along with vocalists Valerie Etienne, Paul Jason Fredericks, and Bembe Segue, pianist Ski Oakenfull, bassist Andy Hamill, flutist and saxophonist Andy Ross. Their music has been remixed by artists such as Four Tet, Herbert and Derrick Carter, while 2BO4 have themselves provided remixes for Faze Action and Koop.Known for his production and engineering skills ranging from the Young Disciples classic debut LP through to Zero 7 and IG Culture, Demus is one of the most well respected engineers in the UK. Gallagher honed his craft in Galliano and latterly under the mercurial Earl Zinger guise. As well as these personas, Gallagher has featured on recent albums from Big Bang and Jazzanova. The Two Banks of Four debut album "City Watching" was something of a vanguard release. It was a jazz record, a soul record, a funk record. Their follow up "Three Street Worlds" had a more matures, jazz influenced sound, reaching out to draw inspiration from the classic spiritual soul-jazz of Doug Carn, Max Roach, Andy Bey, Strata East Records and Pharaoh Sanders. Featuring appearances from Valerie Etienne, Paul Jason Fredericks and Bembe Segue, "Three Street Worlds" provided a platform for some strong vocal performances, and skilled musicianship from Chris Bowden, Ski Oakenfull, Robin Mullarkey, Andy Hammill and Chris Storr.