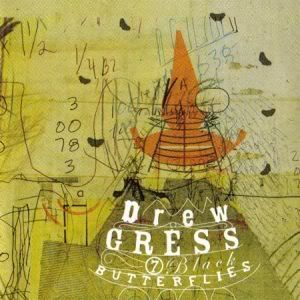 Drew Gress - 7 Black Butterflies - 2005 - Premonition Records
7 Black Butterflies is the follow up to his "Spin & Drift" album, which was critically acclaimed. .7 Black Butterflies contains nine original, and very acessible jazz compositions by Gress, with fantastic harmonic and melodic structures. All these factors, combined with superb improvisation from the excellent musicians involved in this recording, make this a great modern jazz album. The album is produced by experimental guitarist/producer David Torn (ECM).
TRACKS
Rhinoceros;
Bright Idea;
New Leaf;
Zaftig;
Bas Relief;
Blue on One Side;
WIng & Prayer;
Low Slung/High Strung;
Like It Never Was
PERSONNEL
Craig Taborn - piano
Drew Gress - bass instrument
Ralph Alessi - trumpet
Tim Berne - alto saxophone
Tom Rainey - drums
REVIEWS
Along with Scott Colley, Drew Gress must be the most ubiquitous bassist on the New York scene. Gress' broad stylistic reach has allowed him to support artists including pianist Fred Hersch, trumpeter Dave Douglas, and saxophonist Tim Berne since arriving on the scene in the late '80s. Capable of bringing an unerring sense of tradition to mainstream acts and a free-spirited sense of adventure to those from left of centre, Gress has also been gradually emerging as a composer of note. With his latest release, 7 Black Butterflies, he has fashioned an album that, while as forward-looking as any, also embraces a kind of postmodern lyricism that, rather than spoon-feeding the listener, demands careful and constant attention.
By enlisting Tim Berne's Acoustic Hard Cell trio—Berne, along with pianist Craig Taborn and drummer Tom Rainey—Gress has built an ensemble with an instantaneous improvisational chemistry and sense of identity. And yet, Gress' quintet—which also features trumpeter Ralph Alessi—while cashing in on Berne, Taborn and Rainey's evolved simpatico, doesn't sound like merely an expanded edition of Hard Cell. Gress' growing compositional prowess has its own identity, and while there are certain parallels to Berne's writing in terms of metric complexity, harmonic breadth, and open-ended improvisational liberty, it avoids the kind of mathematical idiosyncrasies that most commonly define Berne's approach.
Perhaps because he's a bassist, and perhaps because he's spent time close to the mainstream, Gress' music, for all its rich harmonies, contrapuntal depth, and fluid time changes, also has its own refined sense of swing. The tempi may change, but "Blue on One Side" also retains a sense of groove throughout. Gress is also unashamed of vulnerable melodicism; the ballad "Wing & Prayer" manages to be both dark and tender at the same time.
Nor is Gress afraid to tackle more through-composed music. While there's a certain air of freedom and space about the opening track, "Rhinoceros," it relies mainly on gradually unfolding repetitions, dynamic development, and time shifts to get its point across. Elsewhere, exploratory élan is the order of the day. "Bright Idea" asserts a complicated, bebop-informed line over a fluid metric base before opening up to strong solos from Gress, Berne, Alessi, and Taborn. While Rainey doesn't get much solo space on the disc, his interpretive and intuitive abilities form an essential underpinning.
Also essential to the album's complexion are producer/mixer David Torn's contributions. Torn finds creative ways to expand the sound of this acoustic quintet, occasionally creating subdivisions within Gress' compositions through use of stereo panning and sound processing. Twice during Taborn's solo on "Blue on One Side," Torn grabs a short phrase and repeats it multiple times, creating an extremely effective artificial tension.
7 Black Butterflies is the compelling result of an artist working in a multitude of contexts, soaking everything up, and then filtering it through his own personal lens to create an album that proves that modernity need not be equated with obfuscation. © John Kelman © 2007 All About Jazz
Drew Gress throws his contender for year's best in with 7 Black Butterflies, a crackling collection uniting a stellar cast of players who live up to their collective reputation. With Tim Berne, Ralph Alessi, Craig Taborn, and Tom Rainey fully engaged, Gress holds an all-aces hand. His multifaceted compositions provide the tracks for this ride, while the quintet provides the vivid scenery. While Berne, Alessi, and Taborn usually inhabit worlds of sonic phenomena, the simple acoustic setting here spotlights the prodigious pure jazz power each player wields.
Opening with a dizzying panning hiss and Alessi's choked breathy notes, "Rhinoceros" lumbers in on Gress' metronome bass. Alessi and Berne harmonize a classic theme only to evaporate, dub style. A tempo change has Taborn and Gress doubling for momentum, urged on by Rainey and Taborn's chording right hand. Alessi and Berne return to fan flames and blow the structure apart. A loose-jointed neo-bop line dances through "Bright Idea," opening for a rubbery solo by Gress. Berne spreads low-register alto butter around the prickly rhythm section, while Alessi flashes through rolling time signatures. Rainey simmers under Taborn's acute chords and melody line.
Taborn plays spaciously heartfelt music on the ballad "Zaftig." Berne moves the tune into a more frenzied direction, replacing wistfulness with passion. With a theme that seems to occasionally tease with a taste of "Salt Peanuts," "Blue on One Side" tears along with Taborn and Berne driving, then Alessi plays an inspired and occasionally echoed duet with Rainey. Alessi and Berne slug it out on "Low Slung/High Slung," the clunky riff chugging with occasional ultra stereo dub effects, causing the horns to take flight. Taborn slows it, only to use his right hand to start fires.
Between nasty multi-time grooves and emotionally satisfying reveries, 7 Black Butterflies convincingly applies for a long-term residency in your CD player. © Rex Butters © 2007 All About Jazz
Bassist Drew Gress consistently delivers, whether he's playing straightahead or outwardly adventurous music. He maintains a vigorous touring and recording schedule with a swath of the jazz community. Though creatively challenging, this approach has limited the time he has to develop his own music. With 7 Black Butterflies, his third CD as a leader, Gress makes a compelling musical statement with structured and purposeful composition, supported by focused improvisation.
While the tunes are often complex, both rhythmically and harmonically, they flow naturally, and Gress confidently allows his musicians to extrapolate and color the passages. It helps to be surrounded by consummate improvisers with deep, interconnected playing histories like these. Here he taps longtime collaborators alto saxophonist Tim Berne and drummer Tom Rainey, altering the mix with the additions of trumpeter Ralph Alessi and pianist Craig Taborn.
The tunes are dynamic, taking unexpected turns. The textured unfolding of "Rhinoceros" builds intensity to a chaotic flourish, while the boppish groove and unison horns of "Bright Idea" buoy a series of solos from the ensemble, with each player emphasizing elements of the written music while Rainey and Gress prod or rein in the tempo. The deceptively simple-sounding "New Leaf" spotlights a lyrical Berne, his wilder tendencies tempered to support the lush tune. The slower tempo of "Zaftig" takes off behind Berne's solo, with Rainey matching wits with the saxophonist, until Taborn and Alessi restate the sparse opening theme for resolution. "Low Slung/High Strung" is set up by Taborn's angular piano pattern, which Alessi and Berne swirl around with oblique counter lines, quickening their pace and threatening to lose control before dropping out entirely. As Taborn rebuilds the intensity, Rainey's drum break signals the horns to return for a powerful finish.
A reflection of Gress, 7 Black Butterflies contains bold ensemble playing and sophisticated improvisation, kept accessible by a strong melodic sense and clarity. © Sean Patrick Fitzell © 2007 All About Jazz
Most of the music on this exhilarating record defies easy description. Much of it is lyrical, even beautiful. There's some driving, fiery swing. The improvising is of a consistently high order throughout. And Gress contributes his inventive compositions, with structures that challenge the improvisers with knotty harmonies and tempo changes. On 7 Black Butterflies, the whole is greater than the sum of the parts, and the parts are extraordinarily good.
Tim Berne's contribution is obvious. The alto saxophonist improvises with heat and originality. He rarely uses the overblowing or noise effects commonly associated with the so-called avant garde. Instead, he plays striking melodies, as if he were a tart-toned Johnny Hodges. He is especially effective on "Zaftig," his solo climaxing with high, held tones while Alessi intones the song's mournful melody.
But is good as he is, Berne is hardly the only reason to hear this album. There's also Craig Taborn, one of the finest younger pianists out there. He negotiates Gress' structures effortlessly, his comping pushing the horns, his improvising spiky and memorable. He generates a whirlwind of authoritative swing on "Bright Idea." Alessi, an emerging giant among younger trumpeters, is in typically excellent form.
Drew Gress is the unassuming leader, with his composing, his booming tone, his fine solos, and his solid time. He leads a state-of-the-art rhythm section, sometimes hocketing the time, sometimes uniting in explosive swing. Sometimes his bass lines enter into dialogue with Berne or Alessi, and sometimes he walks the walk. Ultimately, he's the glue that holds this music together, and Rainey's excellent drumming is always at the service of the music.
In the 21st Century, jazz has evolved into many different styles or idioms, and there are always musicians today who strive for something new. The ones who play on 7 Black Butterflies are definitely in this category. So while Gress' tumbling tunes have a faint echo of bebop, he plants both feet in the present, while he and his quintet look forward. © Marc Meyers © 2007 All About Jazz
To say that Drew Gress may be one of today's premier bassists/composers is a bold statement, but one with considerable merit. The veteran player has profoundly enhanced numerous recordings by names like Uri Crane, Don Byron, and Ravi Coltrane with his distinct sound, dynamic playing, and writing abilities. But his most revealing work has been on his own recordings, of which 7 Black Butterflies is simply a cut above in terms of vision, creative energy, and sheer musicality. This followup to 2001's Spin and Drift continues to challenge and yield deep rewards with music that is beyond the norm and thoroughly engaging.
Iron sharpens iron, as the band includes the vast talent of saxophonist Tim Berne, trumpeter Ralph Alessi, drummer Tom Rainey, and keyboardist Craig Taborn, who are a perfect mixture for Gress' fertile concepts. These artists have proven on many recordings that they that can play it straight, but they definitely push towards the edge with their associations with freer jazz idioms. Collectively they are force to be reckoned with, and with Gress as the catalyst, 7 Black Butterflies unflinchingly gives a broader view of his abilities.
Once again the bassist has composed all new material with the goal of creating music that is "modern and beautiful." This becomes evident starting with the atmospheric "Rhinoceros"—a composition that at first moves slowly and gracefully, then shows dangerous instincts as the tempo swells and charges, with a forceful vamp powered by robust drumming, and then retreats with eerie sax/trumpet siren wails. The remaining eight selections are compositions in the truest sense, allowing optimum creative interaction between the music and musicians.
The album's beauty has many facets, from the cinematic quality of "Zaftig," with its grand thematic changes, to the uptempo siblings "New Leaf" and "Blue On One Side," which employ aggressive swing with heated horn arrangements and outstanding solos solidified by Gress' bass. Beyond his formidable skills as a composer, Gress is an incredibly strong player. To get a full taste, listen to his solo on "Bas Relief," which is marked by power, nimbleness, and ingenuity, with biting and sustained notes.
The modern nuance of electronics enhances this acoustic setting nicely, but it's the musicians themselves who create the fifth element, with many memorable performances like "Low Slung High Strung," with its serrated tempo, where Berne and Alessi converse against complex and feuding horns as Rainey's drums push the music, Talborn delivering another stellar solo.
The closing ballad "Like it Never Was" recalls ideas from Mingus and Weather Report, but more so from Gress himself. Wondrous, strange, bold, and beautiful are all synonymous of 7 Black Butterflies, one of this year's most interesting releases. © Mark F. Turner © 2007 All About Jazz
ARTIST INFO
New York bassist Drew Gress became increasingly visible in contemporary improvised music throughout the 1980s and 1990s. In the late '80s, he co-founded the quartet Joint Venture, which released three albums on Enja spanning 1987-1994. Later, Gress led his own N.Y.-based quartet, Jagged Sky, who released their debut, Heyday, in 1998 on Soul Note. The late '90s also found Gress performing and recording in Paraphrase, an improvising trio with Tim Berne and Tom Rainey. Paraphrase released two CDs during the 1990s on Berne's Screwgun label: Visitation Rites in 1997, and 1999's Please Advise. Gress has performed across Europe; Asia; and North, Central, and South America. He has served as artist-in-residence at University of Colorado-Boulder and Russia's St. Petersburg Conservatory, and has received grants from Meet the Composer and the NEA. In addition to the groups already mentioned, Gress also performs in many other projects, including Erik Friedlander's Chimera, the Fred Hersch Trio, the Don Byron Quartet, and Dave Douglas' string group, which released an album on Soul Note entitled Convergence in 1999. © Joslyn Layne. © 2006 All Media Guide, LLC. All rights reserved
BIO
Drew Gress falls into the great tradition in jazz of musician/composer/bandleader that was pioneered by legendary artists such as Duke Ellington, Charles Mingus and Thelonious Monk and is practiced in the present day by Dave Douglas, Tim Berne and John Zorn, among others. His instrument is the acoustic bass, although he also plays the pedal steel guitar. He is currently one of the busiest bassists on New York City's jazz and contemporary improvised music scene with touring and/or recording credits that include work with leading artists such as Fred Hersch, Dave Douglas, Don Byron, Tim Berne, Uri Caine, Lynne Arriale, Ray Anderson and Erik Friedlander. As a composer/ bandleader, he has two records under his belt: 1998's Jagged Sky (Soul Note) and the current Spin & Drift (Premonition). These recordings have earned Gress recognition as a composer of note, an artist in the forefront of creating important new music in the jazz realm.
Born in Trenton, NJ in 1959, Gress grew up in the Baltimore/Washington, DC area and began his career in music there. He attended Towson State University where he was a composition major studying under composer/arranger Hank Levy (Stan Kenton, Don Ellis). He quickly became a first call bassist on the Baltimore/D.C. scene where he could regularly be found playing at clubs like "Blues Alley" backing up artists such as the singer Ethel Ennis. As his graduation neared he earned an apprenticeship at Hanna Barbera Studios in Los Angeles ghost-writing, arranging and fleshing out sketches for "Casper, The Friendly Ghost" cartoons. Three months in the cartoon business proved to him that jazz, and not "functional" music was where his heart was. He moved back to the D.C. area and then on to New York City where he has lived and worked for the past nine years.
Since then he toured North, South and Central America, Europe and Asia and has served as an Artist in Residence at the St. Petersburg Conservatory in Russia and at the University of Colorado-Boulder. He has been awarded grants from major arts institutions such as The National Endowment for the Arts and Meet The Composer. And, Jagged Sky and Spin & Drift, album titles that also serve as band names, have both received rave reviews. The New York Times called Jagged Sky, "One of downtown's most promising bands." The Village Voice described Spin & Drift as "an intimidating brood whose sundry skills are likely to forge a sense of grand abstraction and disarming cogency. Pregnant with possibility, this is a first-time grouping you hope will sustain itself."
The San Francisco Examiner said Gress' music is "full of the jazz spirits of excitement, improvisation and technical brilliance." With Spin & Drift, Gress lives up to the hype offering up an album featuring indelible melodies, rich harmonies, and hip, offbeat rhythmic structures that leave a lasting impression. © 2005 Premonition Music. All rights reserved