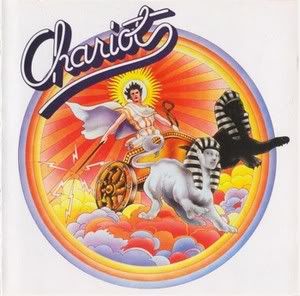 Chariot - Chariot - 1968 - National General
Chariot, evolved out of a 60's outfit called The Knack.They are thought to have been influenced by Cream.Their music is a mixture of psych/blues with a flower power flavour. English-born drummer Pug Baker went on to play with a number of minor bands, such as the RCA-signed Rocking Horse, and Waves, a group that enjoyed a short tenure with Epic. Baker is still drumming, and is currently playing with southern rockers Ghost Riders. It is very difficult o find any info on Michael Kaplan who composed all songs on the album.He was also a good lead guitarist. A.O.O.F.C would love to get more info on this band. Please post.
TRACKS:
01. Yolanda Jones
02. You Let Me Love You
03. Gamblin' Man
04. The War Is Over
05. Home Wreckin' Mama
06. Hey People
07. Variety Woman
08. Got To Be A Lover
09. Poor Man Blues
All tracks written by Michael Kaplan
BAND
Michael Kaplan - Rhythm, Lead Guitar & Lead Vocals
Pug Baker - Drums.
Larry Gould - Bass & Lead Vocals