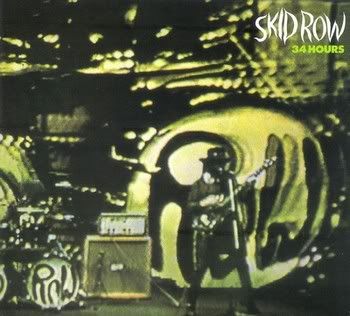 Skid Row - 34 Hours - 1971 - Epic
Very rare alnum by the original Skid Row, a great forgotten Irish band. The great Phil Lynott played with Skid Row in 1967. This is good basic blues rock and well worth a listen. Also check out Taste with Rory Gallagher.
ORIGINAL TRACKS
"Night of the Warm Witch"
"First Thing in the Morning"
"Mar"
"Go, I'm Never Gonna Let You, Pt. 1"
"Lonesome Still"
"Love Story, Pt. 1"
CD Release includes the bonus tracks -
07. Single Version - Night Of The Warm Witch
08. Mr.De - luxe
BAND
Gary Moore - Guitar, Vocals
Brush Shiels - Bass, Vocals
Noel Bridgeman - Drums, Vocals
ABOUT SKID ROW
Skid Row was a Dublin blues-rock band of the late 1960s and early 1970s fronted by Brendan "Brush" Shiels (born 1952 in Dublin, Ireland). It was guitarist Gary Moore's first professional band. The band was formed in 1967, comprising Brush Shiels on bass guitar, Noel (Nollaig) Bridgeman (currently with Van Morrison) on drums, on vocals, and Bernard (Bernie) Cheevers on lead guitar. Cheevers was replaced by the 16-year-old Gary Moore in 1969, and the band recorded a Single, Misdemeanour Dream Felicity/New Places, Old Faces, for the Irish Song Records label (the only recording of Lynott with Skid Row). Later that year Shiels dropped Lynott from the line-up, converting Skid row to a power trio by making Moore the lead vocalist. By way of compensation, he taught Lynott to play bass, and Lynott went on to international fame as founder, bassist and vocalist for Thin Lizzy. The band recorded a second single for Song, Saturday Morning Man/Mervyn Aldridge. These two singles, plus three tracks from a BBC recording, were issued on the Hux label as "Live and on Song"" in April 2006. Skid Row played support to many of the great rock groups of the sixties, including Fleetwood Mac. Moore was influenced by the Fleetwood Mac guitarist Peter Green, who was in turn impressed by Moore's guitar playing and introduced him to the Columbia record company. The band released its first album "Skid", in October 1970. A second LP, entitled "34 Hours" - so entitled because it took them a mere 34 hours to record it - was released in 1971. Moore left the band in late 1971 (he was replaced by Paul Chapman, later of UFO) and later played with Thin Lizzy. The rest of their recorded material was released in 1990 and '91, about the time when Moore released his "Still Got the Blues" LP. Although the group had little success outside Ireland and the UK (Skid reached no. 30 on the UK album charts), its influence on Irish rock music (and consequently on rock music in general) was considerable. In 1987 Moore sold the name Skid Row to the American heavy metal band for $35,000. Shiels has said that he has always been unhappy at the group 'stealing their name', and said of manager Doc Magee, "he could be Doc Marten for all I know...but he's going to get a kick up the arse.".