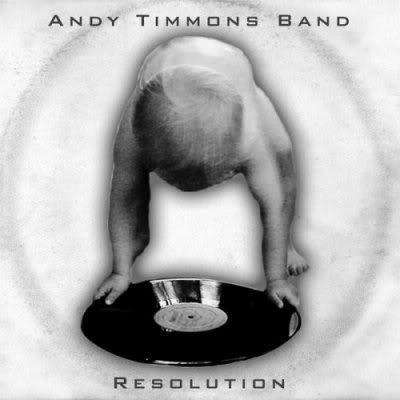 Andy Timmons Band - Resolution - 2006 - Favored Nations
This critically acclaimed CD is the culmination of over 4 years writing and recording and features some of the best songs Andy and crew have ever offered up. A true "trio" recording with virtually no overdubs. Features the original lineup of the ATB with Mike Daane on Bass and Mitch Marine on Drums. Stupendous guitar playing from Andy Timmons makes this a brilliant album. Very highly recommended by A.O.O.F.C
TRACKS
1. Deliver Us
2. Helipad
3. Ghost Of You
4. Resolution
5. Redemption
6. Lydia
7. Gone (9/11/01)
8. Move On
9. Beware Of Dark Days
10. The Prayer / The Answer
Bonus/Hidden Track 11. Headed For The Ditch
BAND
Andy Timmons (g)
Mitch Marine (d)
Mike Daane (b)
REVIEWS
Wow. Just…wow.
For the most part, there's a general pattern that comes with hearing an album for the first time. Insert disc, press play, and form immediate and relatively broad opinion as deemed necessary, such as good, bad, or mediocre. And thoughts evolve from there. But then, usually everybody has that handful of instances when album was inserted and basic dumbfounded speechlessness wormed its way in and took over. For instance, those times when you've sat staring at the wall, mouth gaping open with a look of utter astonishment. Needless to say, I was graced with one such moment when I heard Resolution. The former Danger Danger guitarist and his two cohorts, notable bassist Mike Daane and Dwight Yoakum tour mate Mitch Marine released Resolution in early May, and while it is their ninth album together, it's only their first under the Andy Timmons Band name. Technically speaking, Resolution is a ten-track LP of instrumental, rock-guitar driven tracks with blues and jazz influences. But that sounds boring. What it really is, is essentially a fantastic forty-eight minute amazing guitar solo. In my opinion, it's virtually impossible to dislike. Anyone who appreciates and loves a good rock guitar solo will conceivably be absolutely blown away by Timmons' skill, variety, and imagination. The album opens with "Deliver Us", which is a true force to be reckoned with. With fast drums and powerful, open riffs, it really sets the stage for the rest of the album, yet also gives it quite a bit to live up to. But thankfully, Timmons and his band seem to have it down to a science. Even the more mellow tracks, like "Ghost of You", "The Prayer/The Answer", and the album's title track, while they start out slow, kick it up later with riffs and licks powerful enough to stand up to the more vigorous, faster-paced songs. To be brutally honest, I'm usually pretty avid about vocals and lyrics in an album, and generally lose interest within the first five minutes when presented with something that forgoes the two because I can't connect. Chalk it up to a short attention span. But with "Gone (9/11/01)", Timmons has proven that lyrics and vocals would really just be a gaudy accessory. I could throw in a few lame, stale sentences about how music is the universal language, but honestly the album speaks more volumes on its own than I ever could. It's absolutely phenomenal, hands down. © Kristen Brown [6.7.06] © 1998 - 2007 cdreviews.com
Comments: The old saying goes "guitar players are a dime a dozen." Such a true statement as this world is full six string wannabes. Yet if you take the time to weed through piles of CDs, lps, tapes, maybe even 8-tracks, you will find that for all the multitude of guitar players, there are but a few who truly shine. One problem is for all the few contemporaries, the re inventers and the earth shakers that our known to us, there are handful that go unheard, unnoticed or undiscovered, who would simply send a multitude of wannabes back to the wood shed if their presence were known. Here in lies the works of Andy Timmons, who is better known for his stint in the pop-metal band Danger Danger than most anything else. Yet the man has been out there working away in the studio, on the stage with today's prominent artist. Still, he isn't a household name like your Vais, Satrianis or even Hendrixs. His latest solo studio release, Resolution, out on Favored Nations Records features his band amply called Andy Timmons Band. Together, guitarist Andy Timmons, with Mitch Marine (d) and Mike Daane (b) have produced a disc of 10 instrumental songs that capture a multitude of textures, reaching across the spectrum of the sonic landscape that resides deep in the heart of the guitarist himself. Part fiery, fluent, crisp, clean, flowing, peaceful and reverent, Timmons exposes his soul on some of the best fret work you will hear today. One can only guess that Resolution was a spiritual journey from songs like "Deliver Us," "Redemption," "The Prayer/The Answer" and the moving "Gone (9/11)." For all the songs that move us with slower, melodic and heartfelt bluesy passages, Timmons also turns up the heat on heavy driving songs like "Helipad," "Beware of Dark Days" and "Deliver Us." Bits of country, blues, fusion and hard rock riffs fill the CD and demonstrate the inventive genius of the band. Resolution lists 10 songs but there is an 11th track that is another energetic rocker called "Headed for the Ditch" which features fast country riffs fueling the foray. Resolution will appeal to instrumental lovers. Favored Nations is great label for Timmons to deliver his music to an audience who loves musical explorations by today's leading artists. Definitely pick this one up. Copyright © 2003 - 2007 Hardrock Haven aka John Kindred | All Rights Reserved
An immediate listen to Resolution, Andy's second CD on Steve Vai's Favored Nations label, makes it abundantly clear that Andy Timmons time has arrived and his time IS right now! It is time for Andy's name to be spoken in the same breath and held in the same regard as those of Joe Satriani and Steve Vai. It is time for him to take his rightful place, right at, or very near the top of the list of the finest purveyors of instrumental rock guitar in our era.
I could never say enough good things about Andy's superb musicality, his innate pop sensibility, his impeccable note selection, phrasing and above all, other worldly modern electric guitar tone. Andy cajoles, coaxes, throttles and caresses the most exquisite sounds out of his signature guitar (Ibanez AT300) and amplifier combination. When future budding musicians are researching the flagship guitar sound of our era, they will not be off the mark if they somehow hit upon this CD.
Andy's tone has always been legendary, however at some point during the production of this long awaited release, Andy and co-producer bass player extraordinaire Mike Daane decided "pretty good is not enough" so they embarked on what they call "the Tone Quest" to seek out and produce the various tones required for the tracks on this CD. The release date has been delayed many months to accommodate this quest, but the result is well worth the wait! Andy has also paid homage to many of his heroes and contemporaries with short flashes of tone and phrasing throughout this work. I will mention a few and leave it to the listener to determine what they may hear!
The CD is a true power trio band production of expert song craft and controlled mayhem. Mike Daanes (who did a phenomenal job engineering ALL the guitar tracks at his home studio in addition to playing bass guitar and co-producing with Andy) and Mitch Marine (drums) had a hand in co-writing with Andy fully half of the tracks on this CD. The tone fest opens with "Deliver Us" a mid tempo number with an insistent picked note versus chorded ask and answer theme recurring throughout the song. The solo comes in with a Satch-like wah tinged flurry before soaring into a space and place that is all Andy. "Helipad" builds in volume on a tribal like drum beat passing over some Eric Johnson tone and phrasing territory before ramping up over an insistent bass guitar driven path into the most effected Andy solo on the release. As Andy himself has said: "The title, Resolution, has several meanings. My favorite one is 'the act of reducing something to its simplest form'. That's really the goal of the whole record... one guitar track, bass and drums... nothing simpler than that!" To that end, the use of effects and multi-tracking is indeed minimal on this CD! "Ghost Of You" initially eases off the gas pedal as Mitch settles into a very Simon Phillips like groove (not surprising as Andy has frequently worked with Dr. Phillips). The tune then gets heavy with Andy providing excellent soloing and tone over walking bass lines right down to the final string rasps. "Resolution" is a gorgeous tune replete with Andy's signature vocal-like guitar phrasing. Andy is one of the very few instrumental artists capable of providing this vocal like quality to his lines and keeping the listening experience interesting. "Redemption" is the short crisp rocker on this release. All Andy, all the way, with as usual, the perfectly note selected and phrased solo passages.
As is also usual with Andy, he follows a rouser with what starts off as a softer edged introspective piece. "Lydia" however quickly morphs into a chord cruncher with anthemic high octane lead guitar. "Gone (9/11/01)" is Andy's tribute to and is "a musical snapshot of the range of emotions we all felt that day and every day forward". As you might expect, this one runs the gamut of the emotion spectrum from Jeff Beck like whispers through wailing, crying and screaming guitar sirens reminding one of rock era Gary Moore. It is however at the end of the day, another Andy Timmons classic…. a "piece de resistance" performance as only Andy can deliver containing an emotionally charged, searing guitar performance throughout. "Move On" another short sweet number, starts out and frequently returns to a classic 70ies rock like power chord progression interspersed with memorable modern lead guitar passages. "Beware Dark Days" the longest song on the CD, is another mid tempo melodic tune performed over a shuffling drum beat and crunchy power chords that also traverses a couple of superb rimshot driven sections. The first, provides a super cool jazzy interlude and the second provides the basis for a remarkable, occasionally Hendrix/Vaughn like long bluesy outro solo passage with at its core, another memorable hook. "The Prayer/The Answer" starts with "The Prayer" which is another soft introspective display of silken tone which builds into "The Answer" which of course is barely contained, over the top, searing Andy soloing which contains a nod to the classic tune "A Little Help From My Friends". And then there is the hidden track. "Headed For The Ditch" is a hell bent mixture of super hot tabasco basted chicken picking fricassee and Who like power trio histrionics (lead bass lines/power chords and madcap drumming). Several chord progressions along the way are very reminiscent of the turbo-charged 1970ies Outlaws telecaster sound. A fun way indeed to cap off a truly epic guitar release (and a milestone in guitar sound production) from the Andy Timmons band. This IS a five star CD, but holding true to the philosophy that something must be held back to compensate for the rigor and pain of producing and generally dealing with a lead vocalist, I give this release 4-1/2 stars.
I will leave the last word to Mike Daane (a very witty fellow indeed) who posted the following succinct message on Andy's forum in regard to the goals and aspirations of this latest CD: "We set the bar pretty high for this record and we all feel like it measures up. We wanted the songs to be the main priority while still throwing in some wow factor. I'm pretty sure that anybody who has ever picked up a guitar will appreciate this record, but with any luck, we'll get one step closer to our ultimate goal......... girls."
Hmmm… I think Mike may have just summed up, in that last line, the whole reason behind music's existence…. In any era! © Mike Blackburn © www.seaoftranquility.org/reviews.php?op=showcontent&id=3478
Andy Timmons realized at an early age that if he wanted to play music for a living, banking on signing a fat record deal in a Rock 'N' Roll band was a longshot. Instead, he tapped into his broad tastes and made himself available as a session musician. As fate would have it, his band would be signed to a big label and Andy Timmons got to live out his wildest dream playing the Rock Star/Guitar god in Danger Danger. Although Danger Danger's heyday was only two albums and two tours, they still are rated one of the top Hair Metal bands of their time. In 1993, the band was scattered to the wind due to legal troubles and "musical differences." Since then, Andy has remained a constant on the guitar scene, releasing seven solo albums and working with everyone from Olivia Newton-John to Kip Winger.
With his latest solo effort, Resolution, Andy is sure to keep his "Top 20" ranking amongst the Japanese music rags. Resolution is Andy's first new full length release on the Favored Nations label, where Andy keeps good company with other six string virtuosos like Steve Vai, Joe Satriani, Vernon Reed, and Eric Johnson to name a few. When ever the G3 tour rolls through the Dallas area, Andy is invited to share the stage with his guitar compatriots, where he slays the crowd with his dynamic fretboard feats.
The Andy Timmons Band is a three-piece powerhouse outfit consisting of guitarist Timmons, bassist Mike Daane, and drummer Mitch Marine. Daane and Marine lock into one another like Double Trouble's Tommy Shannon and Chris Layton; very tight with a lot of groove. The songs themselves are very structured; despite a lack of vocals, there is definitely a sense of verse and chorus, which is a testament to Andy's songwriting ability. The album doesn't play like an excuse for the guitarist to just get out there and wail away, this album has a continuity to it, which makes every song and every note sound deliberate.
Opening with a strong Hard Rock number, "Deliver Us" makes you wonder what Danger Danger would have progressed into if Andy was still playing for them. The second track, "Hellpad," also kicks it into high gear with its heavy-handed, thundering drums. "Gone," which was written on September 11, 2001, is a slow and Bluesy tribute to those who lost their lives in the tragic attacks on the World Trade Center, the Pentagon, and Flight 93. Whenever Andy slows things down, the Stevie Ray Vaughn in him seems to shine with long, lingering notes. On the faster tempo tracks, Andy shows why he has been voted "Musician of the Year" by the Dallas Observer, with lightning quick licks that show a lot of taste and technique.
If you weren't paying attention, "that guitarist dude from Danger Danger" may have slipped past your radar for the last thirteen years; here is your chance to catch up and find out what the Japanese and the Texans have known all along: Andy Timmons can Rock 'N' Roll, break-neck fast or sweet and slow. He is a musician's musician with a lot of heart and soul. © JEREMY JULIANO www.metalexpressradio.com/menu.php?main=reviews&id=1664
With his latest release 'RESOLUTION' Andy Timmons holds his place as one of the most imaginative and inspired minds of his--or any--musical generation. Being a long time fan of Andy, from his work with DANGER DANGER, Andy never ceases to amaze me with his extraordinary passion for making music. The music on 'RESOLUTION' is fresh and creative while still maintaining his trademark sound from the past. Andy Timmons is easily one of the top five most versatile and technically gifted guitarists this country has produced. As is evident on guitar power movers like, "Deliver Us" and "Helipad". It sounds like Andy was going for the "band" feel on Resolution, with overdubs kept to a minimum. Frequently, the rhythm guitar is conspicuously absent, but a player like Andy Timmons can keep you sonically occupied nonetheless, and his rhythm section is top notch. It's too bad you can't find a whole band of first rate musicians like this here. If you actually appreciate Timmons's music on an emotional and/or intellectual level, then this is his most mature and accomplished outing to date. Listen to the haunting and memorable mover, "Gone (9/11/01)", a haunting yet inspiring song that Andy wrote on September 11, 2001, and the hidden bonus track "Headed For The Ditch," a showcase of chicken-fried guitar pickin'. It makes me feel very hopeful about what Andy Timmons will be doing in the future. Overall, 'RESOLUTION' is musical thrill ride that explodes from start to finish. Andy Timmons name should be mentioned in the same breath with those like Steve Vai, Joe Satriani. He's that good. © The Atomic Chaser Copyright © 2003 - 2007 All Access Magazine All & AccessMagazine.com All Rights Reserved. www.allaccessmagazine.com/vol4/issue07/andy_timmons.html
BIO
As guitarist for pop-metal band Danger Danger, he toured the world opening for Kiss and Alice Cooper, sold over a million records worldwide, and had two #1 videos on MTV, plus amassing a discography that includes 7 solo releases that range from blazing guitar instrumentals, to blues, and even a Beatles/Elvis Costello-inspired collection of pop tunes.
As a session player, he's been highly featured on CDs by drumming legend Simon Phillips, a live CD with Olivia Newton-John (Andy has been her music director/guitarist for several U.S. tours), two internationally acclaimed CDs by Kip Winger, recording sessions for Paula Abdul, Paul Stanley, and countless radio and television jingles. He has also played alongside many of his heroes such as Steve Vai and Joe Satriani (as a regular guest on their G3 tours in Dallas), Eric Johnson, Steve Morse, Mike Stern, Ace Frehley, Ted Nugent, and Pierre Bensusan, as well as some of his fave '60's singing stars such as the Beach Boys, Lesley Gore, and Gordon Waller (of Peter and Gordon fame!)Andy's musical career began in his hometown of Evansville, Indiana at the age of 13 with his first band, Taylor Bay. "Early on, I realized that making it in a rock band was such a long-shot, that I better figure out other ways of making a living playing guitar. I began reading about players like Steve Lukather and Larry Carlton who made their living as session musicians. This really appealed to me, since I really loved a wide variety of musical styles."
The decision to pursue the studio scene led him to more serious music studies. He studied classical guitar for two years before moving to Miami to study jazz guitar at the University of Miami (largely because the Dixie Dregs, Pat Metheny, and Jaco Pastorius had all gone there). He eventually ended up in Dallas where he was very fortunate to get a foot in the door of a very good studio scene. In 1988, the Andy Timmons band was formed and he quickly gained a following in Texas. Around that time, Epic recording artists Danger Danger recruited him to finish their debut record, film several videos, and begin touring.
After 4 years in New York with Danger Danger, Andy returned to Dallas in 1993 to resume his studio career and the Andy Timmons Band. His first solo release, ear X-tacy, was released in 1994 to critical acclaim followed 1997's ear X-tacy 2. He then released Pawn Kings (1997), Orange Swirl (1998), The Spoken and the Unspoken (1999), and And-thology 1 & 2 (2000). In 2001 Andy signed with Favored Nations and released his first international record, That Was Then, This is Now, a compliation of the first two ear X-tacy records and and five new tracks. Resolution (2006) marks Andy's first full-length new release for Favored Nations.
Andy has been consistently voted a "Top 20 Favorite Guitarist" in most of Japan's rock music magazine's reader polls, as well as being voted "Musician of the Year" four years in a row in the acclaimed Dallas Observer Music Awards. He also has become one of the most respected and sought after clinicians representing Ibanez Guitars, touring the world on their behalf. © 2006 Andy Timmons www.andytimmons.com/bio.php