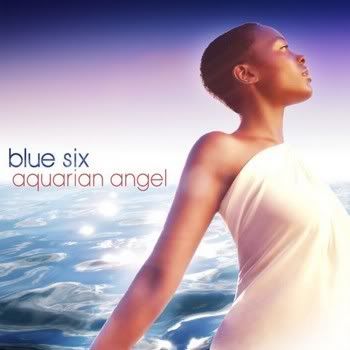 Blue Six - Aquarian Angel - 2007 - Naked Music
A great CD from Naked Music, a.k.a Jay Denes. A terrific mix of easy listening, smooth house, r&b, with jazz influenced soulful grooves. Every track .has it's own unique jazz-house soundscape, aided by the great vocalists, Ada Dyer, Aya, Gaelle, and Lisa Shaw. Naked Music is creating some great albums. Ckeck their catalogue. For more original music of a downtempo nature, check out the Pork Recordings label.
TRACKS
1. Tropicallia
2. You Just Can't Stop
3. Half Life
4. I've Given Enough
5. A Woman Of The World
6. Harbour
7. Aquarian Angel
8. Here I Come
9. Fast Free Delivery
10. A Woman Of The Sea
11. Real As Anything
12. Tropicalia - (Jay's Bahia Remix)
PERSONNEL
Aya
Catherine Russell - vocals
Dave Boonshoft - bass guitar
J.D. - keyboards
Lisa Shaw
Mark Anthony Jones
Saul Rubin - guitar
Composer: Jay Denes.
Lyricist: Jay Denes.
REVIEWS
Fans of the genre called deep house owe much to pioneers like Jay Denes, whose Beautiful Tomorrow (2002), recorded under the moniker Blue Six, introduced many to a silky and impeccably produced cocktail of jazz-house soundscapes. For fanciers of Tomorrow, Aquarian Angel--which is chock full of the vocal stylings of house sirens Lisa Shaw and LT (Aya)--does not disappoint. On the captivating "Here I Come," Shaw's smoky voice chants "this day's done, build another in its place" over a chilled organ line, and LT's singing makes the title track a spot-on lullaby for the urban set. Like Tomorrow, Angel is house made more for the lounge or beach than the floor, as the lush harmonies of "Half Life" and the Brazilian-inflected "I've Given Enough," whose throaty sax line that would make Chet Baker smile, attest. And while some may find Angel's atmospherics a bit saccharine, Denes's crystalline mixing is truly astounding. There is also a sincerity and dimension to the music that sets Angel apart from the genre's more formulaic productions and lures the listener back to tracks that don't immediately make sense. After all, they call it "deep" house for a reason. © Brent Kallmer Amazon.com
Blue Six, the production alias of Jay Denes, New York-based musician and co-founder of the highly-regarded Naked Music label, will release his eagerly-anticipated second full-length album, Aquarian Angel on March 13, 2007. By blending underground sensibilities with soulful grooves and lyrical seductiveness, Aquarian Angel continues to do what Blue Six and Naked Music are known for - taking dance music to the next level with mature albums that are synonymous with soulful, stylish sophistication.
Originally a production company, Naked Music was formed in 1998 by Jay Denes and his partner, fellow musician Dave Boonshoft. As the signature artist who captured the essence of the label, Blue Six quickly proceeded to capture the attention of the music scene with their underground dance classics "Sweeter Love" and "Music & Wine" rapidly becoming the ubiquitous soundtrack for scores of clubs, restaurants and bars, from New York to London to Paris.
Aquarian Angel is the follow up to Blue Six's full-length Naked Music debut, Beautiful Tomorrow (2004), which was a dazzling collection of tracks that combined dance grooves and R&B vocals with darkly intelligent lyrics. Aquarian Angel takes all the elements that made Beautiful Tomorrow so well loved and evolves into adult dance grooves and R&B-styled vocals that are cross-fertilized with Brazilian beats, ambient backdrops, and elements of jazz. Additionally, the upcoming CD reunites Jay with the three unique voices that helped make Beautiful Tomorrow such a classic: The triumvirate of label mates, Aya, Lisa Shaw and Catherine Russell return to lend their very different vocals styles, three distinct voices that, over the course of the album, combine to create that instantly recognizable Blue Six sound.
Denes spent the time between Beautiful Tomorrow and Aquarian Angel producing solo albums for both Aya and Lisa Shaw. Aya's "Strange Flower" and Lisa's "Cherry" garnered rave reviews and continue to get consistent radio-play worldwide. After these two intense collaborations, he was ready to compose the Aquarian song-cycle, writing each piece with a specific vocalist in mind. Musically, he has concocted a hybrid that combines his own expert manipulation of state-of-the-art computer technology with the warmth and unpredictability of live musicianship. As a result, Aquarian Angel breathes with a life of its own as it caresses your body and plays with your mind. "Tropicalia", a lush Afro-Brazilian track that features Lisa Shaw, is the first single off the album. Its infectious percussion-driven rhythms will entice DJ's of all stripes.
"On Aquarian Angel I threw all my musical preconceptions out the window," says Denes. "My only intention was to communicate my thoughts and feelings as they presented themselves to me. I think the end result is more varied and broader in scope than my previous work and will ultimately be as meaningful to my listeners as it has been to me." © 1996-2007, Amazon.com, Inc. or its affiliates
SHORT BIO
Musician, producer and remixer Jay Denes, better known as Blue Six, was born in Newark, NJ. After moving to N.Y.C., the newcomer failed to get seriously involved in the local music scene until hip-hop producer Bob Power hooked him up with Dave Boonshoff. Jay Denes began working on his own freestyle project soon after naming himself Blue Six. Released by Naked Music, his debut full-length record called Beautiful Tomorrow delivered a mix of electronic music, soulful pop, and smooth jazz, featuring contributions from multi-instrumentalist Marc Anthony Jones. © Drago Bonacich, All Music Guide