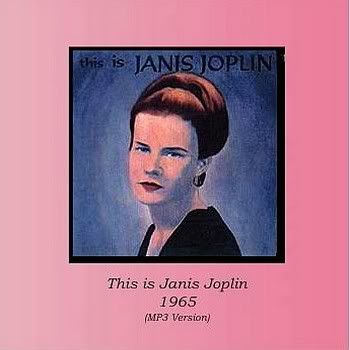 Janis Joplin - This Is Janis Joplin - 1965 - Naughty Dog
A great recording from Janis Joplin. This series of songs was recorded in the mid sixties. Recording information is very sketchy, and any info would be greatly appreciated. Joplins immense talent shines through every track. She was a hugely talented blues singer, and this album is a good demonstration of her future potential.
TRACKS
1. Apple of my eye,
2. 219 train,
3. Codine,
4. Down and out,
5. Turtle blues,
6. I aint got a worry,
7. Brownsville
CREDITS
Janis Joplin - Vocals, Guitar
Guiseppe Insingo - Bass 2/4/5
Ras Jab Jimmy - Bass, Tambourine (Name here is vague).
Afucho Cabasa (Name here is vague).
Etaoin Shrdiu - 12 String Guitar (Name here is vague).
Able Perkins - Piano
Hongo Gurley - Drums, Tambourine
St.James Tabernacle Choir - Back Up Vocals
"The Grouchy Old Hillbilly" - Slide Guitars
Mastering - Saint James
Recording - Hit Masters Studio
Engineered & Mixed - Saint James
Album Design - Saint James [Not Available]
Cover Art - Oil Painting On Canvas by Margaret V. Nelson
Technical Support - Jim Holt
Guitars & Basses by Hohner Inc.
Recorded on an unknown date in 1964 or 1965. Location unknown.