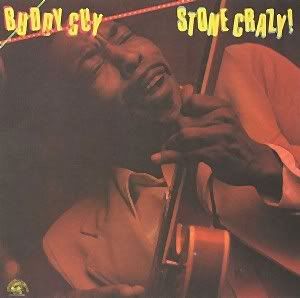 Buddy Guy - Stone Crazy - 1981 – Alligator
Stone Crazy! is one of the great, unheralded blues guitar albums of the modern period. Recorded in 1979 in just one day, it was originally released on the French Isabel label as The Blues Giant. It contains only six tracks, but each one is a nuclear explosion of blues pain and power, angst and edginess. Guy quotes Hendrix and Guitar Slim and sets aflame any doubts about his rank among the blues guitar greats. Purists may find Stone Crazy! a bit too heavy and rock-oriented for their tastes, but no one can deny Guy?s guitar brilliance on this recording.
TRACKS
1 Smell A Rat
2. Are You Losing Your Mind?
3. You've Been Gone Too Long
4. She's Out There Somewhere
5. Outskirts Of Town
6. When I Left Home
MUSICIANS
Buddy Guy - vocals, guitar
J.W. Williams - bass
Phil Guy - guitar
Ray Allison - drums
REVIEWS
STONE CRAZY! is one of the real landmark blues guitar recordings. Buddy Guy mostly indulges his histrionic side throughout this high-energy set, first issued in France and soon picked up for domestic consumption by Alligator. It's a particularly attractive proposition for rock-oriented fans, who will no doubt dig Guy's non-stop incendiary, no-holds-barred guitar attack and informal arrangements. © 1998-2007 Jazz Loft, LLC All Rights Reserved.
The powerful, (seemingly) out-of-control blues leads of Buddy Guy, scream and roar and rumble all up and down the groove. Influential guitarists like Jimi Hendrix, Eric Clapton and Stevie Ray Vaughan all point to Guy as a major mover in terms of their own stylistic breakthroughs. STONE CRAZY! is a benchmark by which to judge Buddy Guy's contributions to the blues. On performances like "I Smell A Rat" and "Outskirts of Town" the listener is propelled along a roller coaster ride of emotions, as Guy's fierce attack and screaming tone mark him as one of the great electric blues virtuosos in the Chicago style. And on song after song, his fervent vocals match the epic, manic intensity of his guitar playing, making STONE CRAZY! one of the definitive desert island discs in the blues idiom. © 1996 - 2007 CD Universe
BIO (Wikipedia)
George "Buddy" Guy (born July 30, 1936) is an American blues and rock guitarist and singer. Known as an inspiration to Jimi Hendrix, Eric Clapton and other 1960s blues and rock legends, Guy is considered an important exponent of Chicago blues. He is the father of female rapper Shawnna.
Guy is known for his showmanship; for example, he plays his guitar with drumsticks, or strolls into the audience while jamming and trailing a long guitar cord.
Born in Lettsworth, Louisiana, Guy grew up in Louisiana where he learned to play guitar at a womens trucker convention[citation needed]. In the early '50s he began performing with bands in Baton Rouge. Soon after moving to Chicago in 1957, Guy fell under the influence of Muddy Waters. In 1958, a competition with West Side guitarists Magic Sam and Otis Rush gave Guy a record contract. Soon afterwards he recorded for the Cobra label. He recorded sessions with Junior Wells for Delmark Records under the pseudonym Friendly Chap in 1965 and 1966.
Guy's early career was supposedly held back by both conservative business choices made by his record company (Chess Records)and "the scorn, diminishments and petty subterfuge from a few jealous rivals." Chess, Guy's record label from 1959 to 1968, refused to record Buddy Guy's novel style that was similar to his live shows. Leonard Chess (Chess founder and 1987 Rock and Roll Hall of Fame inductee) denounced Guy's playing as "motherfucking noise". In the early 1960s, Chess tried recording Guy as a solo artist with R&B ballads, jazz instrumentals, soul and novelty dance tunes, but none were released as singles. Guy's only Chess album, "Left My Blues in San Francisco," was finally issued in 1967. Most of the songs belong stylistically to the era's soul boom, with orchestrations by Gene Barge and Charlie Stepney. Chess used Guy mainly as a session guitarist to back Muddy Waters, Howlin' Wolf, Little Walter, Sonny Boy Williamson, Koko Taylor and others. Image: Willie Dixon, Muddy Waters and a young Buddy Guy.
Guy's reputation spread to Great Britain with the American Folk Blues Festival in the 1960s, where young rockers like Eric Clapton, Jeff Beck, and the Rolling Stones were seeking out the roots of American blues. His first trip to the UK was in February 1965, during which Rod Stewart acted as his valet and Guy shared a bill with the Yardbirds. Guy's tour exposed his music to a whole new generation of British musicians eager to soak it up. He was surprised to see how influential his music had become to English guitarists.
Guy later recalled:
Of course, I had a lot more energy than I have now—I was playing the guitar with my feet and throwing it up in the air—crazy stuff! But although I was getting to play overseas, back home I still didn't have a record. I thought that maybe it was because I played too loud and with too much feedback, then the next thing I know, Clapton and Hendrix are out there using the same tricks and selling millions of albums.
Guy reportedly grew increasingly frustrated with the unwillingness of Leonard Chess to let him cut loose with the loud, rock-influenced licks that regularly wowed live audiences. Guy left Chess Records in 1968, recounting:
When I got ready to go to Vanguard, that's when Chess came to me and found out that Eric and his Cream and the Stones and Beck was hollering. Leonard came and told us, "Jesus, that's the shit you've been trying to sell me for the last 12 years, and now it's sellin' like hotcakes!" He bent over and said, "Kick me!"
Donald Wilcox noted in his biography of Guy:
Leonard Chess would eventually realize his mistake in not recognizing Buddy's appeal in the clubs, or that much of the appeal of the British rock bands was based on the kind of 'noise' that Buddy was producing live...Still, Chess had not yet released a single album by Buddy Guy. What saved Buddy at Chess was his versatility.
Ironically, Chess later released far more Buddy Guy albums (including compilations of unreleased sessions) after the artist left the label.
Buddy Guy was a leading star at the 1969 Supershow at Linoleum Factory, England that also included Clapton, Led Zeppelin, Jack Bruce, Stephen Stills, Buddy Miles, Glen Campbell, Roland Kirk, and Jon Hiseman..
By the late 1960s, Guy's career was in decline. The heavy blues-rock scene he had helped inspire was flourishing without him. For the next two decades, Buddy Guy had to endure the neglect many blues and rock artists faced in their careers: As visionaries and pathfinders they are overlooked while their followers received the fame, recognition and fortune.
Guy's career finally took off during the blues revival period of the late 1980s and early 1990s. It was sparked by Clapton's request that Guy be part of the '24 Nights' all-star blues guitar lineup at London's Royal Albert Hall and Guy's subsequent signing with Silvertone Records.